Houston, we have no problem with these printable space Valentines! They are perfect for anyone who loves aliens, space travel, or the night time sky.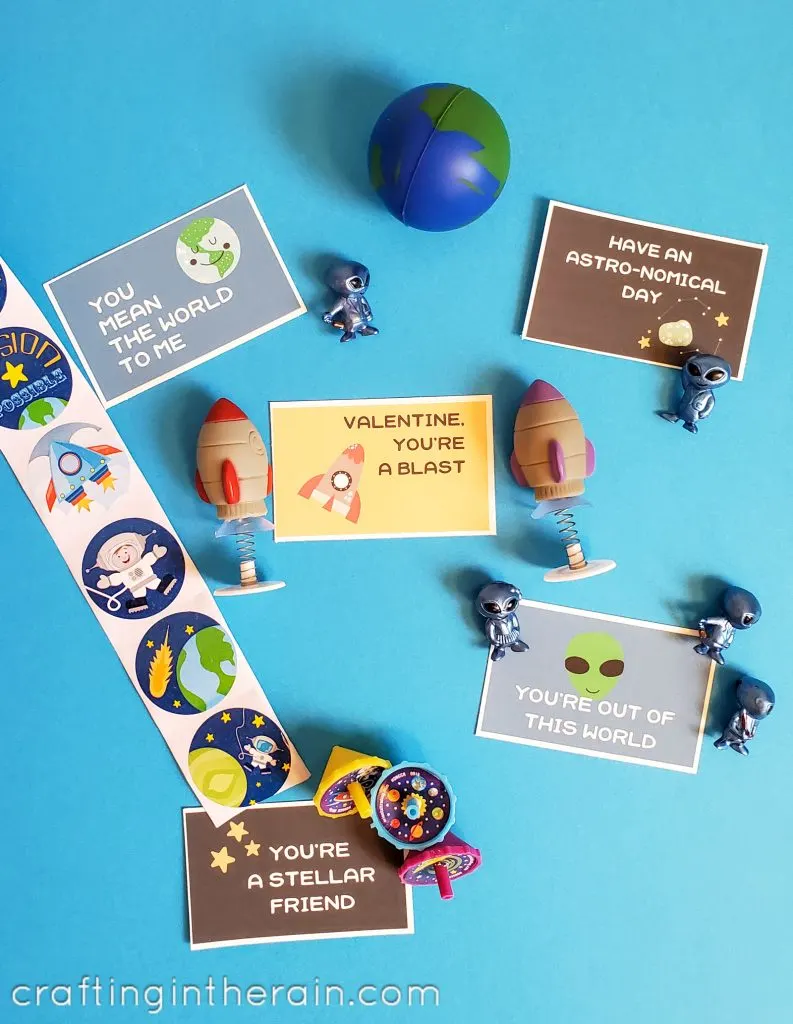 Items provided by Oriental Trading Company. All thoughts and opinions are my own.
Are you looking for classroom Valentines for your space obsessed kid? Maybe you've looked at the store, or even at other printable Valentines online and can't find quite the right style. Maybe these are just the designs you've been looking for!
The space Valentines have been designed with cute graphics and could be used alone – or with a Milky Way taped on top.
But they are even cuter with some of the space toys you can pick up from Oriental Trading!
Use the code CUPIDSQUAD for free shipping on any size order.
Here's a list of what I used (but there is a ton of other cute space stuff too.)
Spring Rockets
Space Stickers
Aliens
Earth Stress Balls
Spinning Space Tops
(Aside from Valentine's Day, wouldn't these be so great for any space party!)
Free Space Valentine Printables
Order just one of these sets, or a few, and pair them with these free printable space Valentines.
I designed the Valentines to work great for boys or girls, so I'm hoping they will make some kids out there very happy.
In these pictures, you can see how I matched up each toy with one of the printable cards. But you can, of course, feel free to mix and match. They're all pretty interchangeable.
You mean the world to me.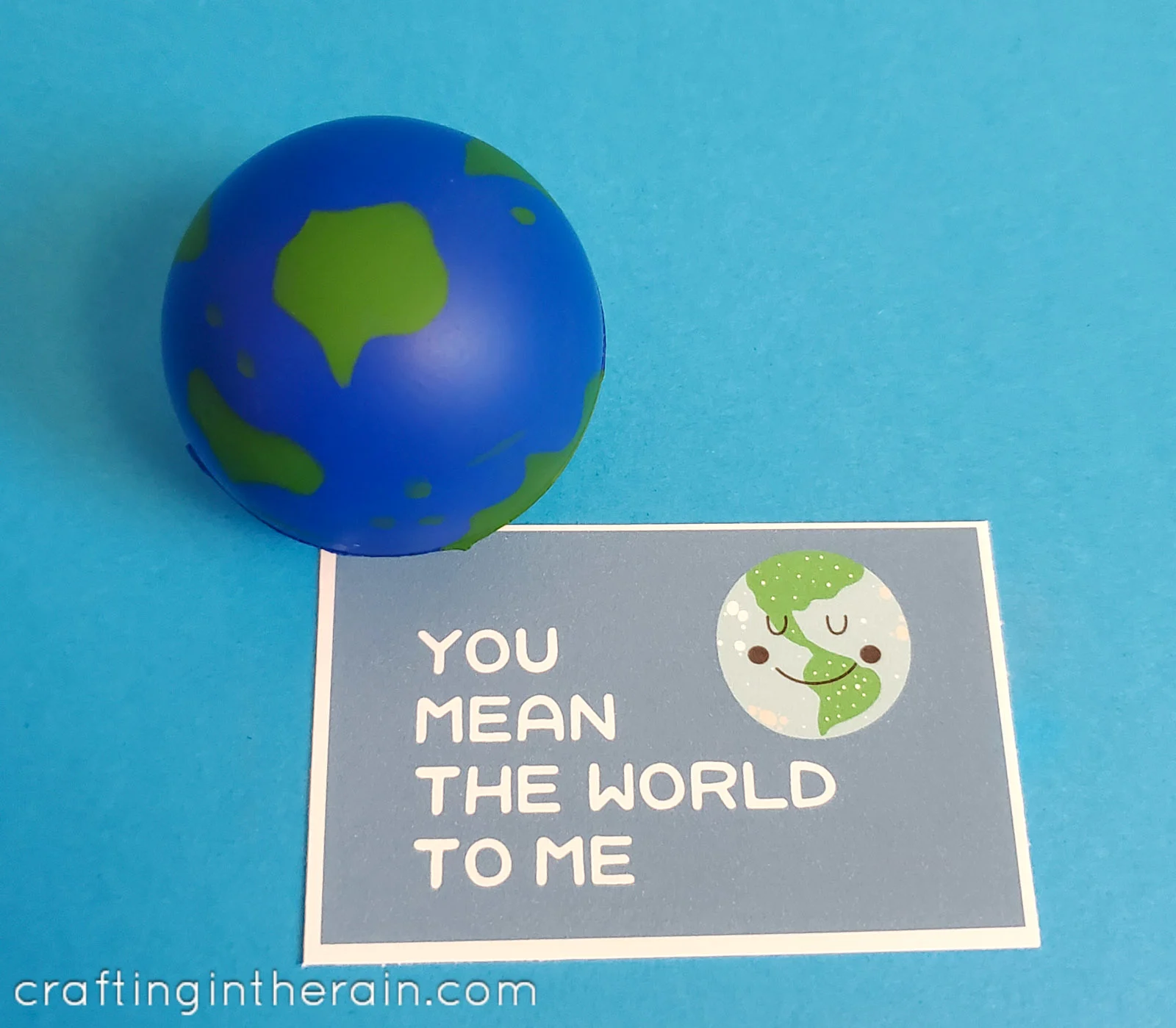 You're a stellar friend.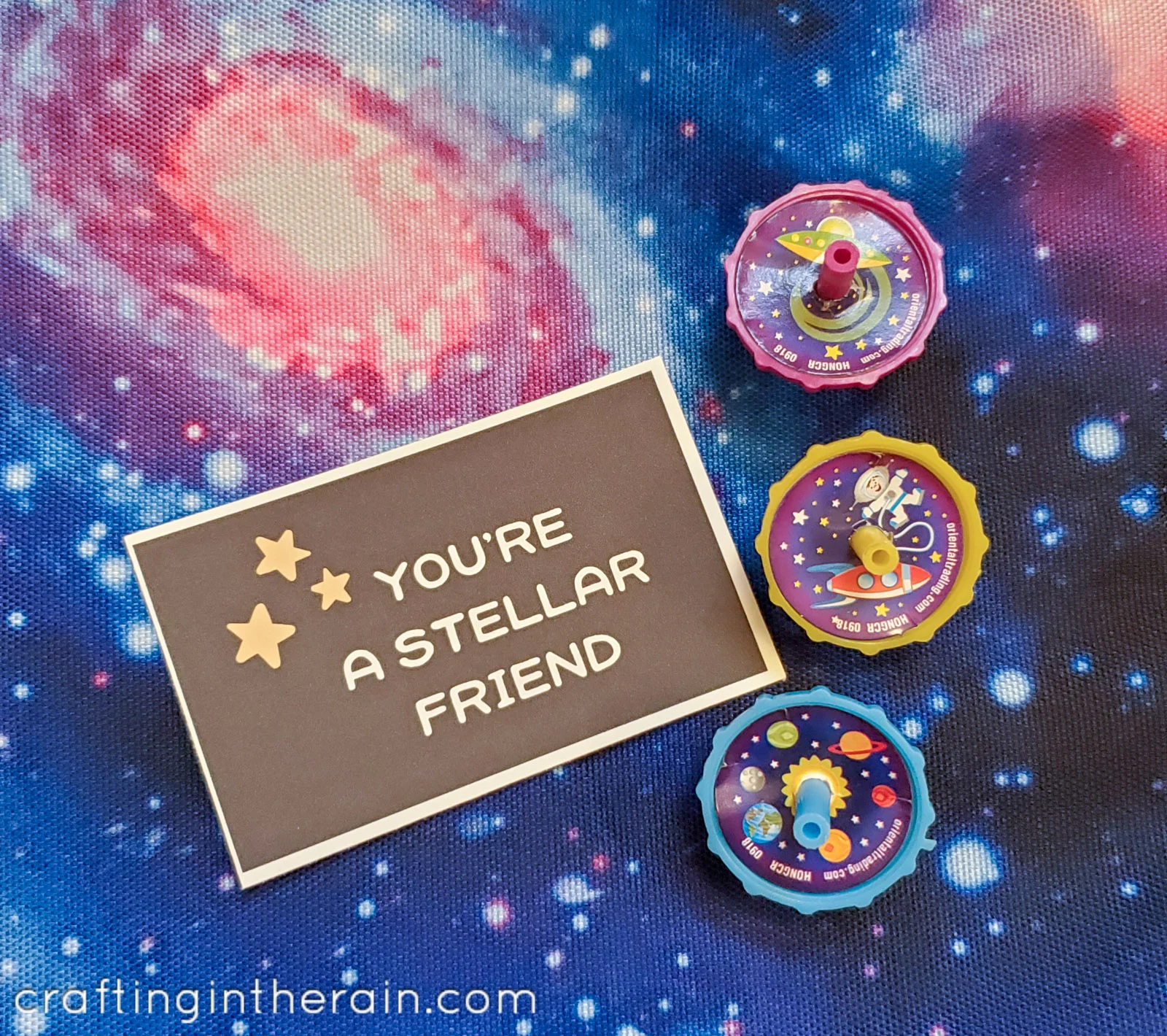 Valentine, you're a blast.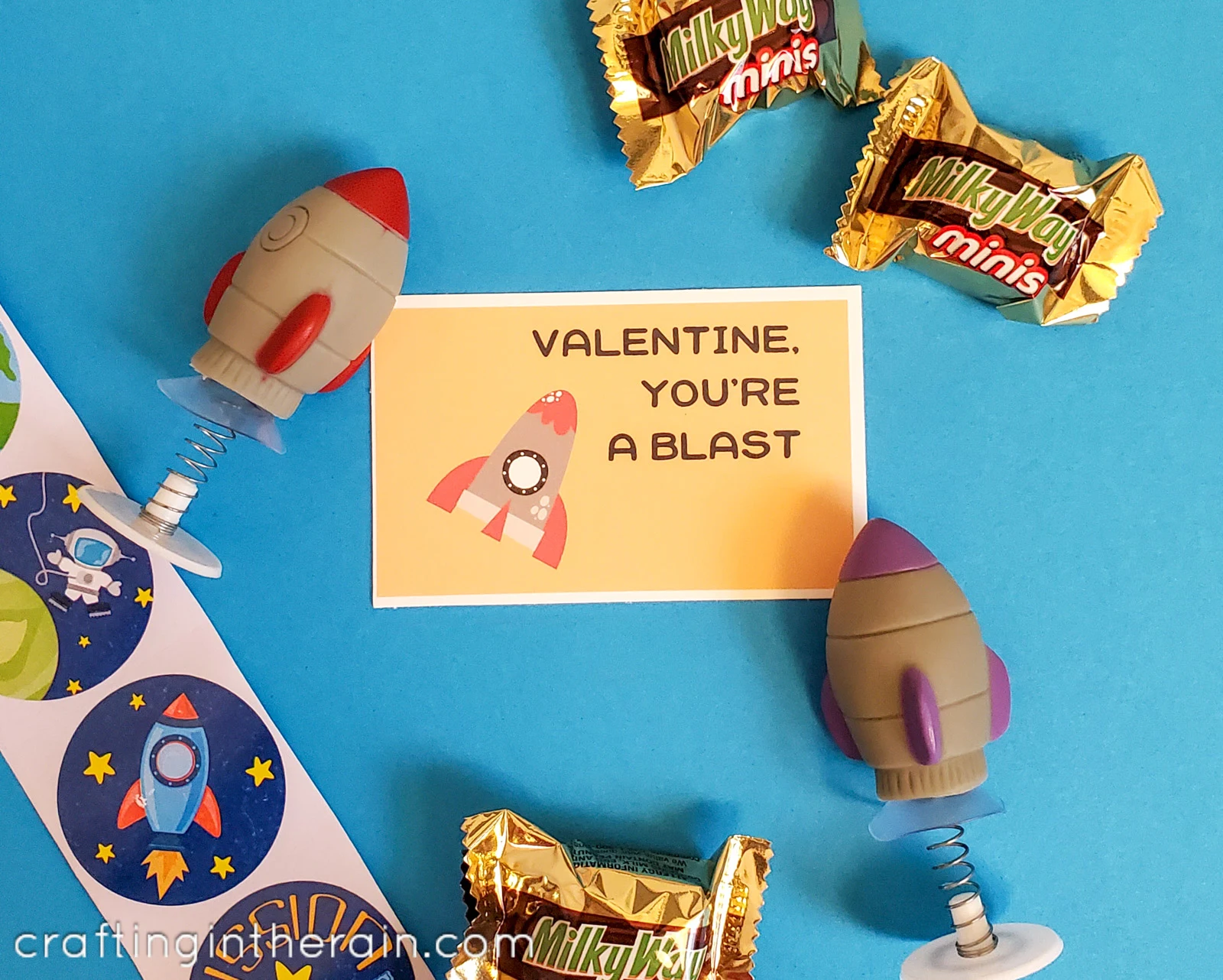 You're out of this world.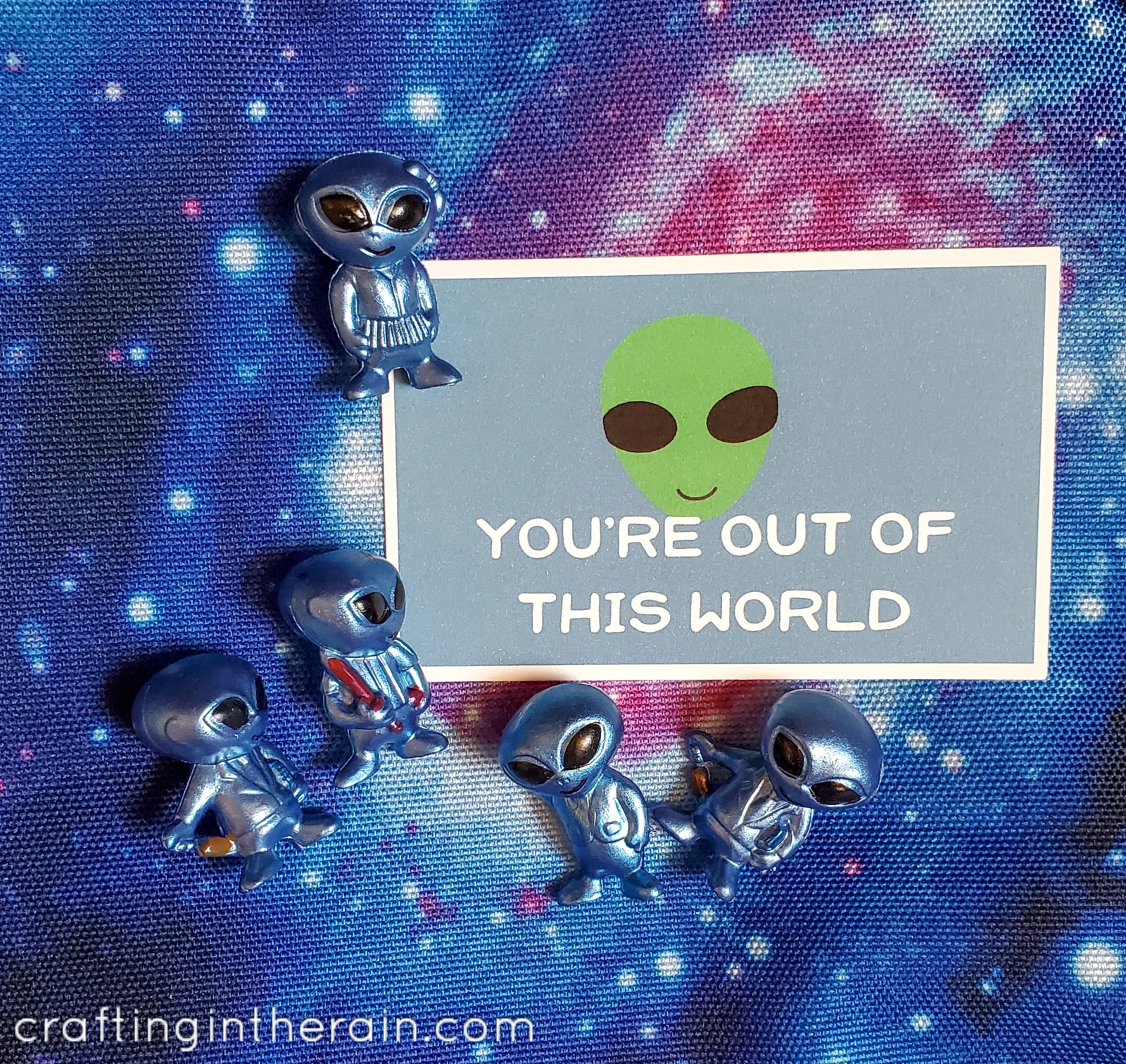 Have an astro-nomical day.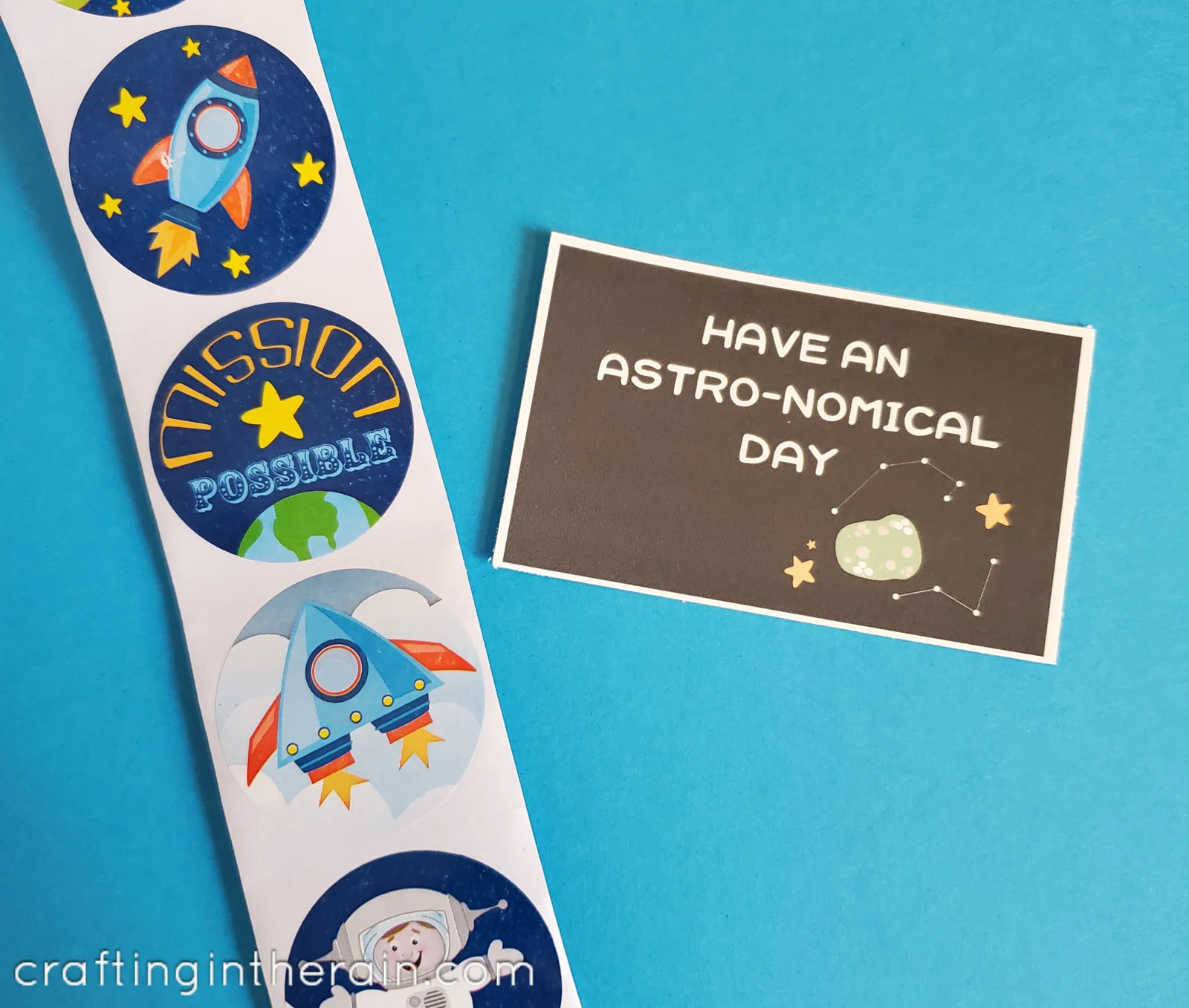 And I have to show you an up-close of one of the little aliens – there are a few different poses, and this one has a cute little bow!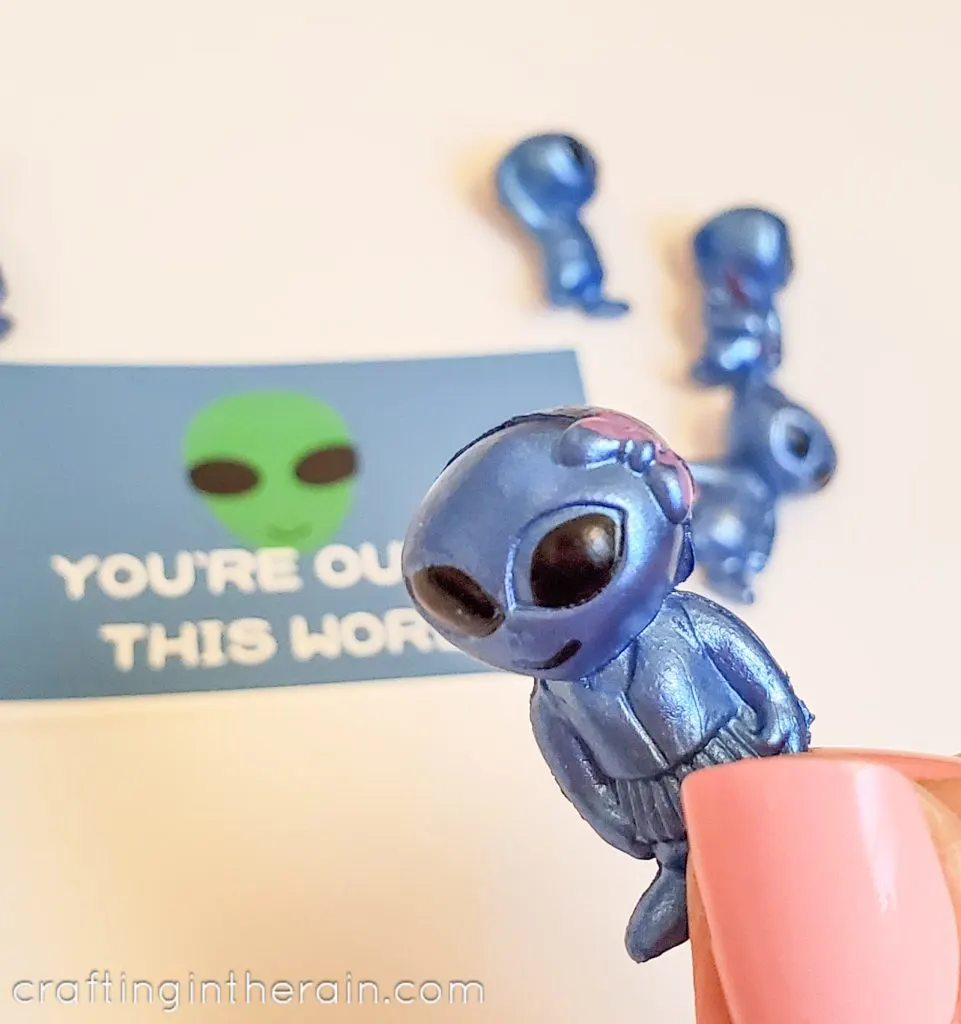 How to print printable Valentines
Here's how to access and print these animal pun Valentines. First, fill out this form with your name and email. Free printables provided as a thank you to email subscribers. It will take you to the file box.net and you will click Download.
A single page PDF document will download to your computer. Open that file and you will see there are 2 sets each of 5 space Valentine cards.
Paper for printing Valentines
I recommend printing on white cardstock, as they will hold up better than regular copy paper. You can choose to change the printer setting to "best" if you want to use more ink and have them look the best.
But you can always just print in regular mode.
Cut and assemble printed Valentines
Finally, once the pages are printed, use a paper cutter to trim each Valentine.
Valentines can be attached to the goodies with tape, string or by putting the item in a bag (with some candy if your kid says that's all his friends want) and stapling the tag to it.
I would love to see your cute result! Email me a picture of your Valentienes or tag me on Instagram! (@steph_crafting_rain)
If you didn't find a favorite one here, you might like any of these printable Valentines too.
Animal pun Valentines
Pixi Stix Valentines
Orange You Glad Valentines
D'aim Valentines
Macaron Valentines
Shop here for Valentine goodies and supplies