Custom DIY resin trays make great gifts, decor, and serving pieces. Learn how to make one in this tutorial.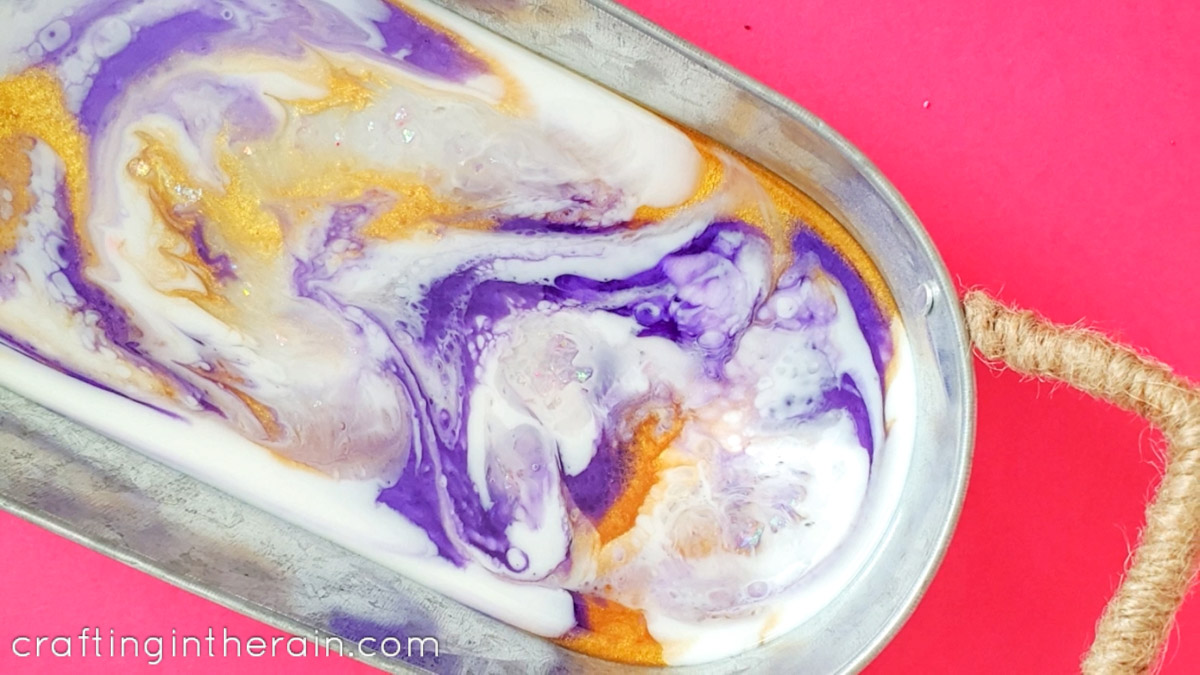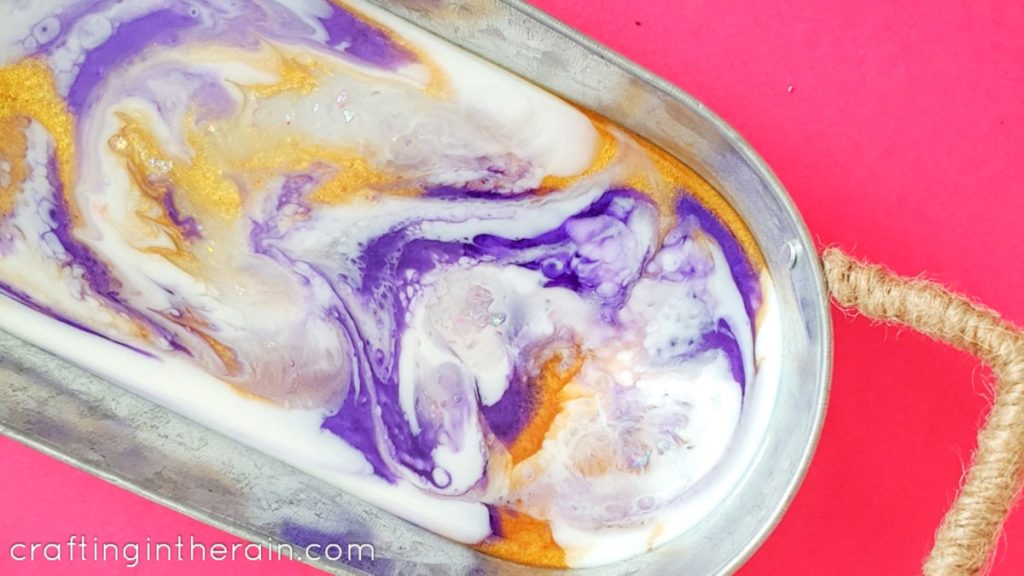 First, let's talk supplies.
Tray – There are different size, shape, and material options at craft stores, home stores, and even Amazon. Feel free to experiment with smaller sized trays as you learn the process. Larger trays obviously require more resin.
I chose a metal tray. Other good options are acrylic and wood. Avoid flimsy, bendable plastic.
Resin – Envirotex Lite Pour-on works perfectly.
Mica powder – It colors the resin beautifully and creates a bit of shimmer in addition to being an opaque color.
Opaque pigment – This is what I use for making the white resin. It helps with the swirl and makes the colors stand out really nicely. I've also seen really beautiful versions with black as the main color – so like I said, experiment!
Glitter flakes – There are a couple of different ways to use these. You can mix them into a small amount of resin and drizzle at the end, like I did. You can also hand place or sprinkle on a few places on the as the last step. After the resin has cured, top with another layer of clear resin to seal it all in.
Mixing cups and stir sticks – Have enough for each different color you're mixing.
Heat gun – This is used to remove air bubbles and spread the resin colors around.
In addition to those items, you'll want disposable gloves, eye protection, and paper or plastic to protect your work surface.
Start by figuring out the amount of resin needed to cover the bottom of the tray. Each tray shape and size will be different. One way is to pour water into the tray then measure how many ounces it is. Mix up a little more resin than this amount.
Make sure the tray is completely dry before continuing. A wooden tray may need a couple of days to evaporate all absorbed moisture.
Prepare all supplies and pour equal amounts of resin and hardener into a large mixing cup. Stir for 2 minutes.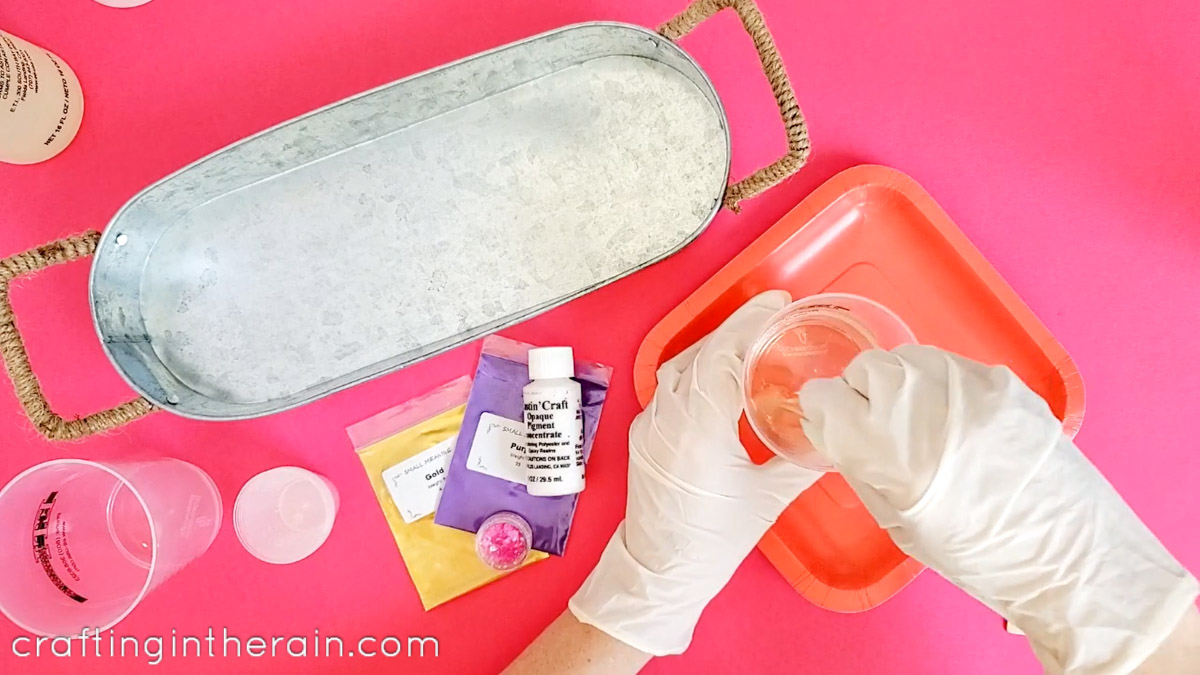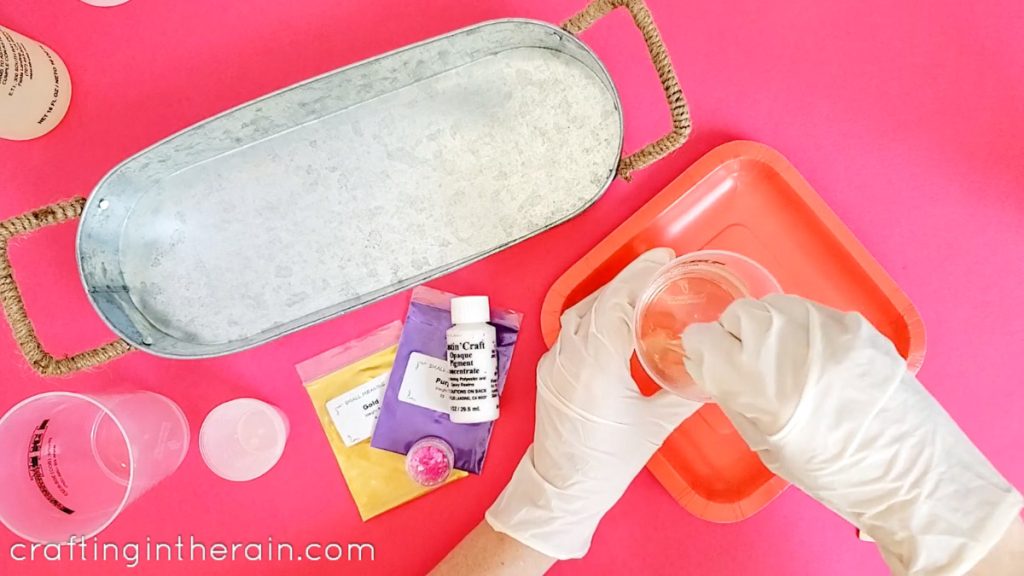 Then pour into a clean cup and mix another minute.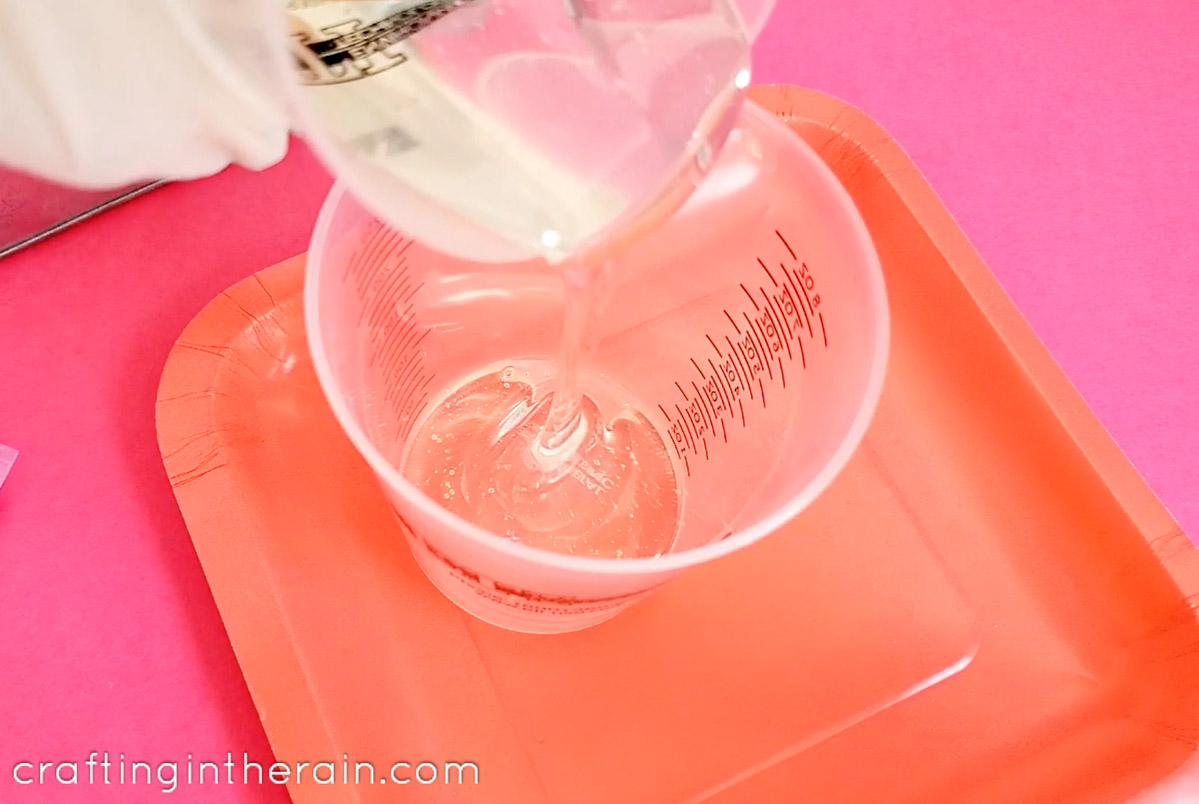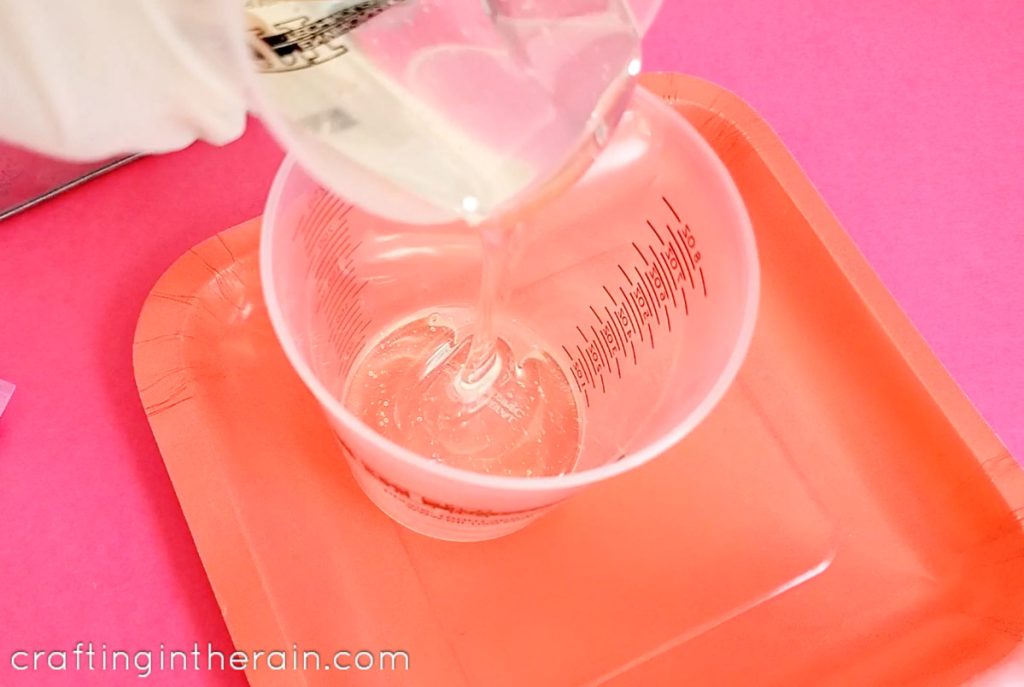 Pour small amounts to cups for mica and glitter. Add and stir in colorants.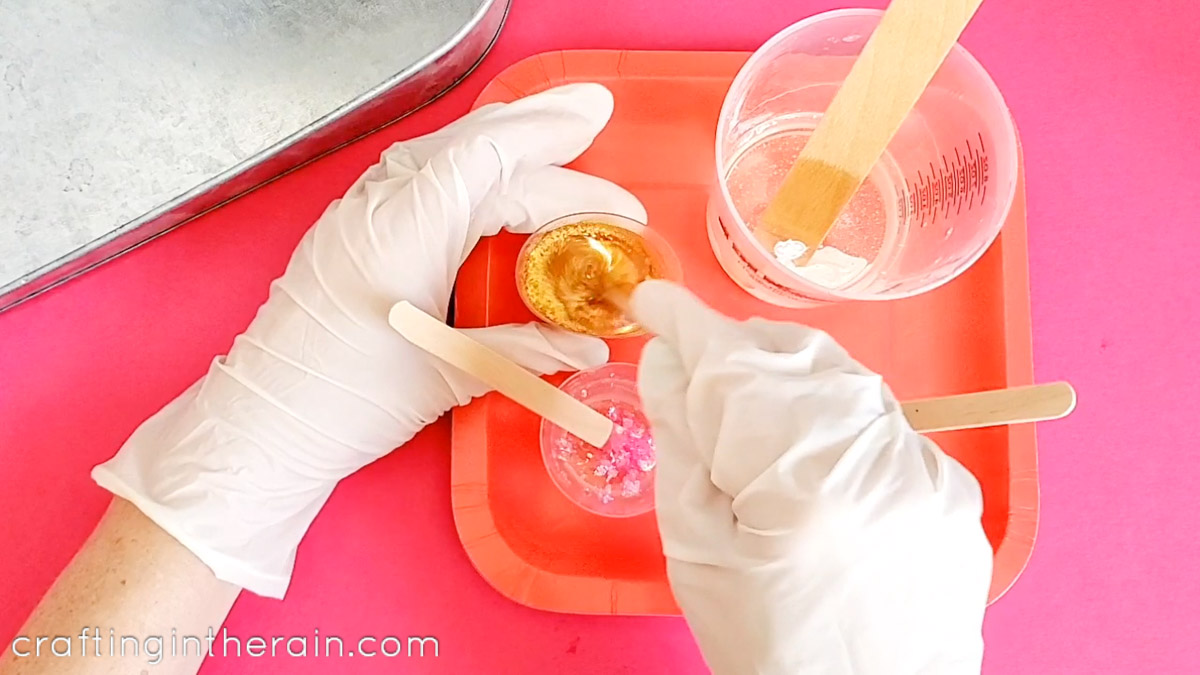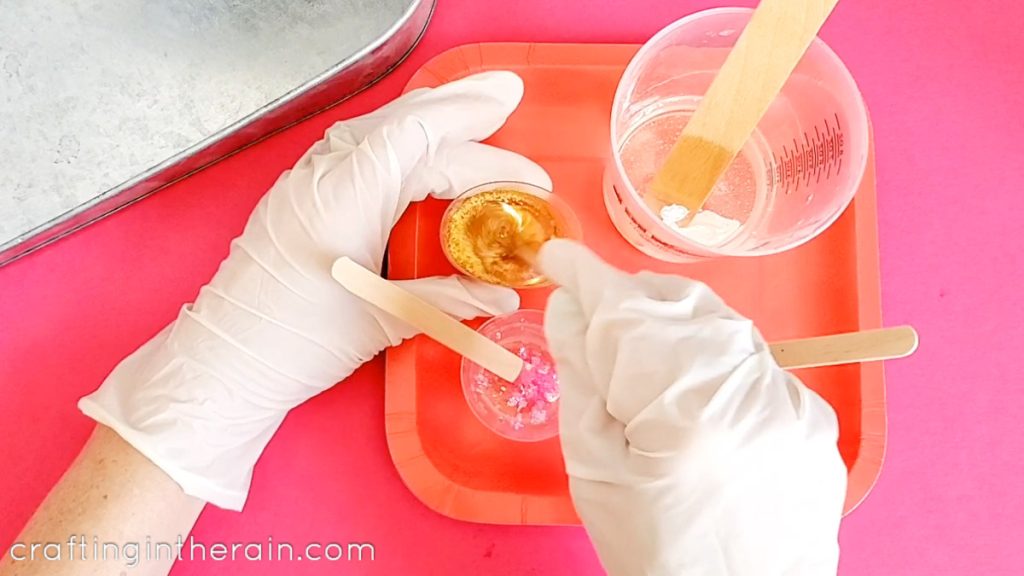 Pour white on the tray and spread a bit with a stir stick.
Add other colors, rotating the tray around and using a stick as needed to pull resin into the edges and corners.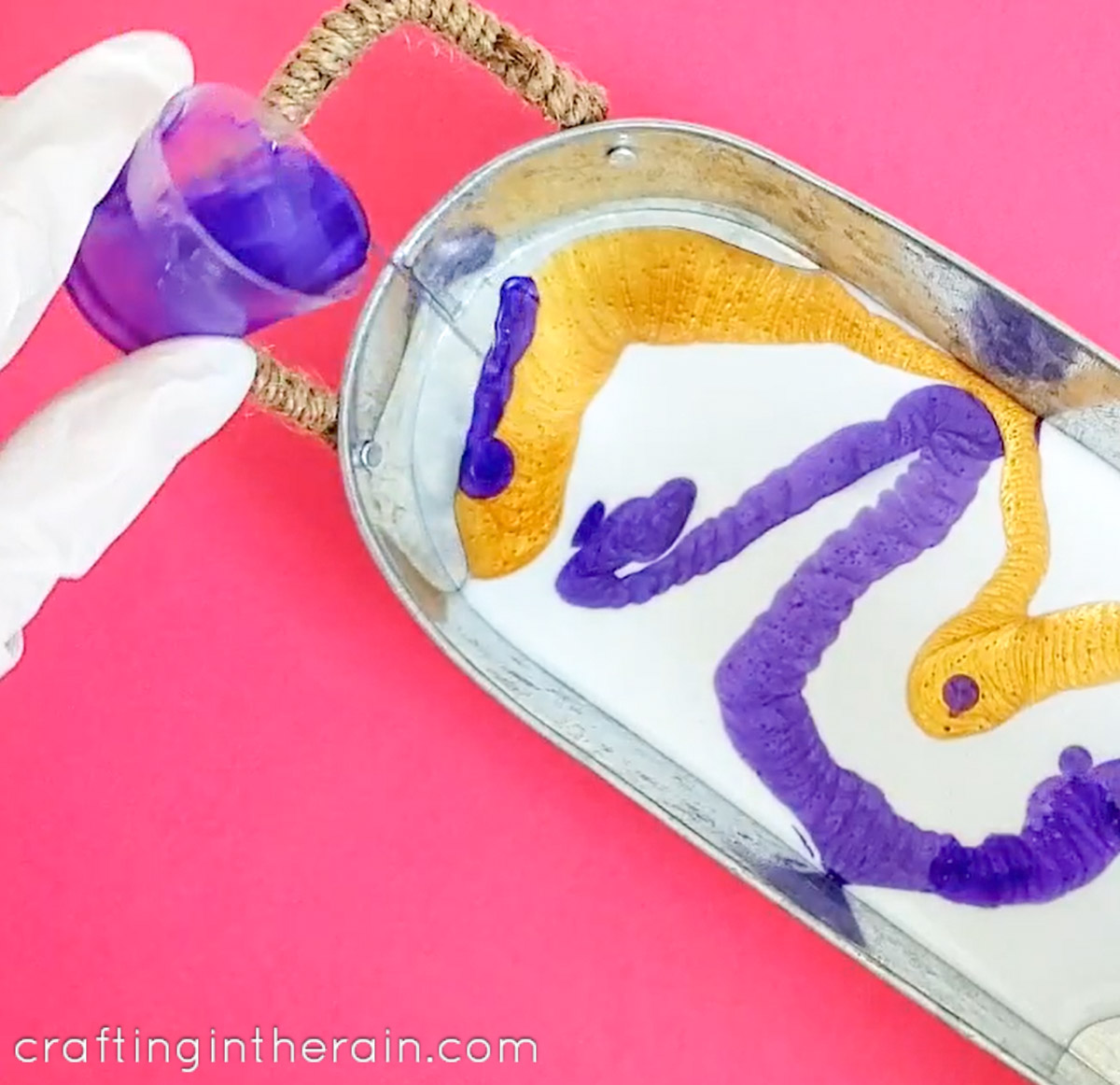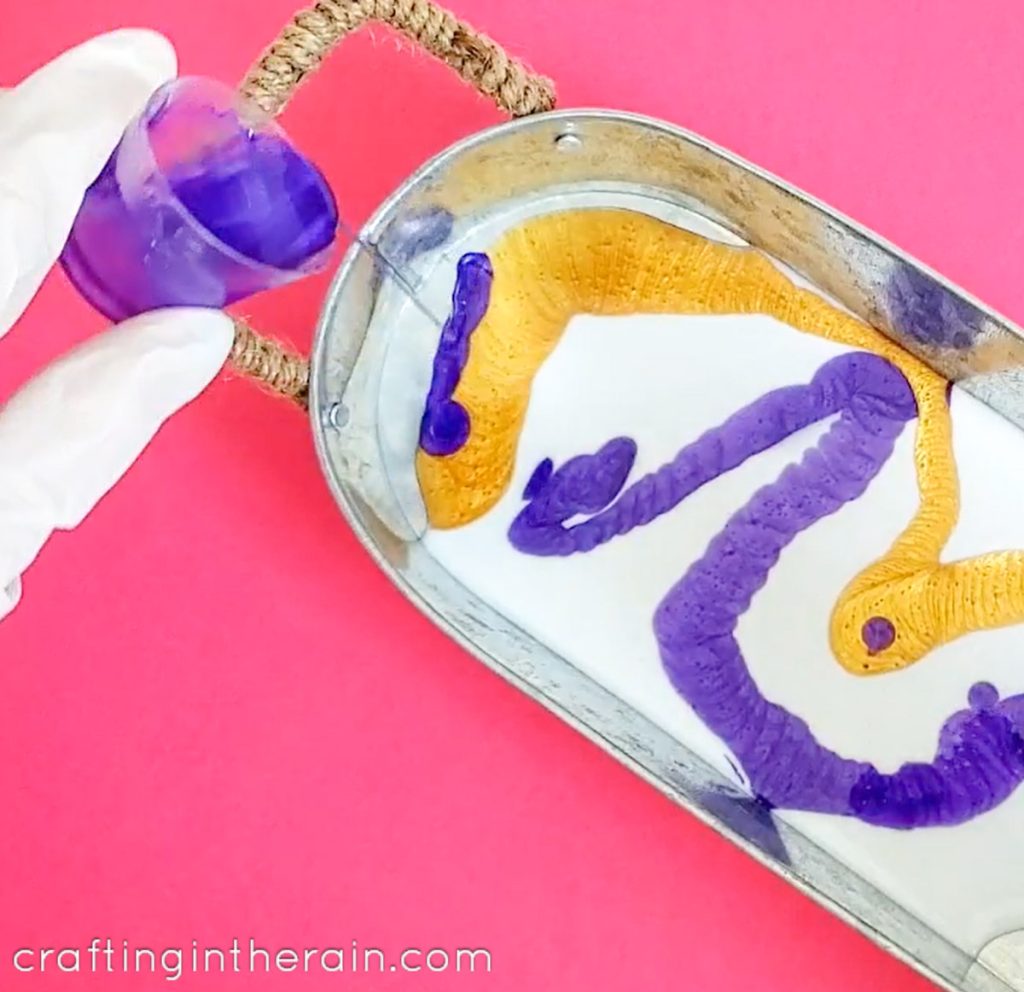 With the tray bottom covered, pass the heat gun over the top to pop air bubbles.
Swirl colors together slightly and add the resin mixed with glitter.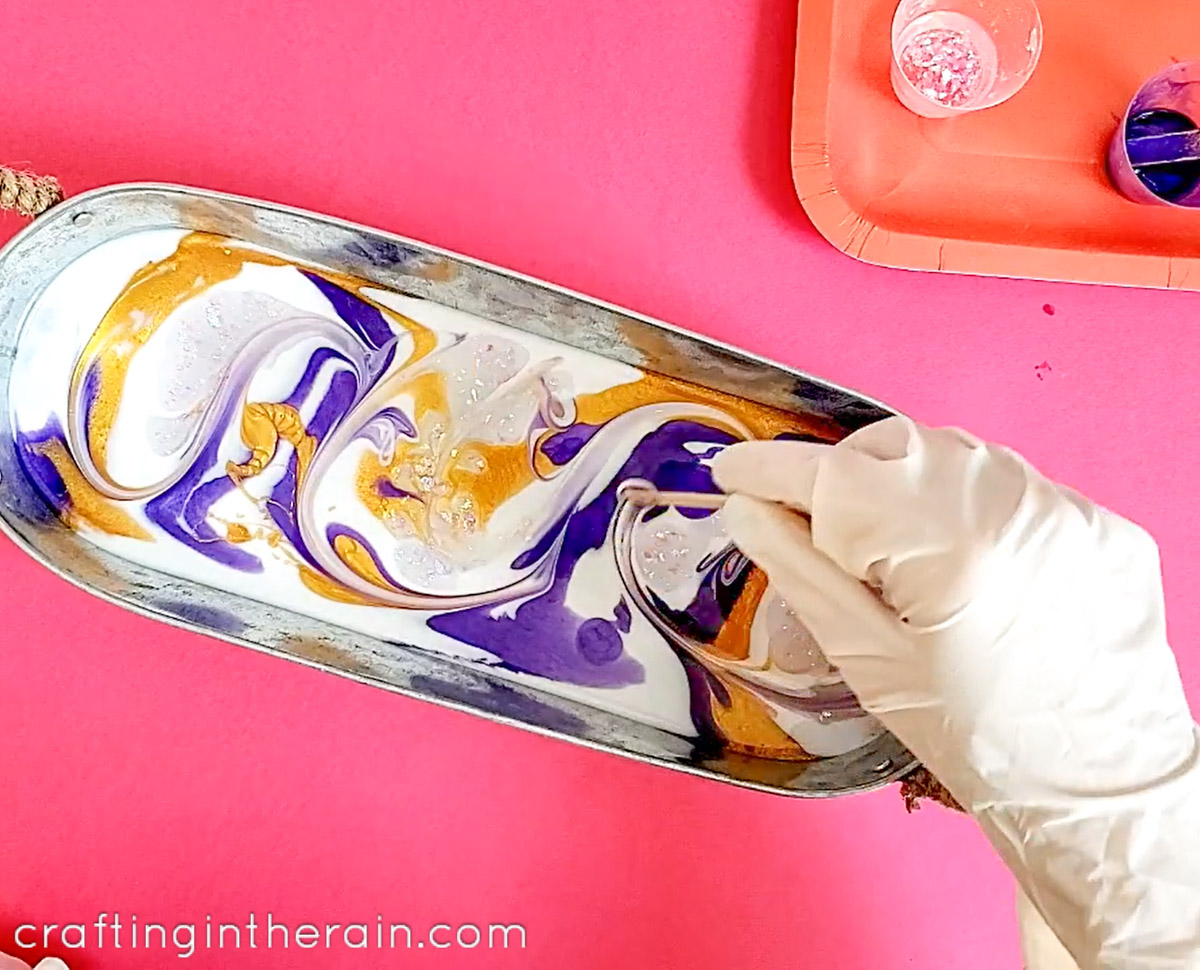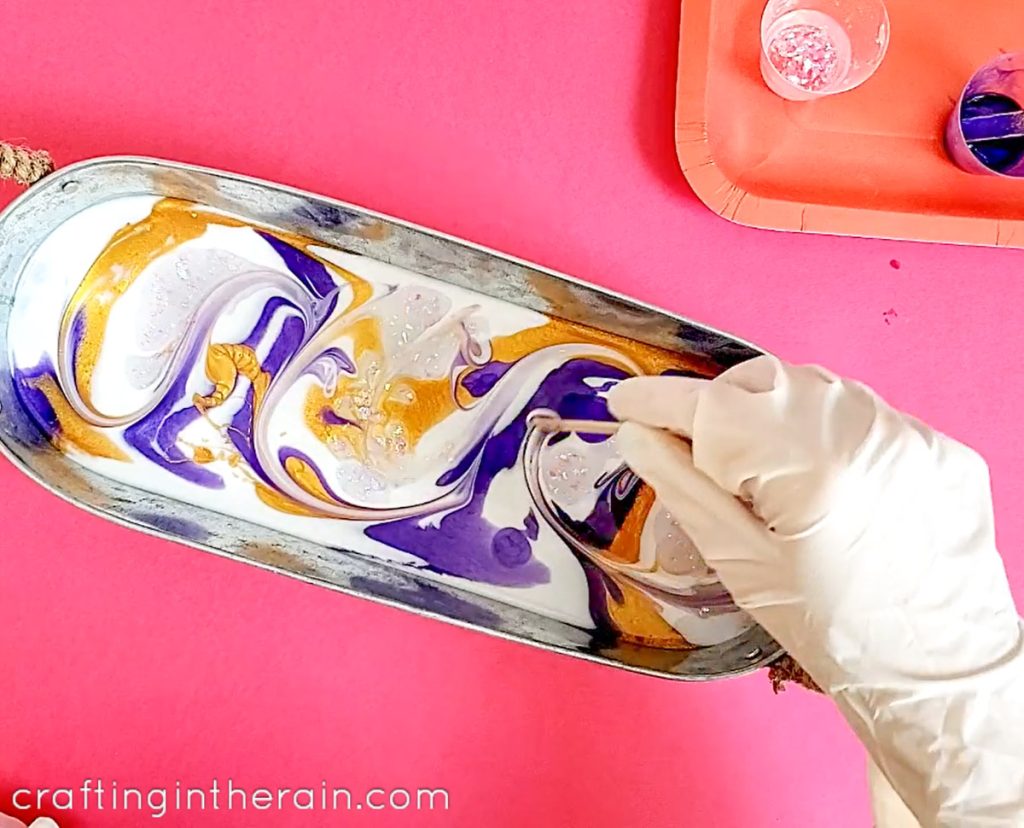 Use the heat gun to create new patterns in the resin. It will cause it to spread a little more.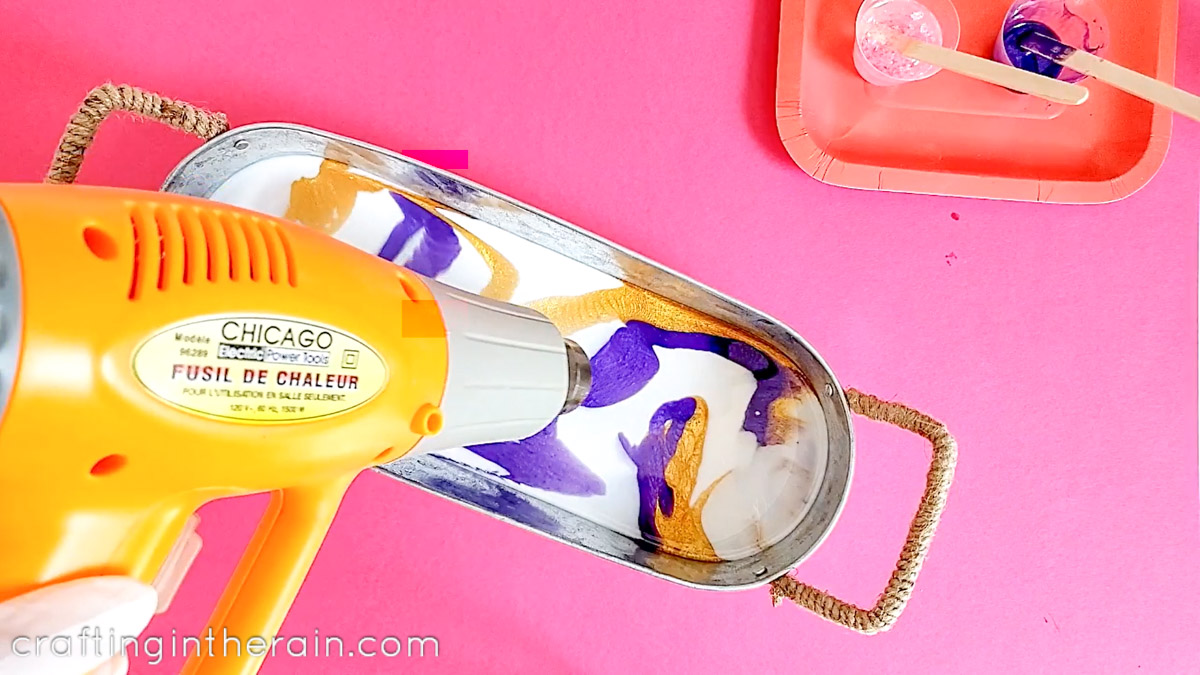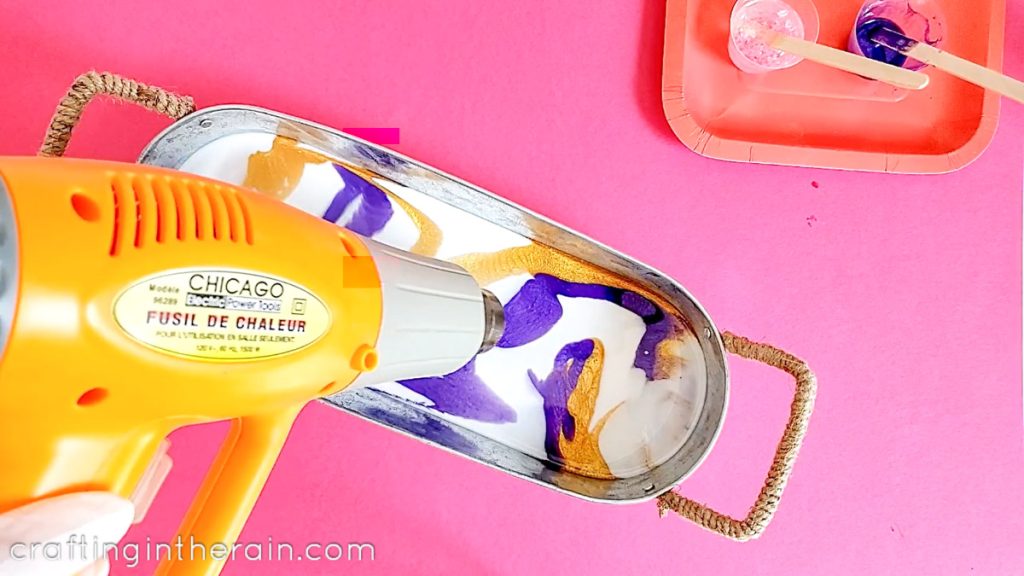 Cover tray with a large box or poster board to keep dust out while curing. After 24 hours, the tray is ready to use. 
How to Make a Resin Tray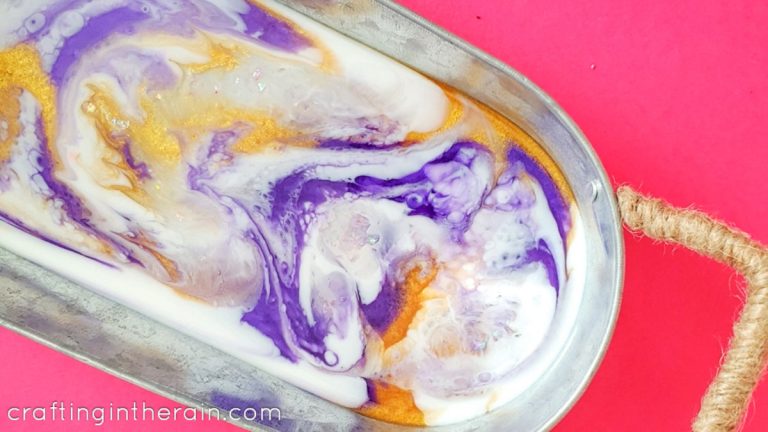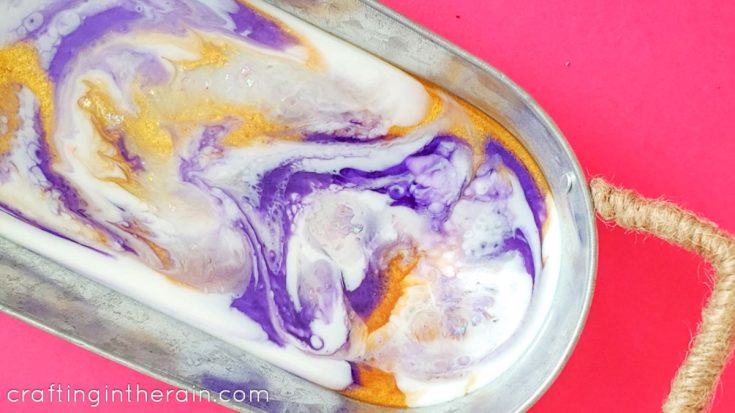 Pour colored resin to make a custom resin tray for serving or decoration.

Prep Time 10 minutes

Active Time 30 minutes

Total Time 40 minutes
Materials
Tray
Resin
Colorants
Measuring cups
Stir sticks
Instructions
Mix resin according to package instructions
Divide and add color
Pour resin
Spread and rotate to cover tray bottom
Remove bubbles with heat gun
Use heat gun to create additional resin patterns
Cover and let cure
Recommended Products
As an Amazon Associate and member of other affiliate programs, I earn from qualifying purchases.

Wondering if your DIY resin tray is food safe? Envirotex says of their resin: "Envirotex Lite has been approved for "limited" food contact, that means surfaces such as serving trays, counter, table and bar tops, etc., but not the interior of cups, dishes where food may be heated or stored." So there you go!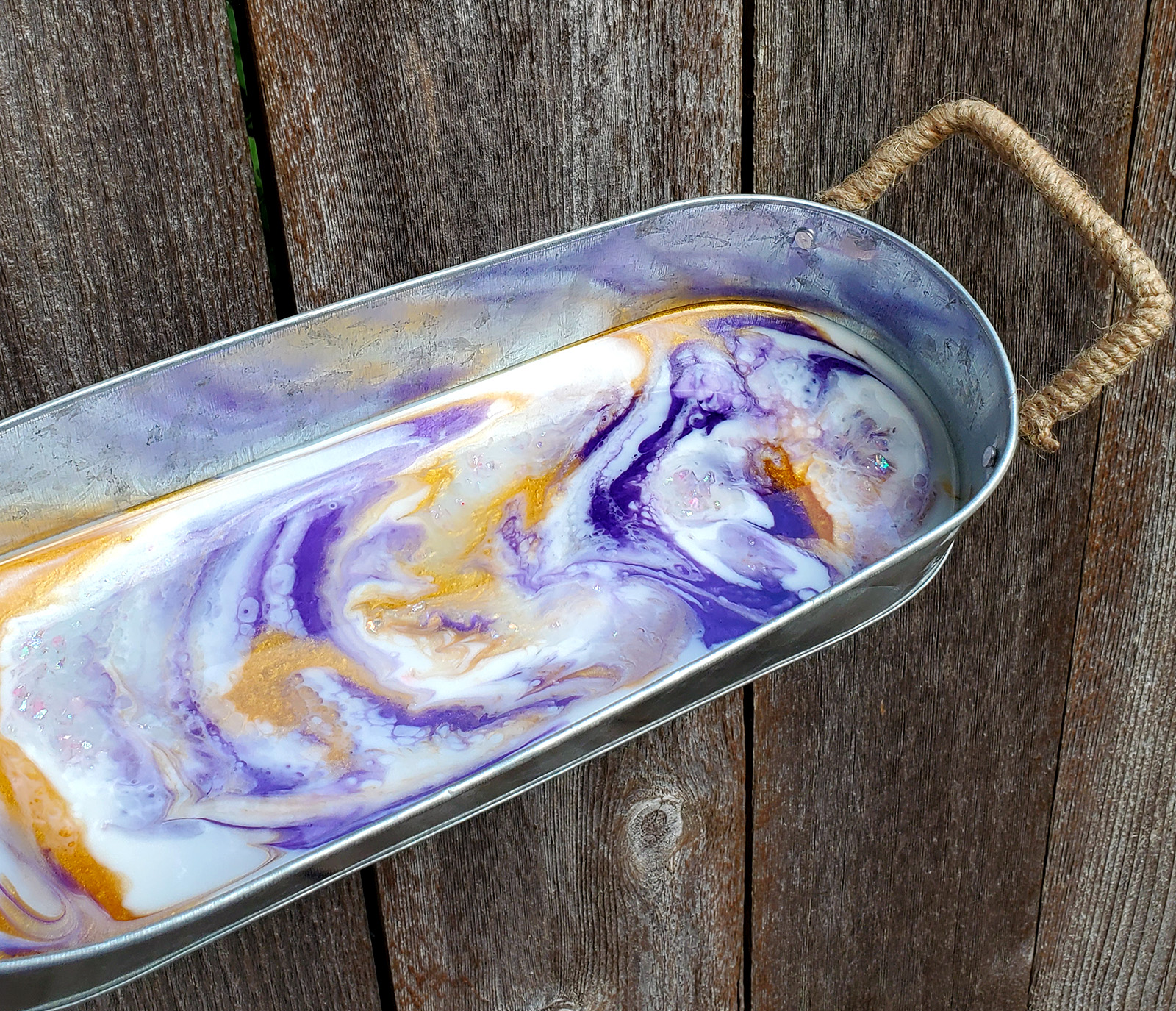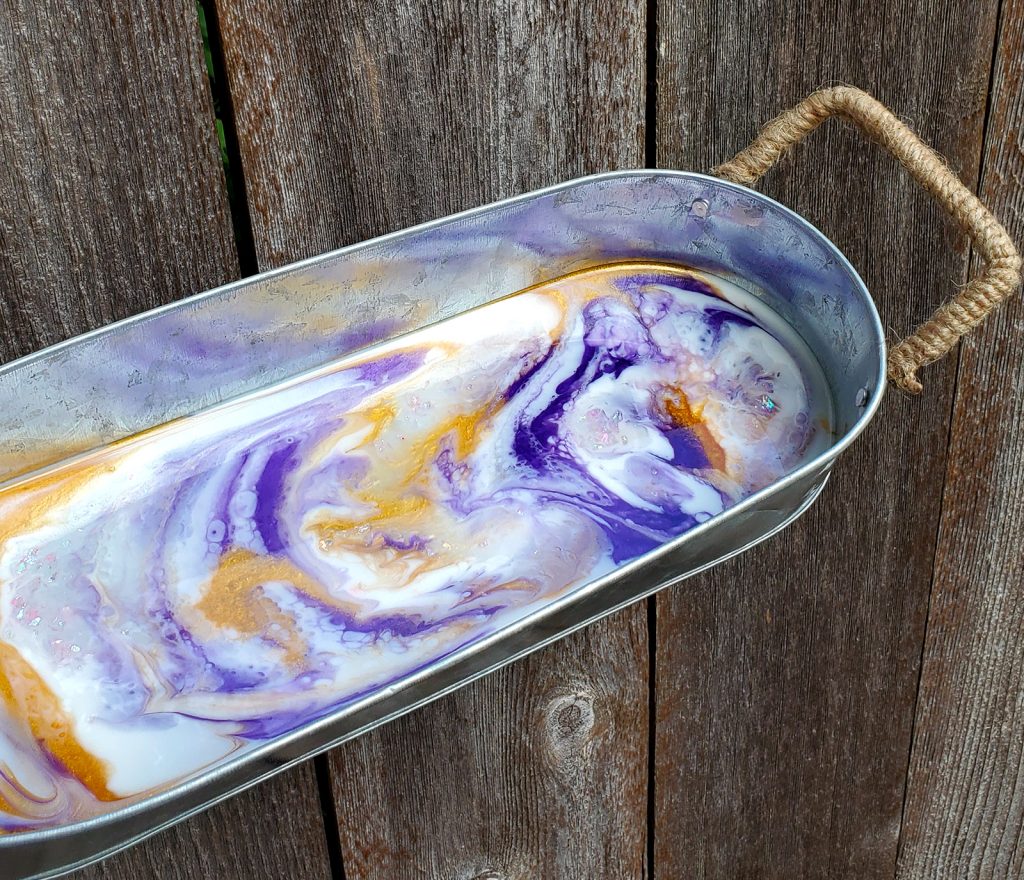 Take a look back at my first resin project in this state wood cutout.
Let me know if you have any questions!
Here's another tray made with the same process but different colors of resin.