If you haven't read my Infusible Ink basics post, go back and read that to make sure you've got a good handle on what Infusible Ink is and what it does. Since I found it has a bit of a learning curve, I want to show you a couple of things to watch out for and how to fix Cricut Infusible Ink problems.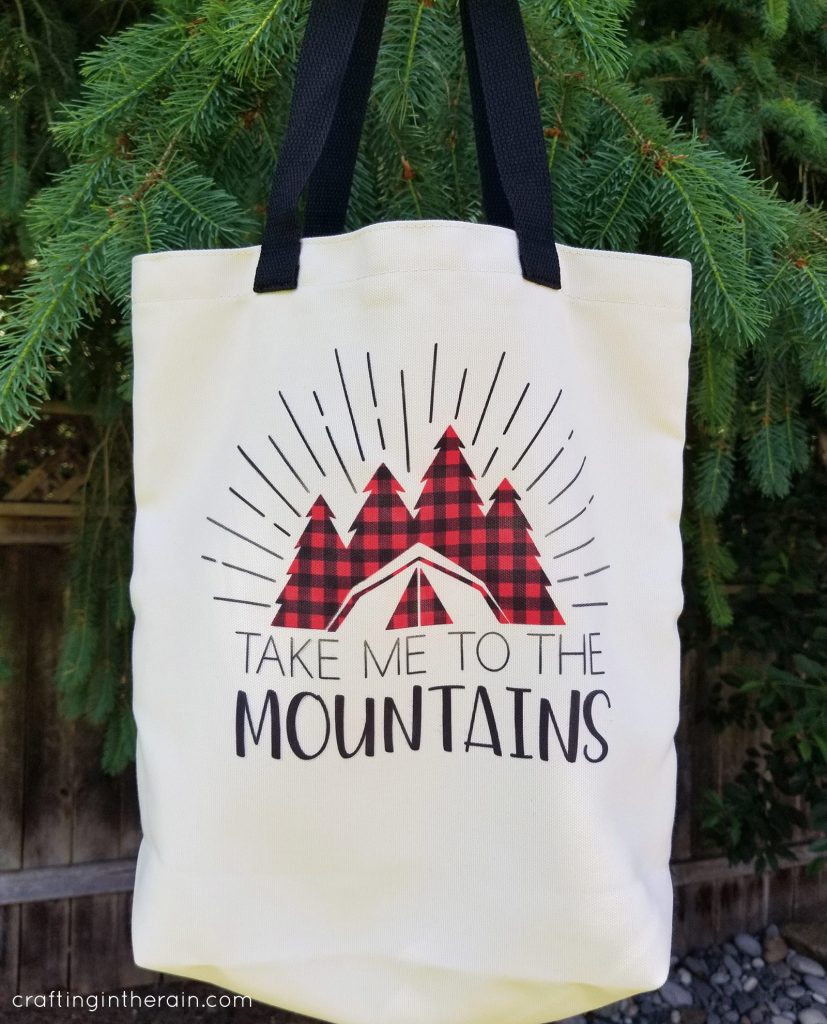 If you're like me, you're probably a little bit impatient with your crafts. I like to use a hair dryer to speed paint drying for example. I'm also not great with reading instructions. I kind of browse, and figure it out along the way. I mean, I've been making things since I was a kid, right?
Even with reading all the directions, I had a couple of errors in my very first Infusible Ink project – but found a way to fix them (at least kind of) so I wanted to share! (some links affiliate)
I feel like it's also my job to tell you that instructions for how to use Infusible Ink are kind of hard to find on the Cricut website. No instructions come in the box either – it just says to go to infusibleink.com. But that page is mostly just project ideas and some brief info.
To see step by step infusible ink instructions for all ink and base combinations, see this list at the Cricut help page.
Things that will mess up your Infusible Ink
Moisture or oils on your hands when you touch the transfer sheets – can cause uneven ink transfer
Using weeding tools on the transfer sheets – can press tiny amounts of ink into the carrier sheet that then show up in blank areas of your project
Making the design larger than your EasyPress surface – you need to be able to press the whole design at one time
Lint or fibers on the surface of the blank – can create dots of stain on the project
Moisture in the material – can cause uneven ink transfer
Not covering fabric with butcher paper (letting the EasyPress plate touch the fabric) – heat can damage the fabric
Reusing butcher paper from another press – can transfer ink picked up from a previous project
Not covering EasyPress mat with cardstock – can transfer ink onto the mat which can be picked up by the next project, or at least stain your EasyPress mat forever
Shifting the design while pressing – can smear the design and cause ghosting
Pressing with the wrong temperature or time – dulled colors
Pressing over seams, zippers or buttons – will make uneven pressure that results in uneven coloring
Letting the design touch back down on the blank when you're trying to remove it – ink may still transfer from the paper
Folding the material on itself before it's cooled – ink can transfer while it's still hot
Pressing over an area again – ink will turn back into gas and lift up from the project and become lighter
And here's another tidbit I discovered – after preheating my bag, it was still so hot that when I was cleaning it off with the lint roller, my nail dragged along it and the bag picked up a streak of nail polish! So, besides being careful to not touch the bag because it's hot, be careful with your manicures!
Also – I learned I was supposed to remove lint BEFORE heating – (see bullet point about lint above.) But the basic warning here is that things will be hot, so be cautious.
I tried to clean off the streak with acetone. It significantly lightened but didn't disappear completely. So I just put the design on the other side of the bag.
Watch the video to see the whole process.
**NOTE** My friend Karley works at Cricut and gave me another tip that will help with future layering projects. On this design, take all the plaid pieces off their liner and put them on the larger liner that has the black pieces. That way there's not an extra layer of liner that can also cause a lighter transfer!
Fixing Infusible Ink that's too light
When I made this bag, the plaid mountains didn't transfer well and it was way too light in the middle of the design.
I was worried that there was no way I could line up all those burst lines exactly, but I did want to try to press it again.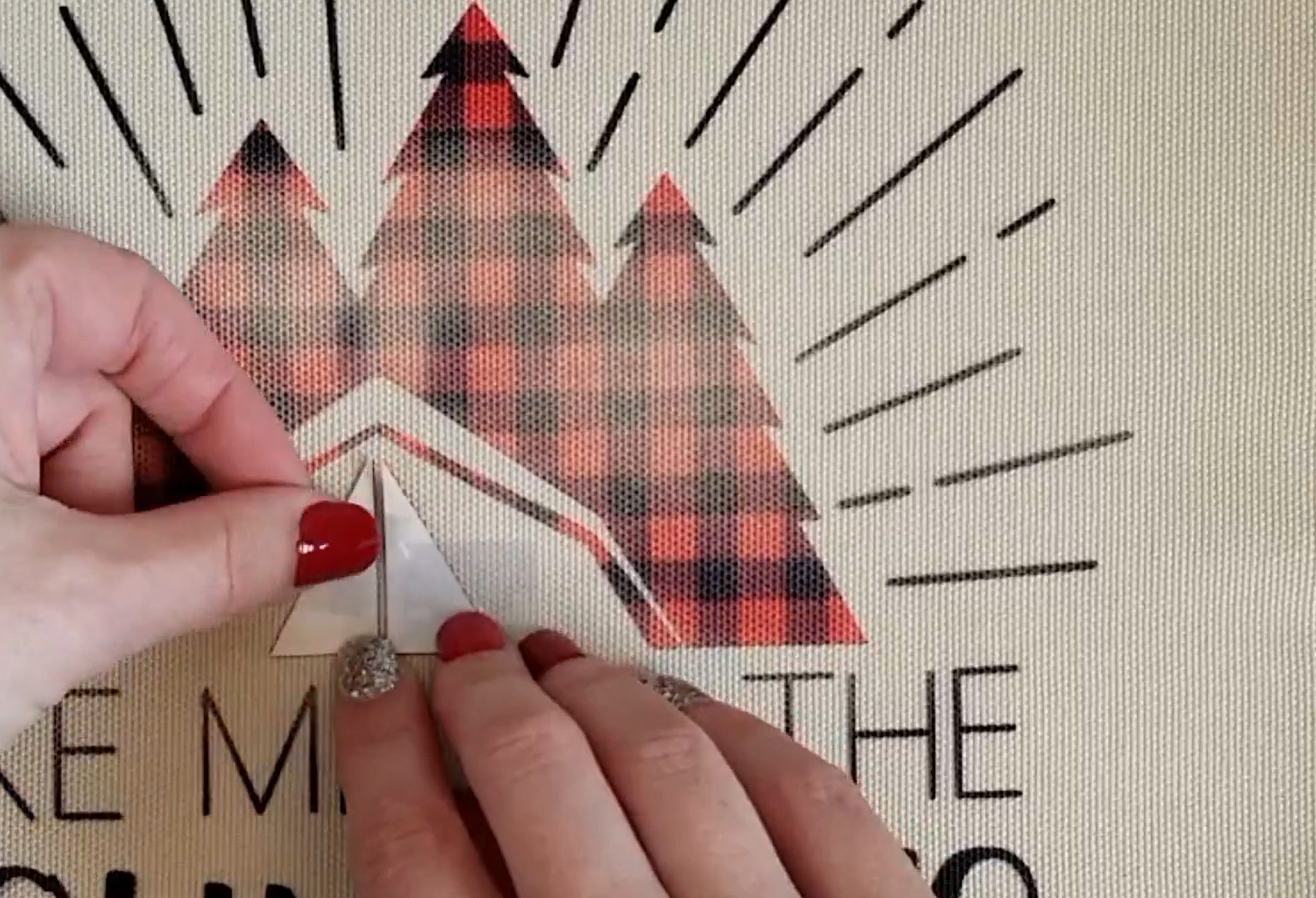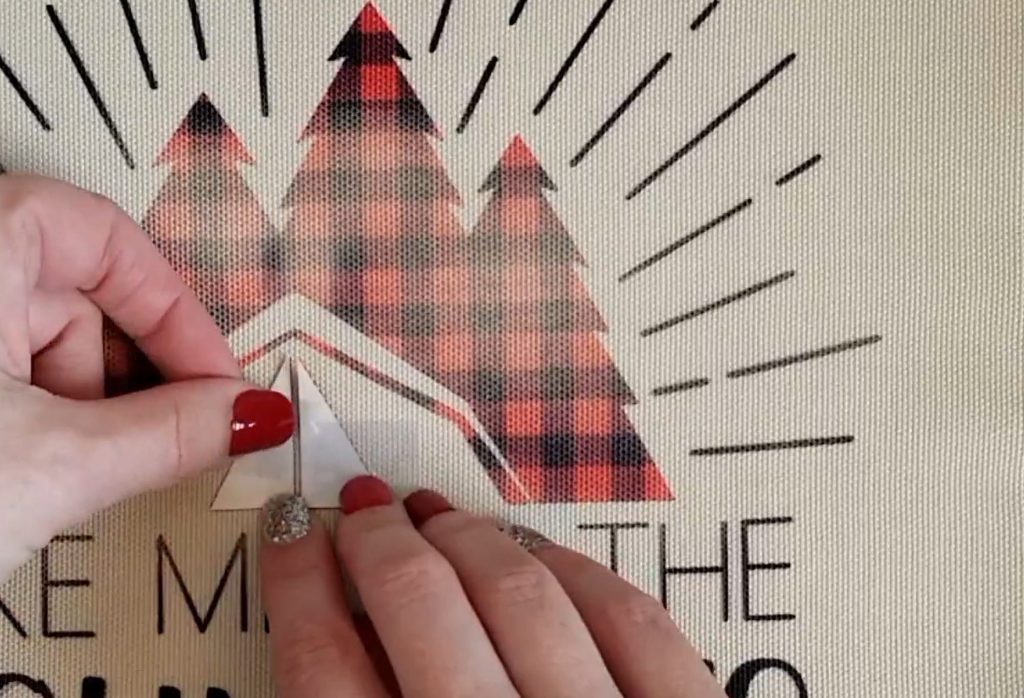 So I removed all the black pieces from the plastic sheet. Then I took just the plaid pieces and secured them to the bag with heat resistant tape – making sure to not overlap with any of the black design.
I covered the whole design with the plastic sheet and pressed again for 30 seconds with more pressure. Sure enough, that did the trick!
Don't do this again though, because that plastic carrier sheet has now picked up a bit of the black ink, and that will go into your fabric if you press again.
It also did lighten up the black a little bit – so it really isn't ideal to press twice. But I feel like this was a good fix for the plaid design and making that color more vibrant.
Next time I will apply little more pressure when putting an Infusible Ink design on a bag, and I'll move everything to a single carrier sheet. Hopefully, this will help you fix Cricut Infusible Ink problems too.
Open the Mountains Design Space project.
Get ready to shop at Michaels (online June 16 or in store June 21) Until then, browse Infusible Ink products here.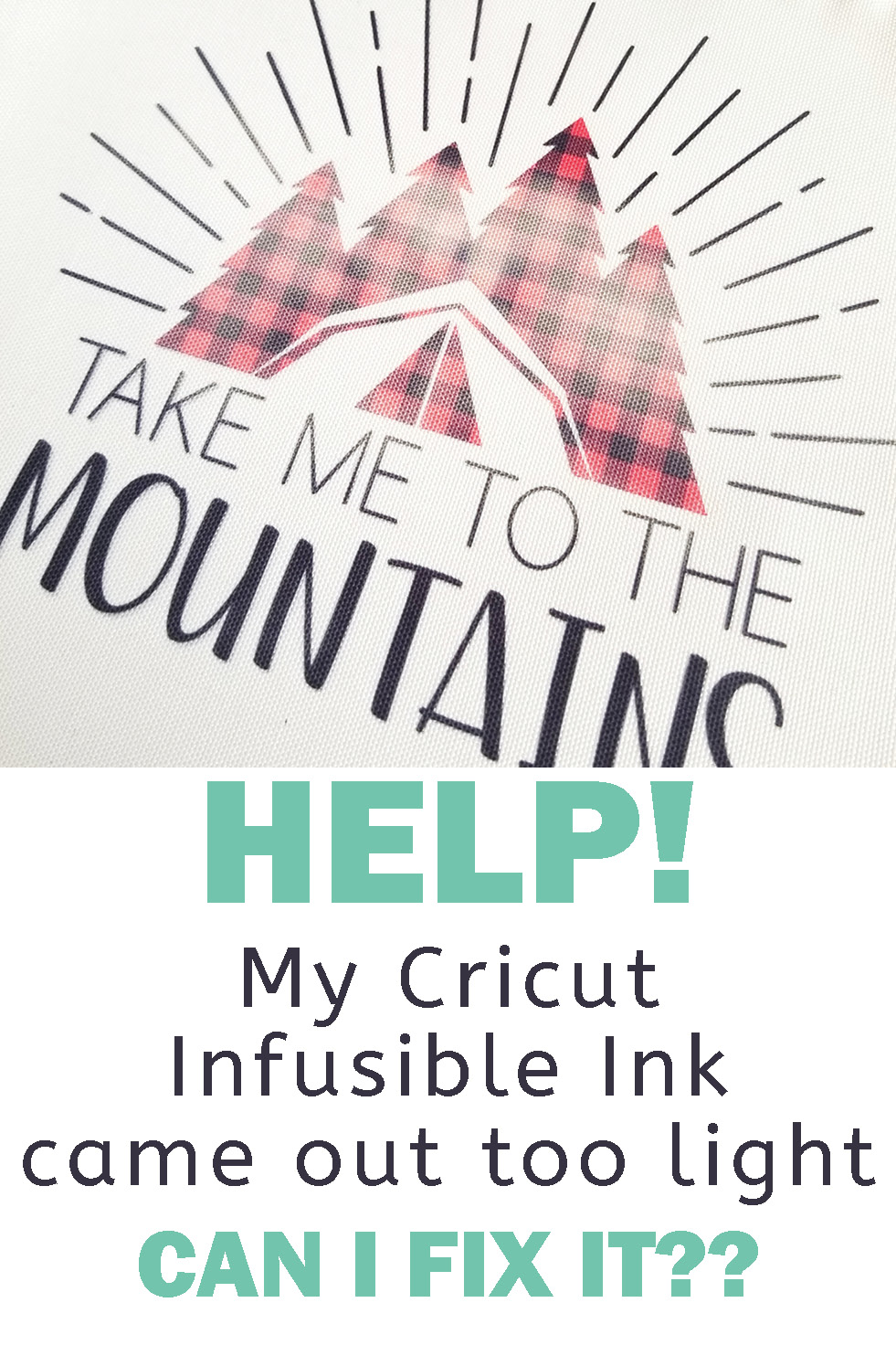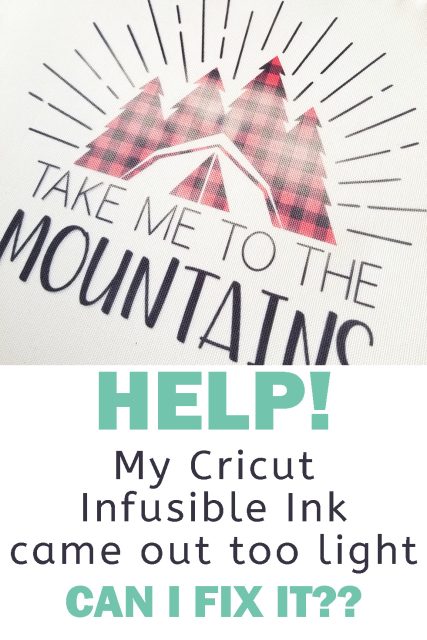 You can also see how I made round Infusible Ink coasters here.