Do you travel a lot (or did you use to?) Do you have a traveler on your gift list? I have some great travel hacks with iron-on vinyl to share with you.
We all know about using HTV to make custom shirts, and it's common for traveling families to make themed shirts for their vacations. I've made a few myself for us and friends.
But there is so much more you can do with HTV to make your actual travel easier, not just your cute destination outfits.
Customize luggage with HTV
The more you can do to make your luggage stand out on the pick up carousel the better. People often tie yarn to the handle, or slap on a strip of neon Duck tape. But there are cuter ways to do it!
Add monograms to luggage tags
If you use PoliFlex Turbo, you can use a low temperature and not damage the tag. You wouldn't want to do this on plain plastic tags, but these here are a kind of faux leather. And there are fabric luggage tags too.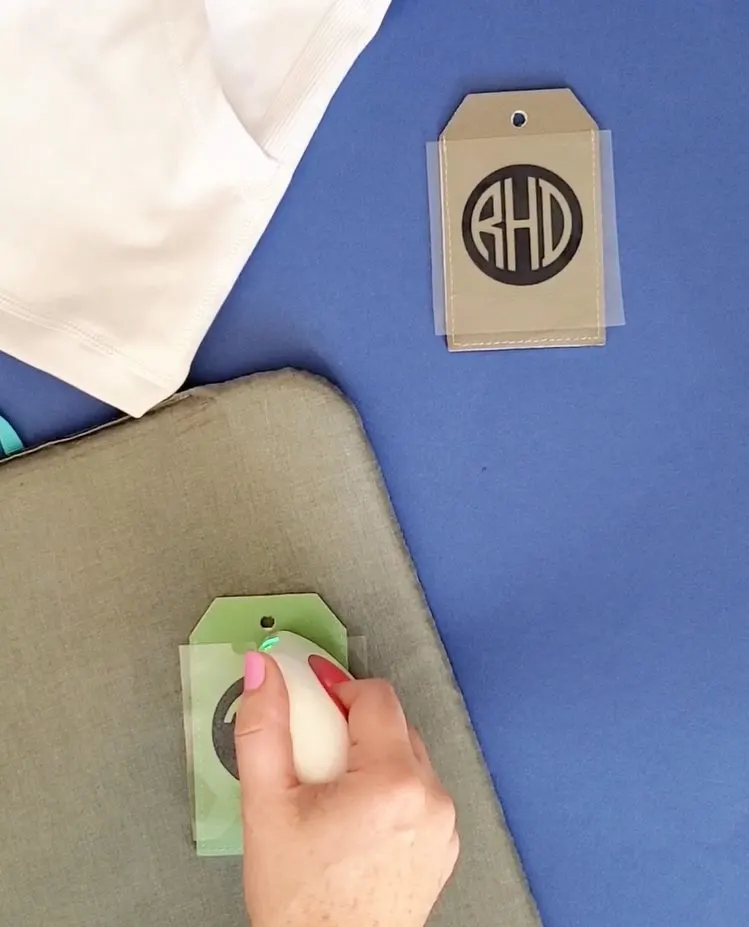 Decorate luggage with htv
You can also add something practical or pretty to your actual suitcase! This suitcase is a carry-on bag from Ikea. It is a rigid suitcase but has a cloth texture on the exterior. So I added my monogram!
If you decorate the front and back of your suitcase, it doesn't matter how it lands on the carousel after coming down the chute – you'll be able to identify it.
Now, if we could just get people to stand back and not crowd the carousel. Let other people see! Only take up space when you see your bag coming! But I don't know how to use HTV to fix that 🙂
Identify apparel with HTV
If you're sending your kid to school with a jacket, it is useful to put their name inside. It can get returned and easily claimed at the office or with the teacher.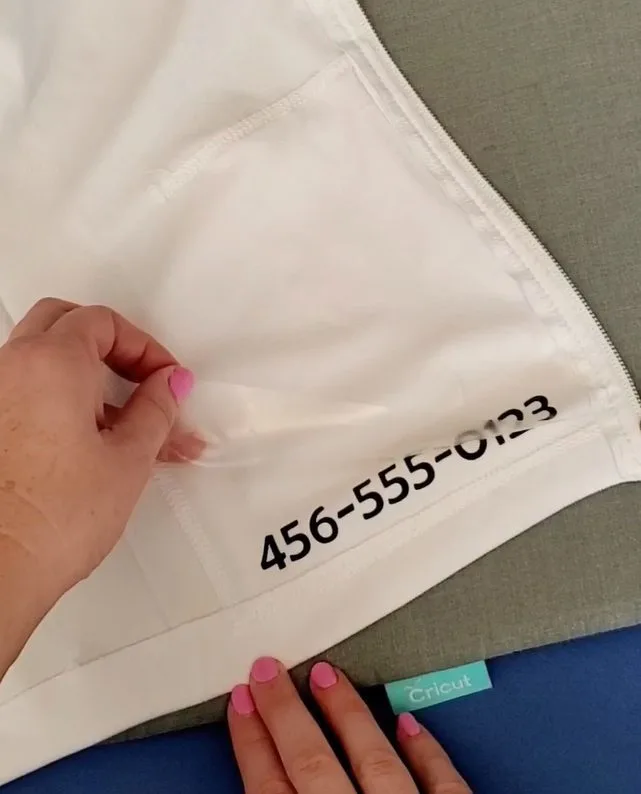 At an airport though, I figured a cell number would be much more useful. Say you leave it at lunch accidentally. Someone can call you while you're sitting at your gate without trying to get your name announced over the loud speaker.
Travel Organization
If you travel with storage cubes or laundry bags, these can be personalized with days, occasions, or contents to make packing, using, and unpacking easier.
You might need to heat test them first, but if you use a low temp HTV, like Politape TurboFlex, you can press as low as 265 for 5 seconds!
Canvas or fabric makeup bags like these can also be decorated.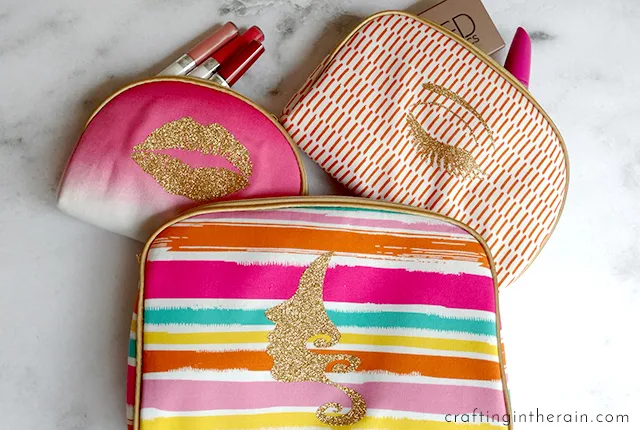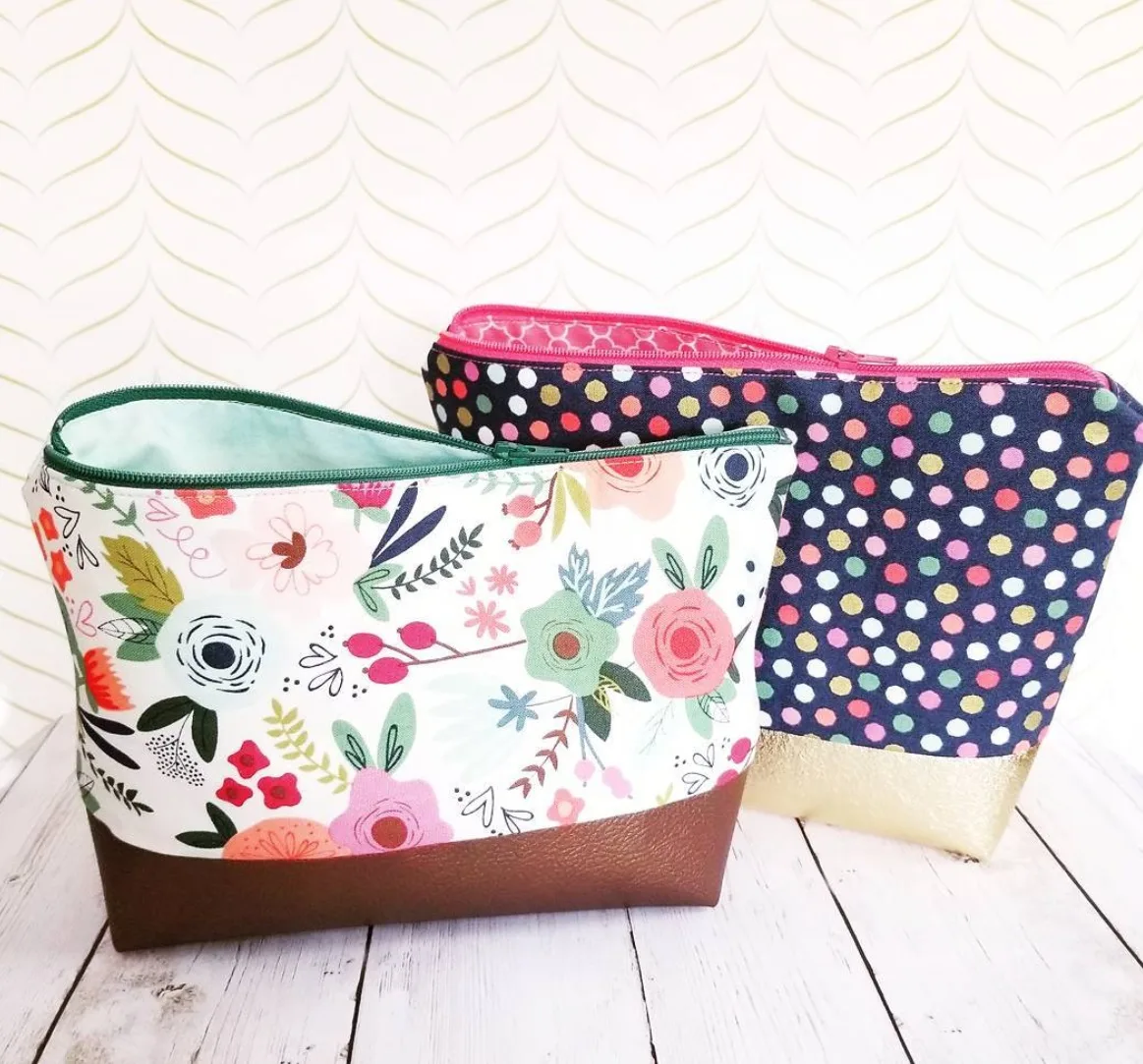 HTV can also make handy repairs
I once bought a travel neck pillow and while cutting off all the rough tags, I accidentally nicked the pillow itself.
Tiny microbeads were going to make a mess in a hurry. But I didn't want to have to trash it. So I cut a small heart shape from HTV, pressed it on, and it created a cute little patch on my pillow.
A neck pillow could also get a phone number added to it. They don't always stay snapped onto your luggage like they're supposed to.
What are some other travel tips with HTV I have missed? Leave them in the comments to help other crafty travelers.