A friend and her family recently took a trip to California and went to both Disneyland and Universal Studios. I made these Disney shirts and Harry Potter shirts for them, and between the two of us, we came up with designs and color combos that created a whole bunch of fun vacation fashion! **Keep reading for Disneyland Ticket discounts** (some links are affiliate)
For a matching shirt set, everyone got one of these Mickey or Minnie castle shirts (heads are black and the bow is holographic red!)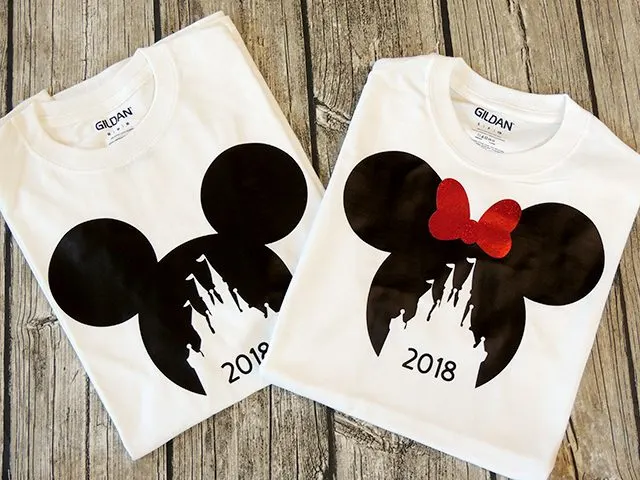 I'm pretty sure you'll read this shirt in Mushu's voice. Dishonor on your cow! The font is Copperplate Gothic. (Letters are white and Mushu is red.)
This shirt lists some of Disneys most famous villains. Fonts are League Gothic and Hobo Std Medium.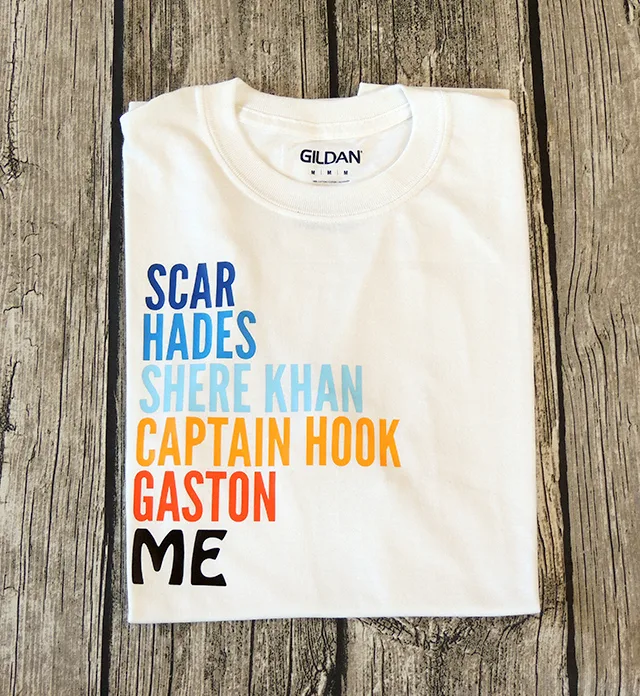 For the girl who'd rather be Hermione than a Disney Princess, you can make this shirt with Gold Glitter, Purple Glitter and black. Fonts are Cricut Sans, Walter, and Harry P.
Any Harry Potter fan will love this shirt with nearly 20 charms, curses and spells on it. Font is Harry P. I especially loved how the light blue iron-on shows up on the darker blue shirt.
Know someone who loves quoting Harry Potter and bursting out in Disney songs? This shirt has silver foil iron on, and again includes the fonts: Cricut Sans, Walter and Harry P.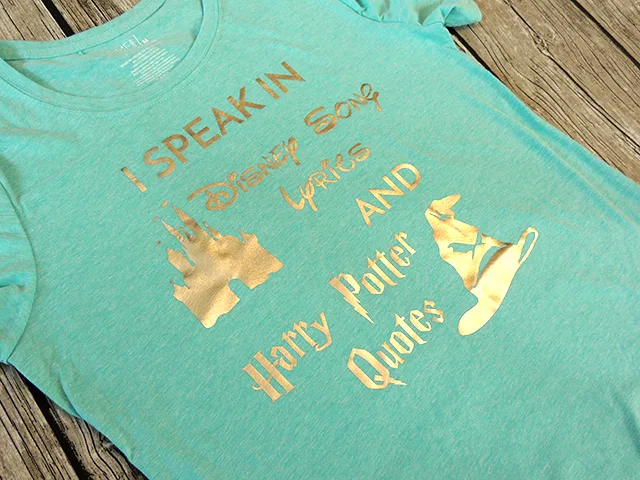 The silver glitter vinyl almost shimmers like an invisibility cloak. But here's how you can tell if it's not working.
And how about a close up to get a better look at the glitter.
It's almost like a game of Harry Potter I-Spy. This shirt has a lightning bolt, golden snitch, Platform 9 3/4, Deathly Hallows, Harry's glasses – and, did you find the Elder Wand?
Using a simple hat shape, some daisies, and red and yellow circles, you too can have a Mary Poppins Hat shirt. In fact, here's the Cricut Design Space file for it. You'll need to add the words underneath. Fonts are Breathe and Faither Modern Brush.
These next two Harry Potter shirts are pretty self-explanatory. Thanks to the Marauder's Map, we know the importance of these two phrases.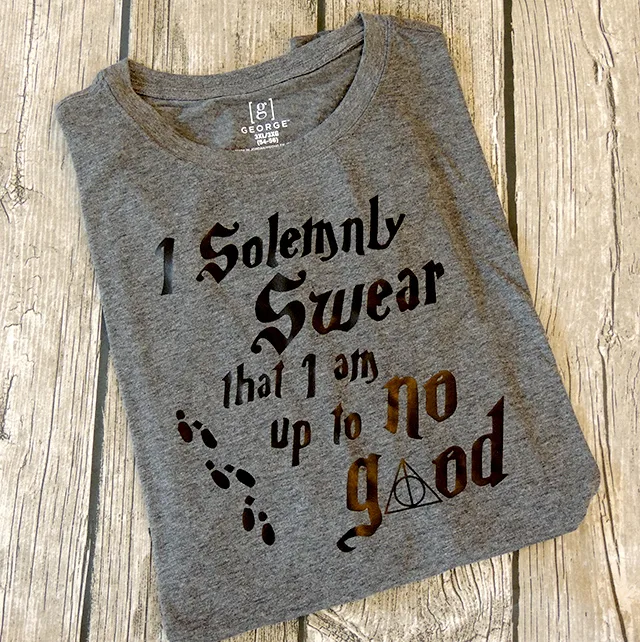 "I find your lack of faith disturbing." But at least Darth Vader comes with a warning label! Get the Design Space project here.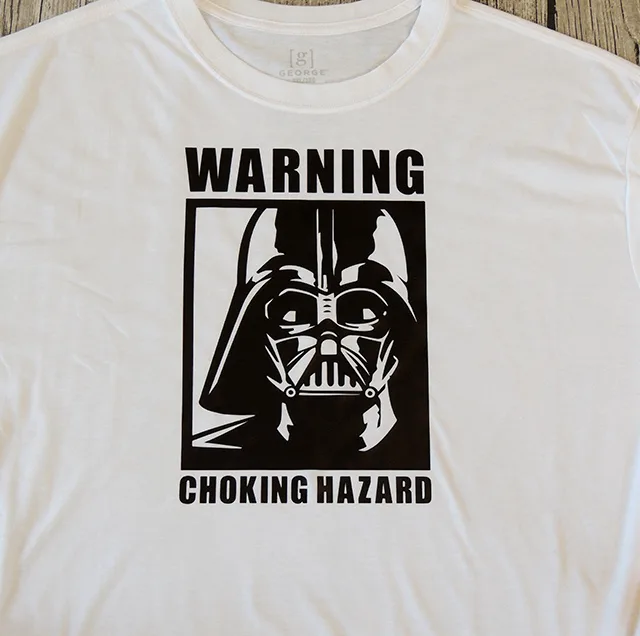 When Disney acquired Lucasfilm, the mashup possibilities for Disney shirts exploded, kind of like the Death Star.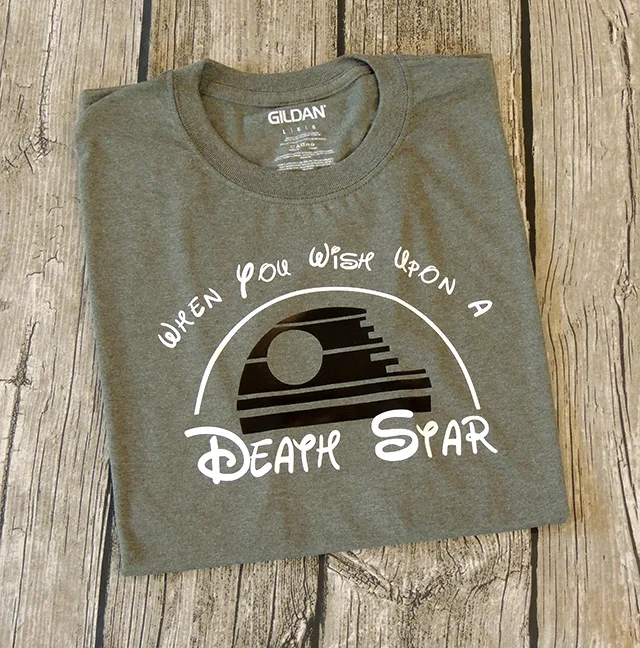 So if you need Disney shirts for your next Disney or Universal Studios vacation, I hope this gave you some good ideas!
Want to save some money planning your next Disneyland trip?
Get a 4-Day Park Hopper for the gate price of a 3-Day Park Hopper – that's up to a $25 per ticket savings!
Must purchase by

July 6, 2018

Tickets must be purchased at least five days prior to travel.
Valid for travel through

December 31, 2018

Tickets may be purchased separately or as part of a package. If purchasing a package, remove the 3-Day Park Hopper Tickets from the package and select the 4th Day Free ticket option.
If you purchase a minimum of 2-night and 2 theme park tickets, get an extra discount when you add the code CITR
Use this link: www.getawaytoday.com/4th-day-free?referrerid=7005
These aren't the only shirt ideas I've shared either. Check out these other shirt ideas:
Harry Potter Obsession
Star Wars quote shirts
Mickey Flag stencil shirt