I designed and cut my own laser cut necklace stand in less than half an hour! You could do the same with lots of different wood and acrylic options – I chose bamboo.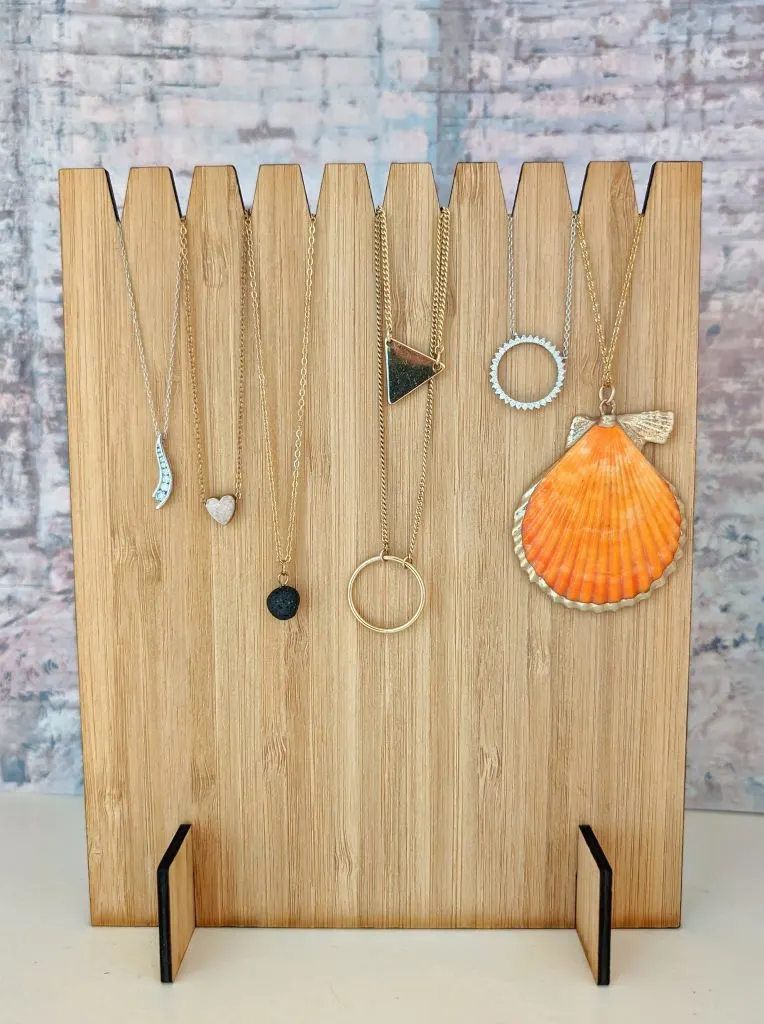 I realized I needed something for my necklaces when I was organizing my jewelry yesterday.
It was time to do the yearly cleaning of the small shelves in my closet. I don't know if this happens to you too, but they get so dusty in there!
I don't know if it's tiny fibers from clothes as they're getting tossed daily into the laundry basket or what, but I take everything off the shelves, dust them, and sort through the items before they go back.
I don't have a ton of jewelry, but it was definitely time to toss a bunch of the cheap earrings that were turning green 🙂
Want to purchase a pre-made stand here? Check out this Etsy Listing!
How to organize thin jewelry chain
I'm sure you know this already, but the thinner the necklace chain, the more likely it is to get tangled up. I swear those things can get knots and tangles just by sitting there!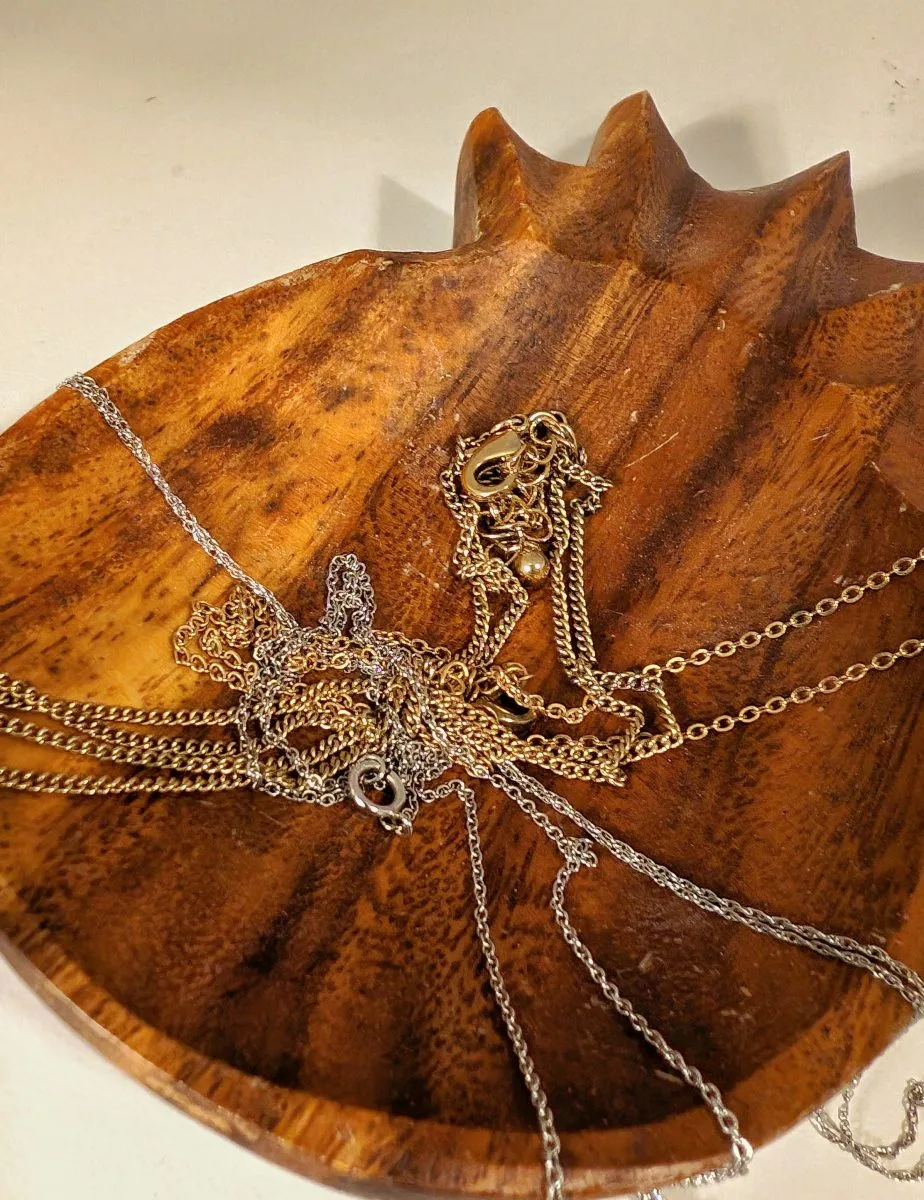 Several necklaces had tangled chains and had been forgotten in the back of my jewelry tray.
These aren't the big chunky necklaces we were all wearing in the 2010's, they're on dainty chains, so a big hanging display with Hobby Lobby style knobs was not the way to go.
I made some notches in a small cardboard box to keep them separated while I kept cleaning.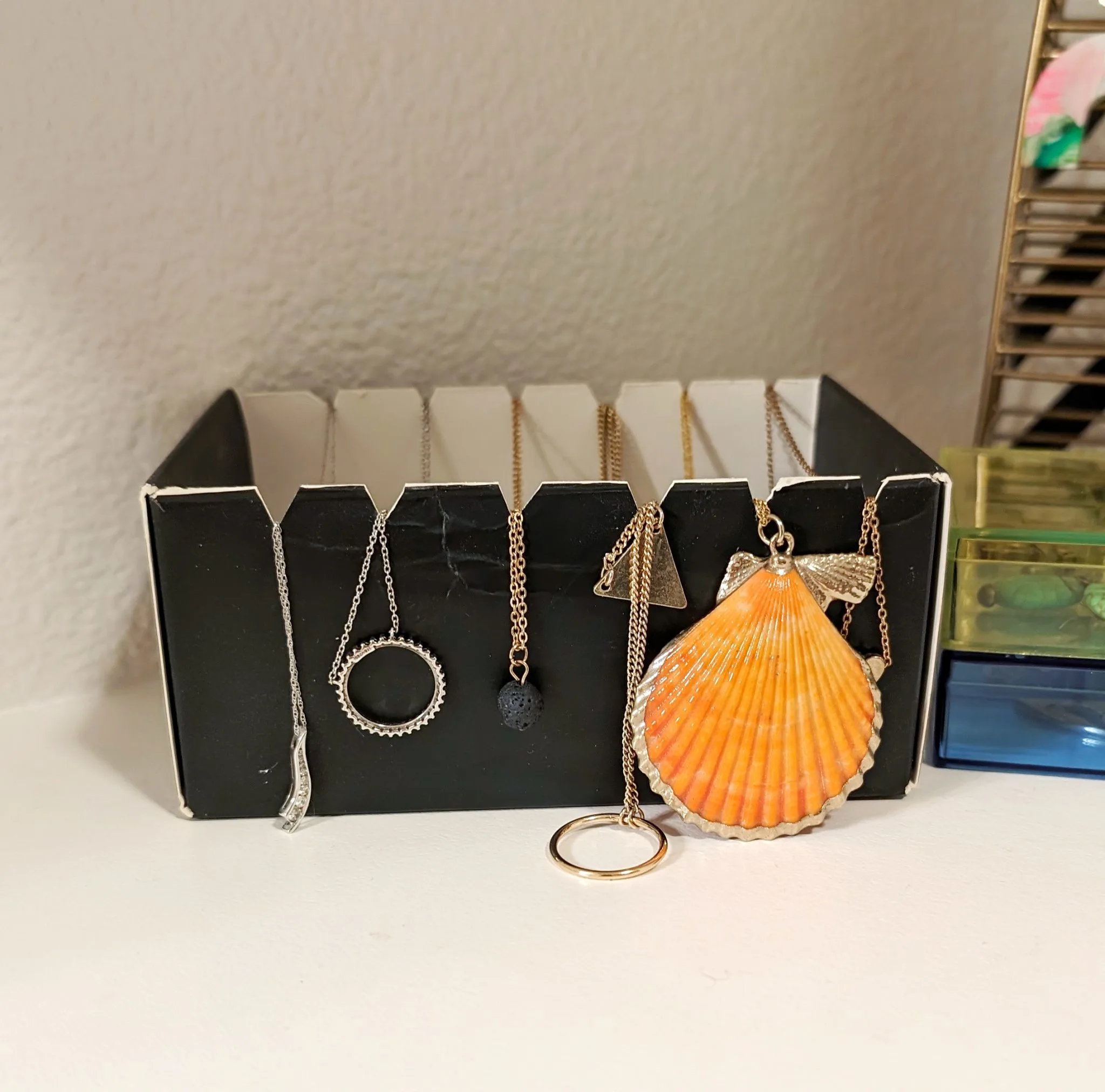 Then I realized that was the type of simplicity I needed! My online searches didn't produce exactly what I was looking for, so I spent a few minutes designing an SVG in Adobe Illustrator, then my xTool M1 laser cut it out in less than 10 minutes!
Supplies for making a laser cut necklace stand
1/8 inch bamboo sheet, at least 7×10 inches
Or another laser compatible material that's 1/8 inch / 3mm
Enter your email here to download the free laser necklace display file.
This file is for personal use, but if you'd like to sell anything made with this SVG, please purchase a commercial license here.
M1 settings for cutting 1/8 bamboo
Material Setting: 3mm Cherry Plywood
Raised on Triangular prism
(Power: 100 %, Speed: 4, Pass: 1)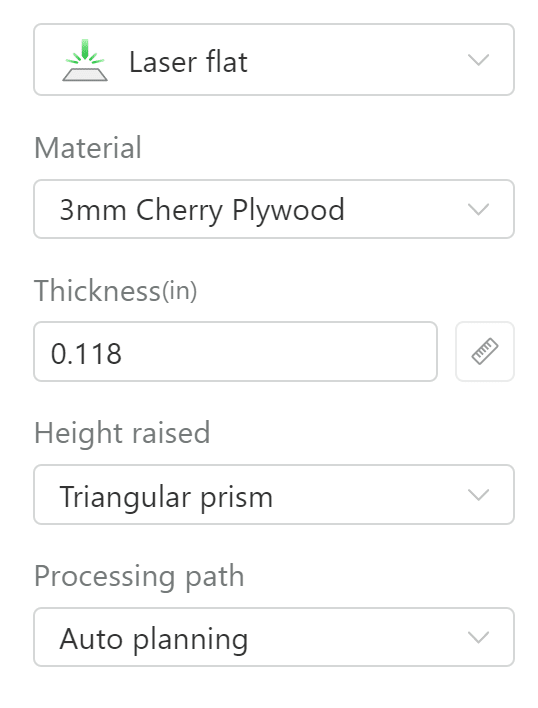 M1 project instructions
Project in xTool Creative Space
Upload the SVG to xTool Creative Space. Don't change the size, or it will affect the slot cuts and it will affect the stand assembly.
Change each line from Score to Cut.
Cut bamboo with M1
Place a few prisms in the base of the M1 and set the bamboo sheet on top.
Close the lid of the M1 and click Refresh in Creative Space. Make sure that the design is all on the plywood.
Click process, start, and then push the start button on the machine.
Assemble bamboo necklace display
After the cut is finished, remove the pieces and gently sand the edges and any overburn.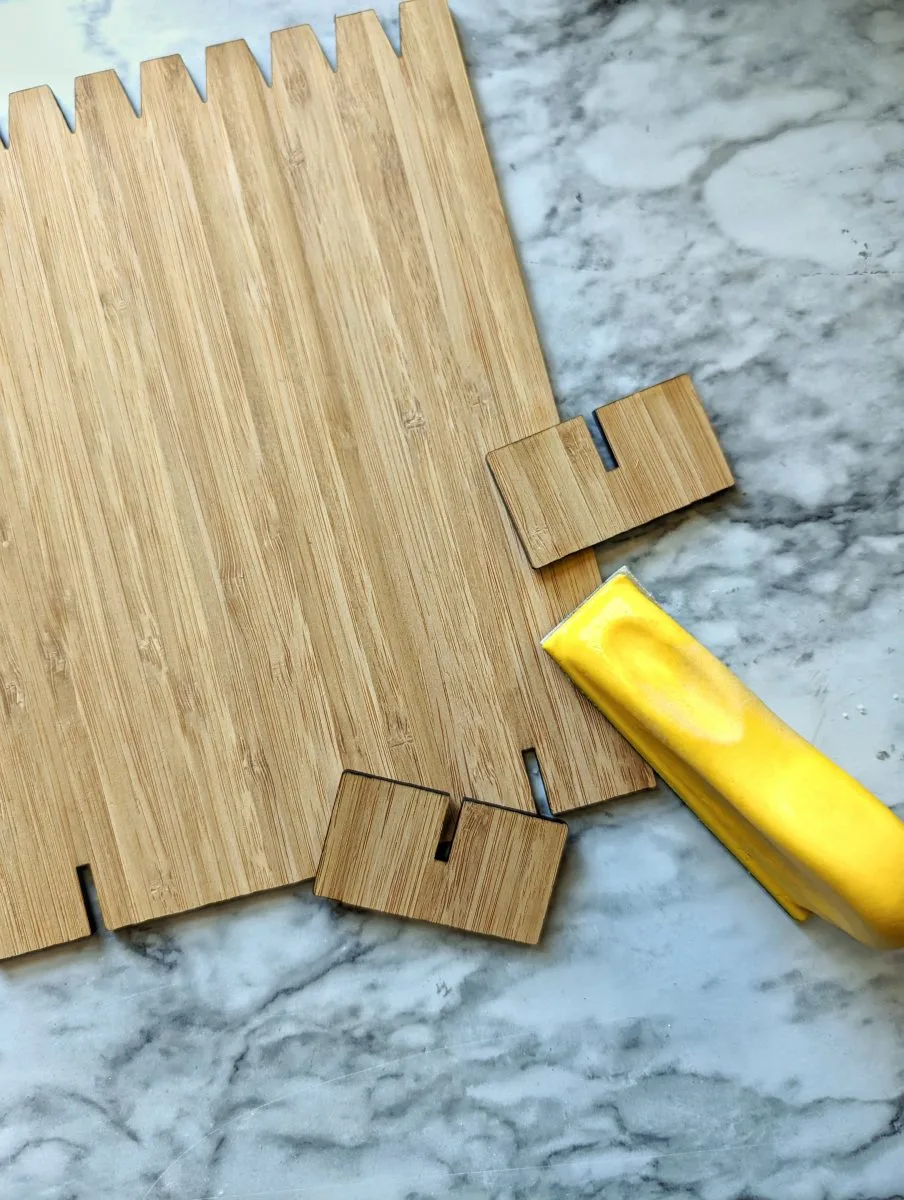 Slide the two small pieces into the large one to make it stand and add the necklaces.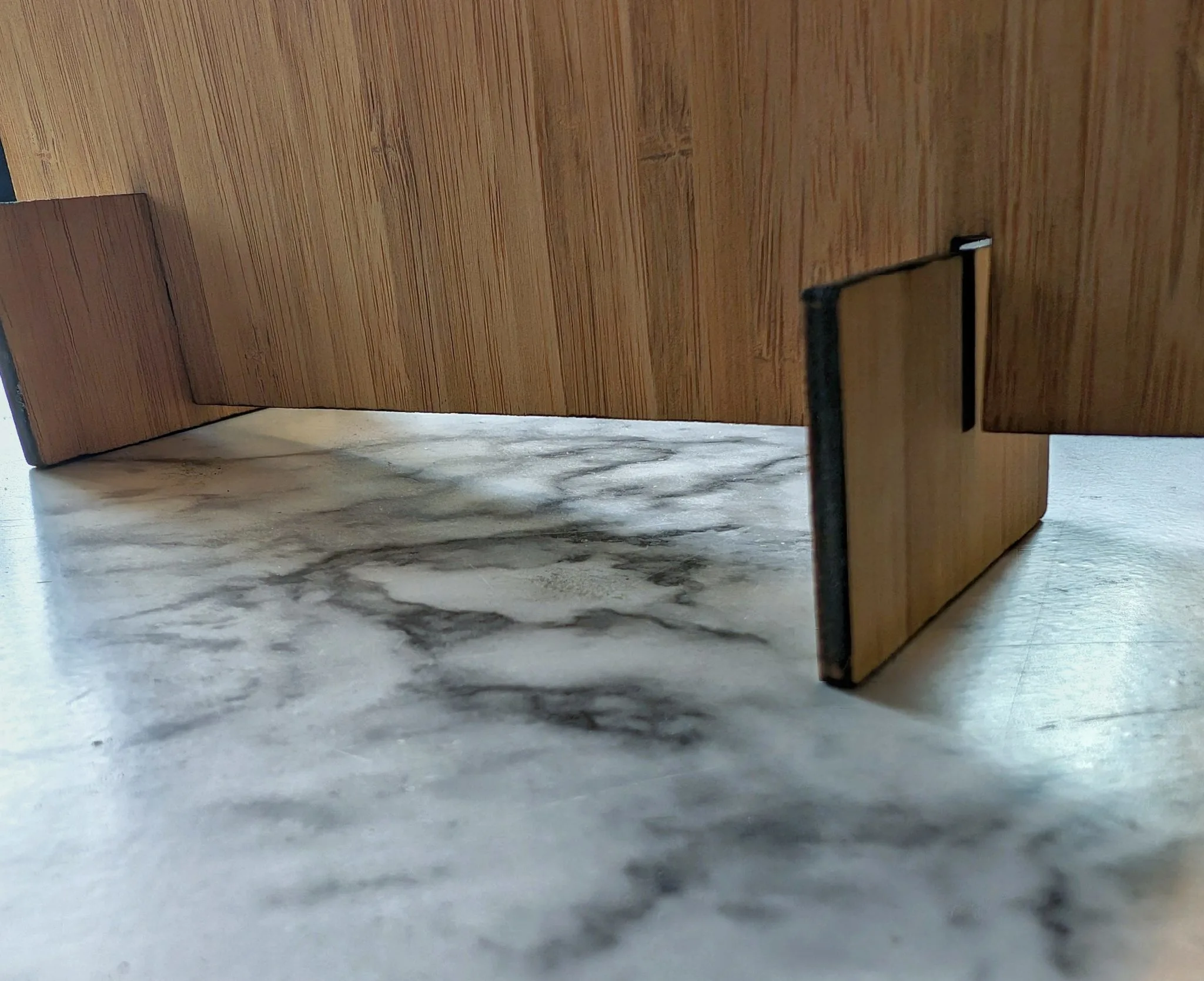 Bonus Design Idea
I didn't do any engraving on this necklace stand, but it would be a great piece for personalization!
Add a logo for craft fair displays, add a name or a whole custom message on either the front or the back. So great for gifts!
If you want to finish the bamboo, a water-based stain or mineral oil will look really nice.
Make sure that the bamboo is wiped well and left to cure for a couple of days before adding any jewelry to make sure there's no transfer.
This is how the necklaces look from the back. Most of the chain hangs back here – this helps balance the weight, and keeps each necklace securely in the notches.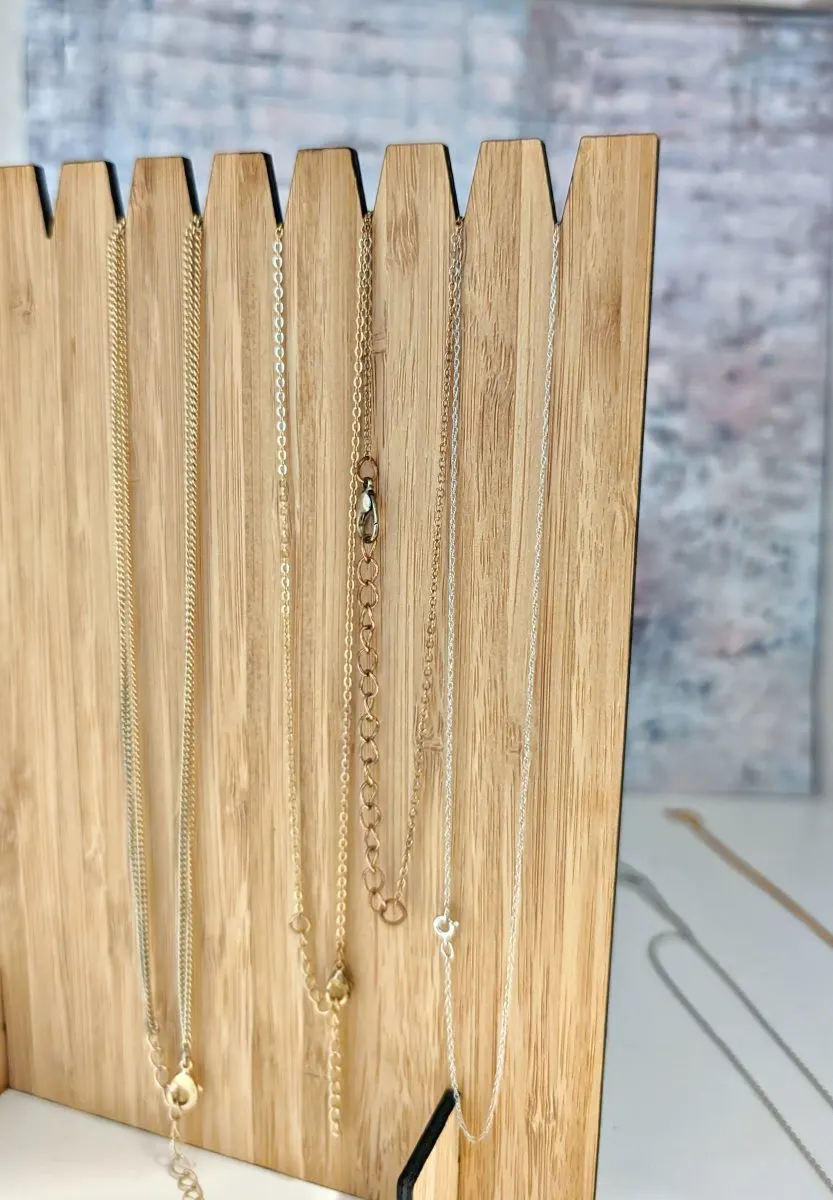 Now I have 3 benefits from this single project! My necklaces are not going to tangle, they look pretty on the stand, and I'm more likely to wear them.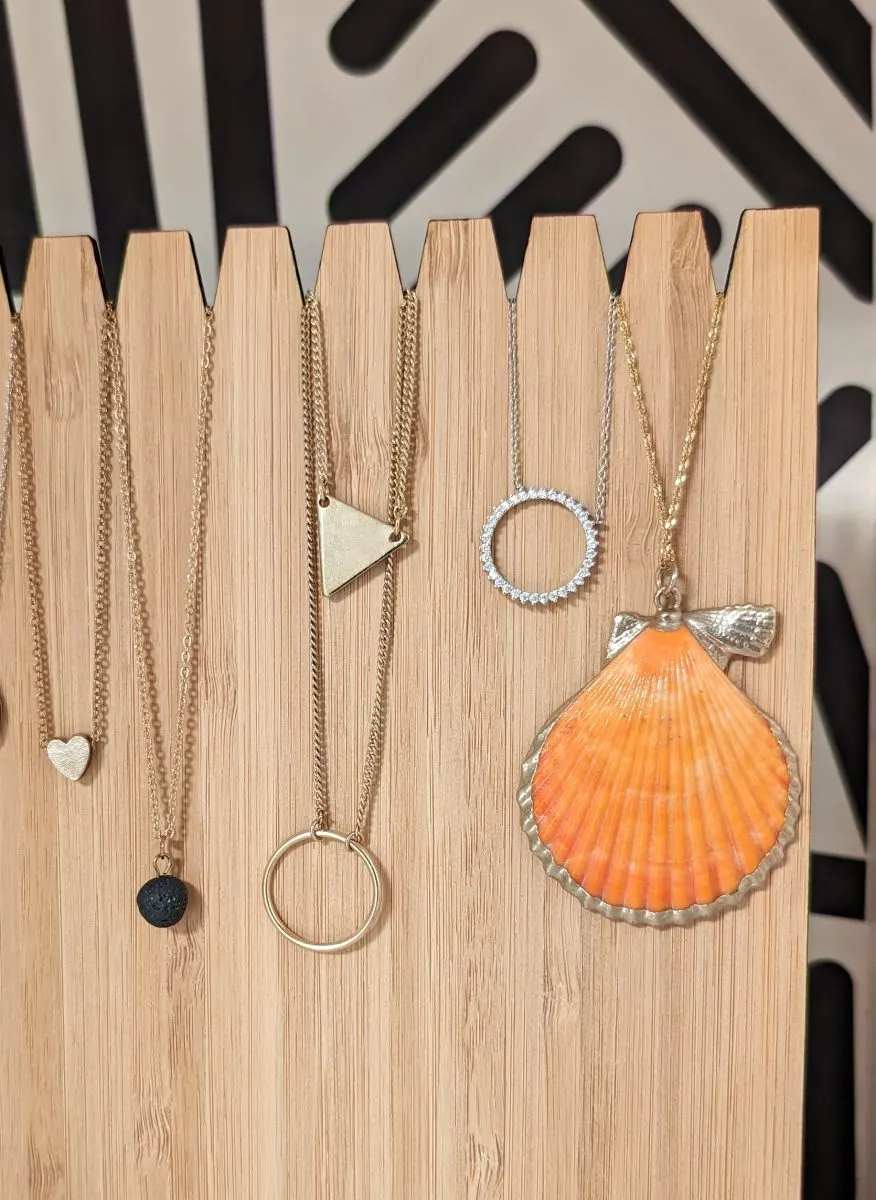 If you have any questions about my xTool laser or this laser cut necklace stand, leave me a comment!
Other cool laser projects: