Have you ever wanted to make resin guitar picks? They make great gifts, and if you have some picks already, you can even make your own resin mold!
This post originally appeared on Resin Crafts Blog
Rather watch a video tutorial? Watch how to make resin guitar picks on YouTube!
Supplies for making resin guitar picks
Alumilite Amazing Clear Cast
A few picks for creating the mold
Add-ins like dried flowers, glitter
Color Creator Premier Gift Pack – Mica Powder and Alcohol Ink
Resin Spray & Sealer
Mixing cups and sticks
Protective wear (glasses, gloves)
Make a mold using guitar picks
There are guitar pick molds you can buy, but since I already had picks at home, and molding putty, I wanted to make my own!
If you don't have any picks of your own, you can almost certainly get a single one for a dollar or two at the check out counter at any music store.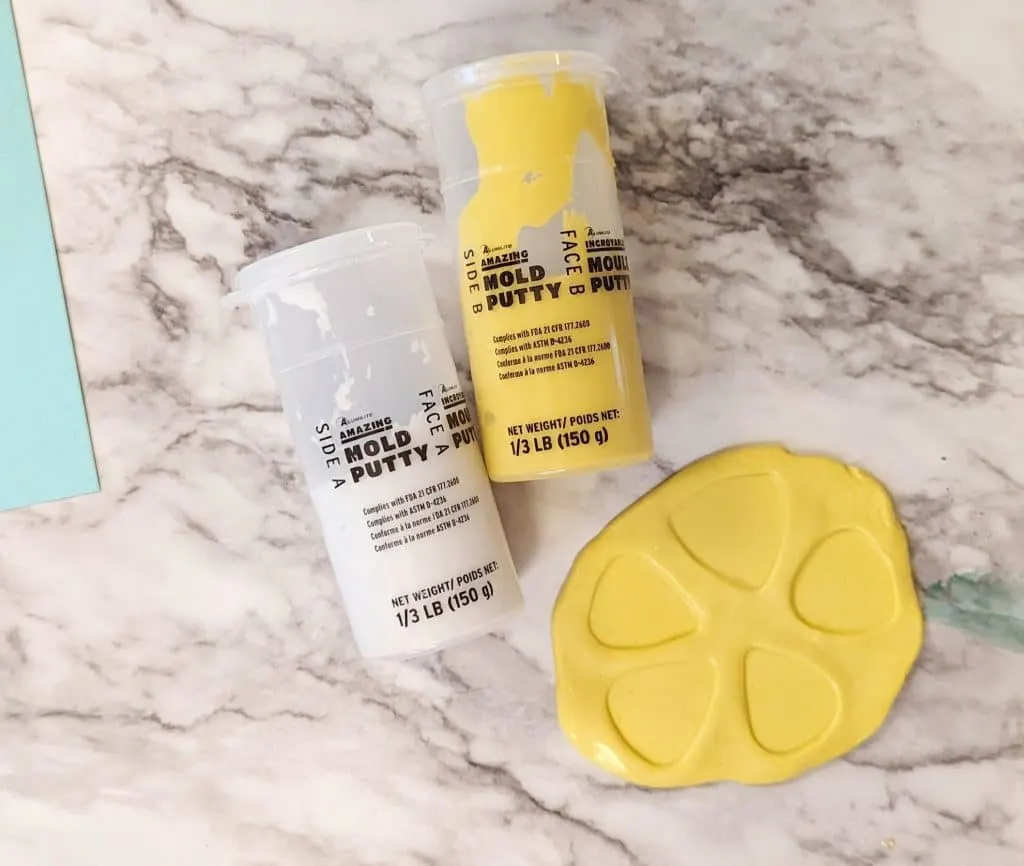 Mix mold putty
Measure out two equal parts of yellow and white putty. You can use a kitchen scale for true precision, but I pull out similar portions, roll them into balls, and eyeball to make sure they're the same. Add a pinch to one if it seems smaller.
Squeeze, pinch, and roll between palms until the putty is a uniform color with no streaks. You get 2-3 minutes of work time until it starts to set its shape.
Press the putty onto a smooth table, creating a thin even area. A small roller might be useful here as well. I wanted a super smooth finish, so I flipped over the piece and it was very flat on the "table" side.
Create pick mold
Press the guitar picks into the putty to create the mold space. Take care to not push so hard that it goes all the way to the table and a hole develops in the bottom.
I also nudged the putty up over the edges of the picks just slightly to try to create a curved edge. It worked on some of them 🙂
Let the mold set for 30 minutes, then you can remove the picks. Check the bottom for holes and if there are any, don't fill that part of the mold with resin.
Resin for guitar picks
Mix and color resin
Amazing Clear Cast is a 1:1 epoxy, so measure out equal amounts of part A and part B. Stir for 2-3 minutes. The mixture will be swirled and cloudy at first, and then turn clear. Then stir for an additional 2 minutes. I only mixed up 20 mL total to make these 5 guitar picks. They don't need much resin.
Pour out some small amounts of resin into other cups to add mica powder and alcohol ink.
The fun part is to mix and match everything! You can see I did a couple with clear resin and dried flowers, and a couple got gold flakes added. Others got colored with Color Creator mica powder and alcohol ink.
Try to not overfill the molds, but if it happens we'll fix it later. A heat gun can help remove bubbles, but don't get it too close to the resin because the force of air can push the resin out of the shallow molds.
Trimming resin edges
Let cure about 10 hours, then check on them. Remove from the molds when they are no longer sticky or tacky, but still have a bit of flexibility.
Use a blade to carefully remove edges of overfill. This is easier to do when the resin is not yet fully cured.
Let resin fully harden for another 24 hours before proceeding to the next step.
The edges of the guitar picks may still be a bit rough or uneven, but a nail file smoothes them right out.
Add shine back to resin
You'll notice that the top side of each pick is very smooth, and the back side that touched the mold is a bit rough or cloudy.
There are two ways to fix this.
1 – Spray several light coats of ETI Resin Spray & Sealer, waiting a couple minutes between each coat. Then dry 12 hours. If it still seems bumpy, lightly sand with your highest grit sandpaper you have, then repeat the process.
2 – Return to the molds with smooth side down and cover with a super thin layer of resin. Try to not let any resin seep over the sides. This thin coat will need 48 hours to completely cure.
The shiniest result comes from the extra layer of resin, but the sealer process is easier. So you can choose what will work best for you.
These resin guitar picks can also be turned into a necklace! You can either drill a small hole and add jewelry hardware, or glue a bail to the back. Add a chain and it's done!
Are you feeling inspired to make some resin guitar picks now? Remember they may have a bit of flex even after a week or so, since they are thin, but have patience and they'll be ready to use for playing.