Almost 2 years ago I challenged myself to try a new hobby, and I made a few cuts on our old scroll saw. Since then I've upgraded my machine and made name signs, decor pieces, and my own logo. Getting started with a scroll saw is pretty easy, but can also feel intimidating, so I'm hoping all my advice can help.
What is a scroll saw?
A scroll saw is a power tool that allows fine and detailed cuts, including inside cuts. It has a small blade that rapidly goes up and down, cutting through your material as you gently glide it around – usually following a pattern glued on top. I find that it feels a bit similar to sewing.
Now you may think of kind of old fashioned patterns – wooden clocks, puzzles, names on a wooden stand, but there's a lot of modern stuff you can make with it.
Parts of a scroll saw
Let's identify the different parts of a scroll saw. It will help you feel more comfortable with it, plus the stuff you read below will make more sense.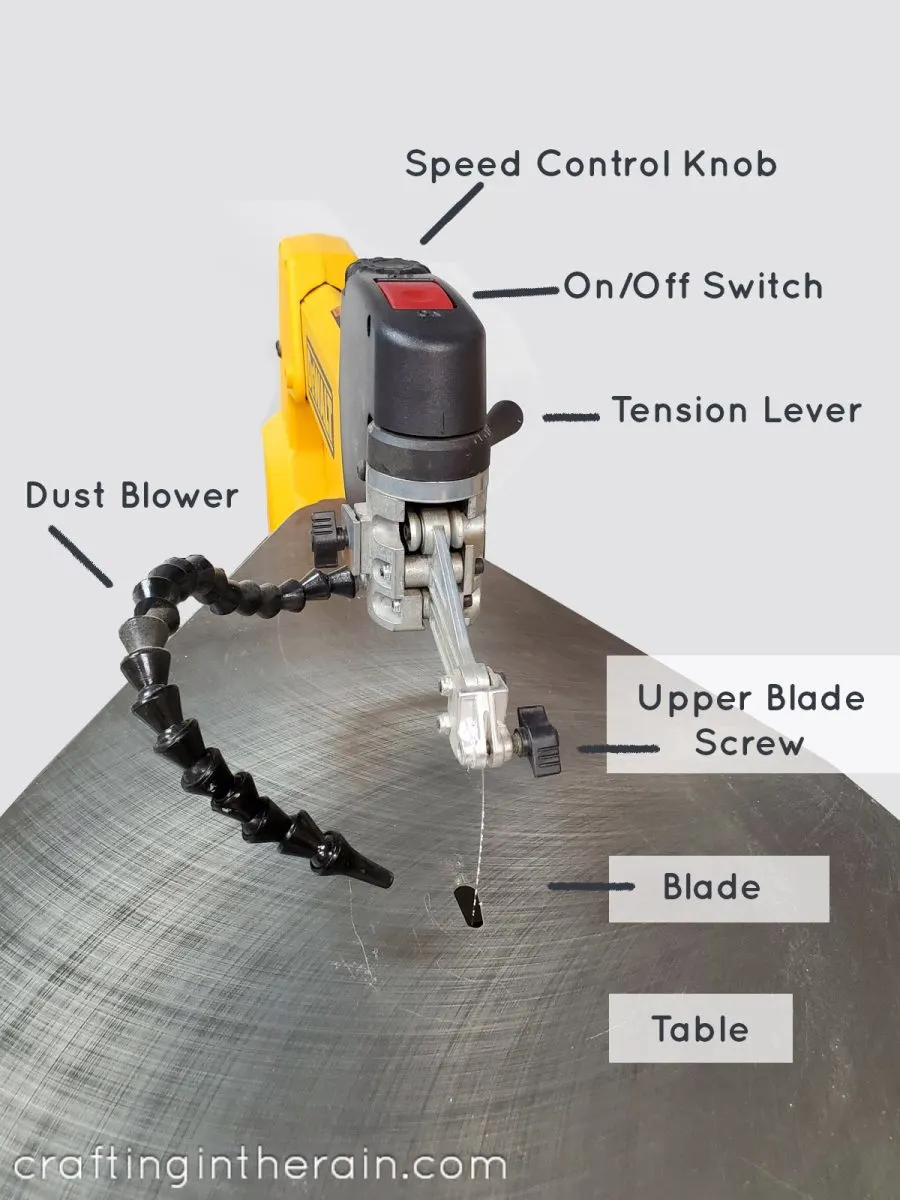 What can I cut with a scroll saw
The scroll saw is pretty versatile. I mostly cut MDF, but you can also cut wood, acrylic, foam core, resin, and with the right blades, metal.
Supplies to get started scroll sawing
Anytime you start up a new hobby, there's going to be some cost involved. And a cheaper saw is generally going to be a little lower quality than a more expensive one. But getting started with a scroll saw doesn't have to break the bank.
Picking a scroll saw
First, you can check local for-sale groups for anyone selling a scroll saw. If can find a cheap used one, it will let you play around with cutting a bit to see if you like it enough to get one that's larger or likely easier to use.
If you don't have any luck there, or want to just stick with buying a new one, that's fine too!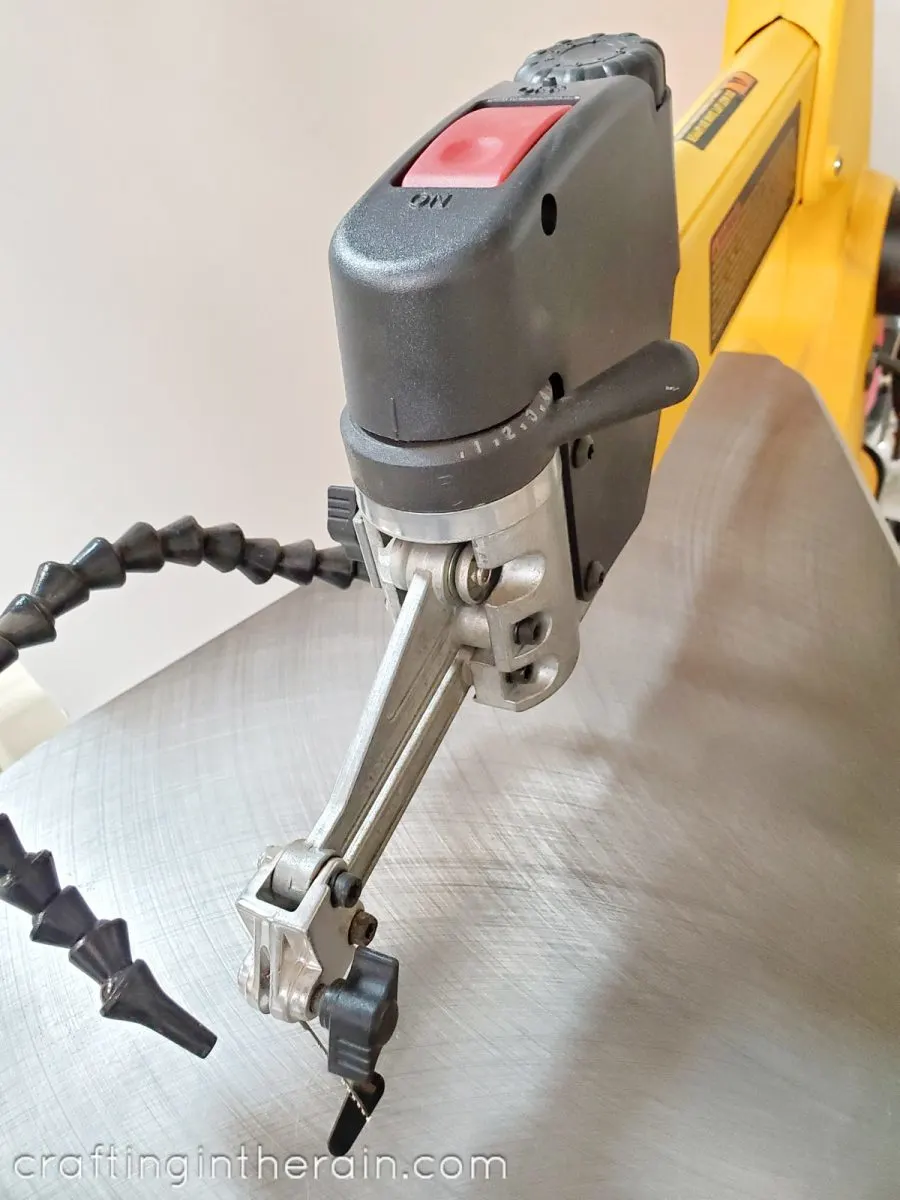 I have the Dewalt DW788 and I love it – though I also started with a much smaller one to try out first. The throat (distance from the blade to the back of the arm) is 20 inches. It's super easy to change the tension and adjust the speed. I also have it installed on this base to clear up counter space in our garage.
This Wen Scroll Saw is a little smaller – a 16 inch throat, but comes with pretty good ratings on Amazon too. Go ahead and read through reviews of both machines.
Scroll Saw Blades
There are different types and sizes of scroll saw blades that you will use for different projects.
Standard blades: all the teeth point down.
Reverse blades: the last few teeth point up to produce smoother cuts on the backside of the wood.
Spiral blades: allow cutting when moving the wood in any direction, but harder to control – I don't use any of these.
NOTE: some saws require pin blades – I'd stay away from those. The blades are thick and limit how small you can go on interior cuts. Stick with pinless, or "flat end."
I have a couple of brands of blades that I like to recommend. For starting out, I really like the Flying Dutchman reverse blades because they are easy to control and don't take out very much wood at once, so you can go nice and slow.
Once I got more comfortable and wanted to cut a little faster, this Olson pack has worked really nicely for me.
Blades often are a bit of personal preference, so feel free to switch or try another kind, but it's always nice to get a recommendation for a starting point.
Drill – you also need a drill to create holes for threading the blade through to make inside cuts. If you have a drill press, that helps make sure that the hole is perfectly vertical, but a regular drill works too.
Sandpaper – 240 is great, or a zip sander for smoothing out edges a bit.
Scroll saw safety
The scroll saw is one of the safest tools you can use, but you still need to take proper precautions. Think of things like not wearing loose clothing or loose jewelry. For example, I'll keep my wedding ring on, but wouldn't wear a bracelet or necklace that could hang down while I'm working. You should also unplug the machine when changing the blade.
Then you'll also need the following:
Blade guard – sometimes this comes with your saw. It keeps your fingers from getting close enough to the blade to get cut. Many people do remove this though as they get more comfortable moving the wood around.
Light – if your machine doesn't come with a light you can pick up one to add. Working in a well-lit area will always help reduce accidents because you can see better.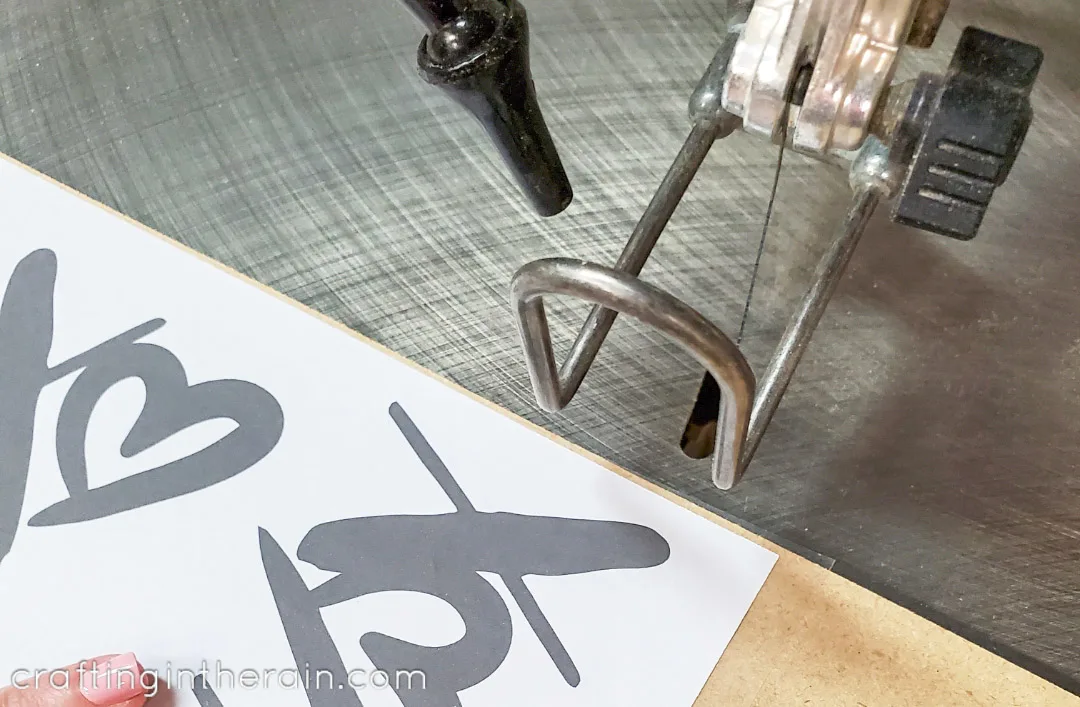 Now you are ready to go on to the next post about beginning scroll saw cuts. If you have any questions, let me know!