Every good Christmas get together needs a fun ice-breaker, right? These Christmas "Would You Rather" questions are a great way to start off conversations and get to know everyone a little bit.
These are family-friendly would you rather questions, so break them out at any time.
Today is Day 6 of the 12 Days of Christmas Printables.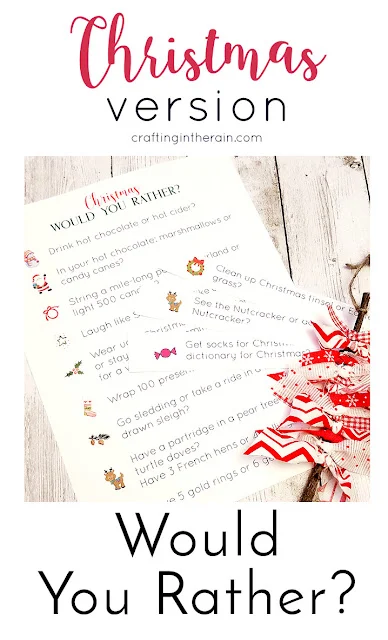 Four sheets will print, and there are a total of 34 "Would You Rather" questions. Cut each paper into strips and place in a box, bag, or jar for people to grab one out of.
You just may be surprised what you learn from people!
It's great for all ages because, unlike trivia questions, there is no right answer. Anything goes, and sometimes the explanations can lead to funny stories.
Would You Rather? is a great game to play at a family reunion, a church party or school party. For very large groups, you can print out a few sets so that tables or smaller groups can play together.
So how about you, would you rather . . .
—Go sledding or take a sleigh ride?
—Watch Christmas movies all day or go Christmas shopping all day?
—Have 5 gold rings or 6 geese a-laying?
DOWNLOAD Christmas Would You Rather? questions