Many people know these as Blondies, but I've always called them Blonde Brownies. This is a family favorite recipe to make.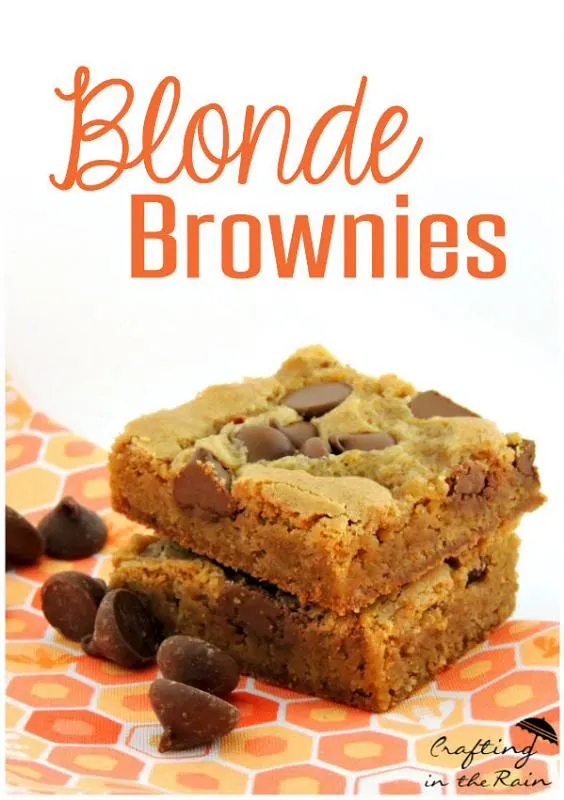 One of my earliest kitchen memories involves these brownies. I was probably 10, and was making these with my best friend at my house. This was pre-microwave days, so we melted the butter in a pan on the stove.
We discovered that we didn't have enough brown sugar though, so my mom ran to the store while we melted the butter. We got tired of waiting and decided to skip to the next step and add the eggs. No problem, except for that the brown sugar helps to cool down the butter, and with the pan being so hot still, the eggs started to cook when we dropped them in!
Our fast-acting solution was to set the hot pan out on the porch which was covered with snow. This actually worked pretty well and we ended up with only a few bits of cooked egg in our brownies, and they still tasted just fine 🙂
What's funny is that even after we moved into a house with a microwave, it was years before I realized I could use it to melt the butter in this recipe. (duh) I'd been so used to always mixing up the batter on the stove top that it was habit.
Anyway, here's the recipe–enjoy!
Yield: 24
Blonde Brownies Recipe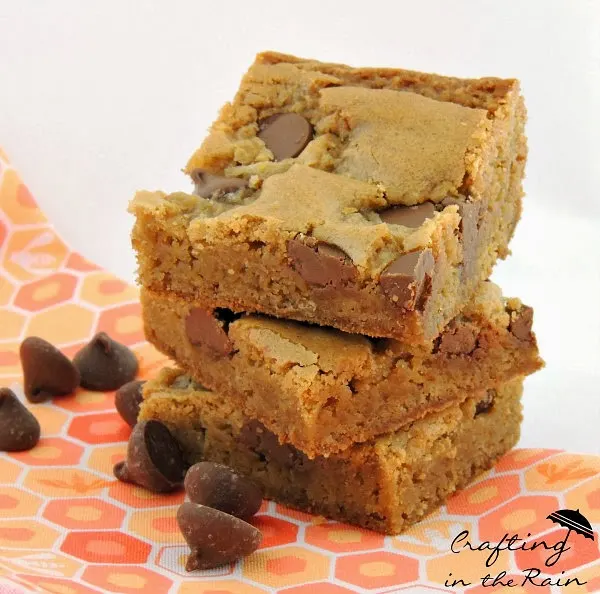 Known as blonde brownies or blondies, these cookie bars are perfect for lunch or after school.

Prep Time 15 minutes

Cook Time 25 minutes

Additional Time 20 minutes

Total Time 1 hour
Ingredients
2/3 cup butter, melted
2 cups brown sugar
2 eggs
2 tsp vanilla
2 cups flour
1 tsp baking powder
1/4 tsp baking soda
1 tsp salt (regular or coarse)
1 cup chocolate chips
1/3 cup chopped walnuts or pecans, optional
Instructions
Melt butter in microwave.
In a small bowl combine flour, baking powder, soda and salt.
Stir brown sugar into melted butter. Add eggs and vanilla and mix well.
Add half of the dry mixture and stir to combine, then add the rest and mix thoroughly.
Spread into a 9×13 glass pan (no need to grease) and then sprinkle chocolate chips over the top (and nuts if using)
Bake at 350 for 25 minutes.
Cool for 20 minutes before cutting.
Notes
Use your favorite type of chocolate chips in this recipe. You can also mix it up with chocolate candies like M&Ms, chopped Twix or Snickers, etc.
Nutrition Information:
Yield:
24
Amount Per Serving: Calories: 184

Are the edge pieces your favorite too?
Other recipes to try:
Banana Bread