Iron on vinyl is a great choice for cork projects. You can put iron on vinyl on cork and It will often stick better than regular adhesive vinyl and there are tons of ways to you can decorate with it.
You can put HTV on cork with an iron or an EasyPress, or, depending on the size of the cork, a heat press.
The Cricut EasyPress settings chart suggests 315 degrees for 15 seconds and then flipping it over and doing 15 seconds from the back. Heating from the back won't always be practical though, so pressing for 30 seconds has worked for me.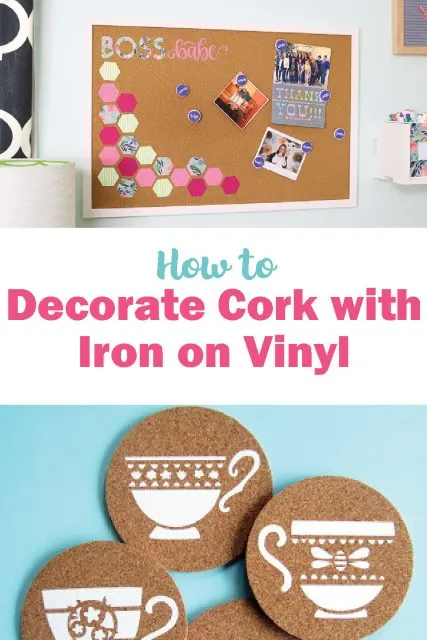 It's also a good idea to protect the cork with a piece of parchment paper or fabric. You can also try a lower temp to start out with and see if the vinyl sticks.
I also let the iron on cool before peeling away the carrier sheet. Since the adhesive doesn't get down into the fibers like it would in a shirt, this worked best.
So take a look at these ideas here for HTV cork projects and see what you'd like to make next!
Iron on Vinyl on Cork
Learn how to add HTV to cork projects like cork boards, coasters and more for your office or home