Make googly eye paper decorations for your next Halloween or Monster party.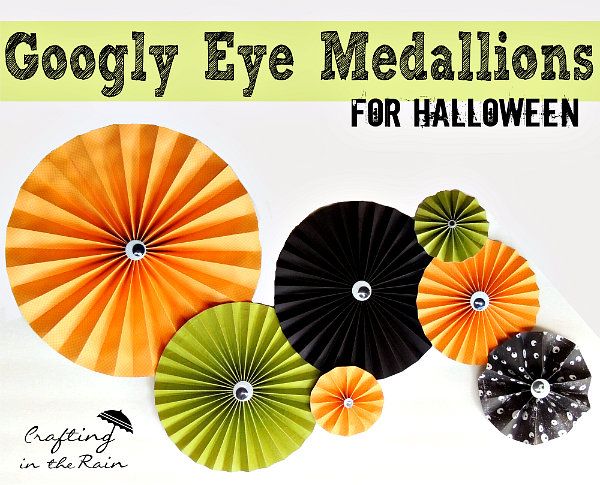 I've been busy. I know you can relate. I've also been sick. You can probably relate there too.
I have several big projects in the works, and if you're following me on Instagram, you get little bits of the progress along the way, but the blog has been a little neglected as I haven't had finished results to show you yet.
One of the things I've been doing is getting ready for a party I get to do for CollectiveBias. I thought I'd show you some of the prep work ahead of time, then after the party's done I can recap the treats, games and how it all came together. (some links affiliate)
I know I want some large paper medallions hanging behind the food set up, so I bough orange, green and black cardstock from Craft Warehouse.
If you've never made these before, they're really quite easy, but I believe you have to use the secret ingredient.
HOT GLUE. If you try to make these with liquid glue, or glue dots, or just about anything else, it won't have a strong enough hold, your medallions will pop apart and you'll be cursing the whole idea. Another tool that's pretty much necessary is a scoring board.
I have this Martha Stewart one:
Source
The large orange one is 12 inches across; I used strips of paper 6 inches wide (so whatever width you use, the finished circle will be twice that across)
Use the score board and bone folders to make fold lines down the strip of paper. First, make marks down every inch line. Then flip the paper over and do every 1/2 inch. This way the score lines press down in different directions making it easy to fold it accordion style.
You will probably need at least 2 strips, more even for the bigger circles. Overlap the ends and secure with hot glue. Fan it around and you can see if you need more strips or if you have enough.
Overlap and glue the ends to make a continuous ring.
Cut a circle of cardstock and spread some hot glue on it. Press the accordion paper down so the middle sticks to the paper circle. This will hold it all in place.
You can read this post about how to make a paper rosette for more pictures.
Add a large googly eye to the center and you're done! Make a few more, and you've got a whole set ready for decorating a wall at your party.
This picture collage shows the steps for a smaller one that I made a while ago.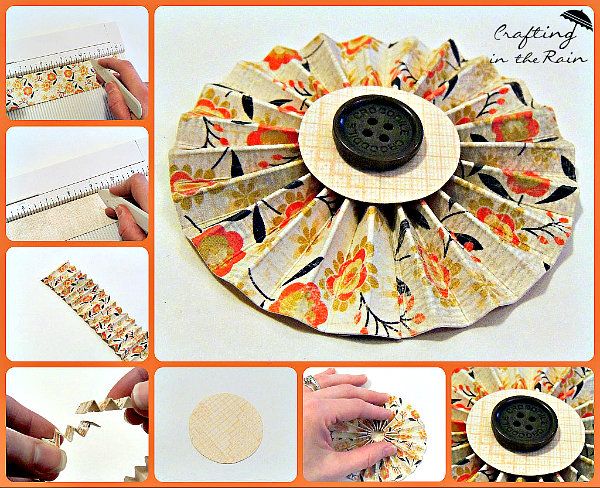 Have you made these before? Are you with me on the hot glue for paper projects?