Are you looking for a classroom Halloween game or just something fun to play with your kids? This ghost toss game may be just the thing to sneak a little math into your Halloween party.
Supplies for making a ghost toss game
Toilet paper
String
Small buckets or baskets
A way to label the buckets with numbers
Labeling Game Buckets
My buckets are metal, so I made small labels from cardstock, sealed them in clear contact paper (a laminator would be awesome too – this I have this exact one ) and glued a small piece of magnet to the back.
Now I can easily change the numbers on the buckets with a dry-erase marker.
Another option would be to attach chalkboard labels to clothespins and clip those to the tops of the buckets, or write with dry-erase right onto the side of the metal bucket.
Make toilet paper ghosts
To make the ghosts you need 3 strips of toilet paper, each 3 squares long. Lay two pieces across each other.
Roll the other piece into a ball and place it in the center of the other two.
Wrap flat pieces around the ball, gathering to make the head, and secure with a piece of string. Add two eyes and a mouth with a marker. Make at least 3 ghosts.
To play the game, have a child toss the ghosts, one at a time, until they get 2 ghosts into a bucket (it's ok if they're the same bucket) Then based on their skill level, give them a math problem with those two numbers. For example: 4+7 or 8-3 or 5×5.
For preschoolers, they could even just identify the number. So many possibilities here, right?
Yield: 1 game
Ghost Toss Math Game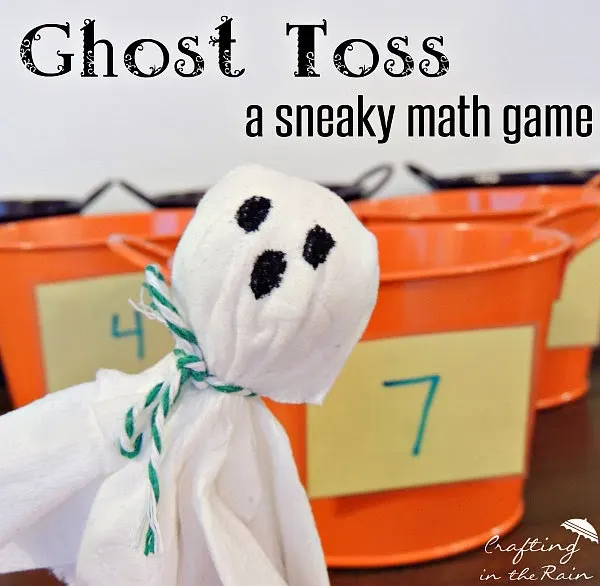 Perfect for preschool or grade school class parties, make this ghost toss game and teach some math at the same time. Easy to make, and cheap!
Materials
Toilet Paper
String
Buckets
Bucket Labels
Tools
Dry erase maker
Magnets
Laminator
Instructions
Label buckets with different numbers - use magnets, dry erase marker, tags or even post it notes.
Tear 3 strips of toilet paper that are each 3 inches long.
Lay 2 of them criss-cross on each other.
Roll the 3rd piece into a ball and place in the center where they overlap.
Gather the strips around the ball and secure with string.
Add a ghost face with a marker.
To play the game, have kids toss ghost until they get 2 ghosts into buckets. Then give a math problem using those two numbers.
Notes
This game can be used for several grade levels.
For preschoolers, simply have them identify the numbers.
Older ages can start to add and subtract the two, and by 4th grade this will help with their quick times table facts.
My sweet 4th grader was hoping that if they got the answer right (3×5=15, then that would mean she would win 15 pieces of candy! I'm afraid I burst her bubble on that one 🙂
Would your kids like this game? I hope you give it a try and let me know!
For more kids Halloween games, try these posts:
Halloween bean bags