This is kind of a bummer of a year to be planning a Disney trip. If you had to cancel one, I'm so sorry! But if you're trying to still do some fun family activities, try this Disney savings jar for saving in the meantime.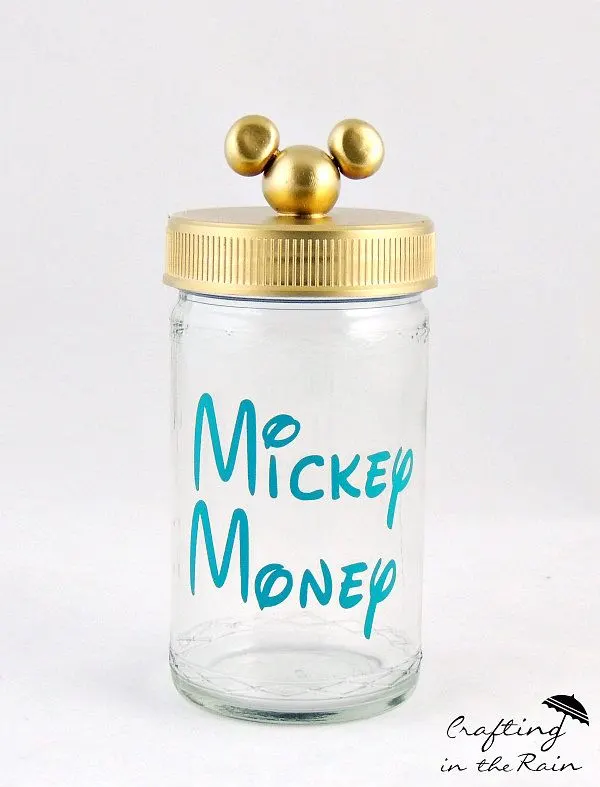 This post first appeared several years ago on Undercover Tourist.
Anticipation and planning for a trip to Disney World or Disneyland is part of the whole excitement. Here's an easy way to make a cute little jar for you or your kiddos to start saving money in and get ready for those souvenirs!
Supplies needed for Mickey Money jar
Jar and lid
Clay (bake or air dry kind)
Toothpick
Spray paint
Stickers vinyl cut with your Cricut
How to make a Mickey Money Jar
Clean and dry the jar and lid.
Shape the clay into 2 small balls and 1 larger one. Flatten the two smaller ones slightly.
Cut small pieces of the toothpick. Poke into the head and ears and apply a tiny amount of glue and attach them.
Air dry or bake according to clay instructions.
Glue head to lid and spray paint when dry. I used two coats of metallic gold.
Apply stickers to spell Mickey Money (or Disney Dollars 🙂 or cut out your own vinyl.
Have fun watching the dollars add up in your new custom Disney savings jar. And I hope when you make it on your Disney trips it's fun and magical.
Disney Vacation Deals
If you need advice or deals for booking a Disney stay in California or Florida, be sure to check out Get Away Today. They can hook you up with discounted packages, including other attractions.
Here's some ideas for making Disney vacation shirts too!