Remodeling projects take on an extra level of difficulty when there are kids around. They have to be entertained and kept out of the work space. Let me just say thank goodness for Netflix! Having the kids around watching the "progress" can also provide some laughs as well. After pulling up the carpet in the family room, we discovered what the original 70's vinyl flooring looked like. Our five-year-old ran in and said "I love our new floor!" She would have made a great designer 30 years ago apparently.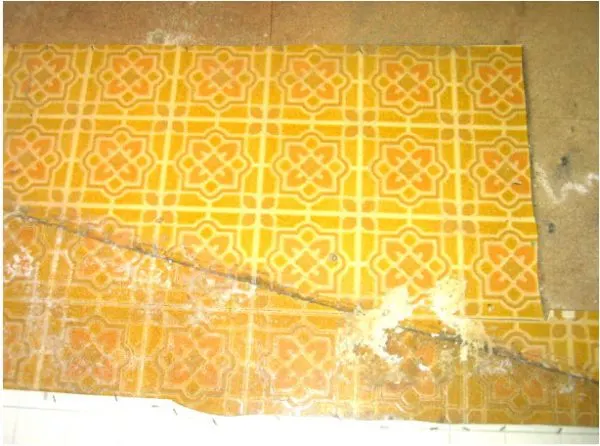 Here are pictures of everything we got done yesterday. The family room with all the carpet gone (the tile floor will go from the kitchen all the way through this room too)
And here's the kitchen with all the cabinets and appliances removed. And, we only found one dead mouse under it all! Eeewww! Lots of mouse poop too–one of the big reasons we knew we wanted to pull out all the cabinets and start over–fill in any holes in the floor or walls where they've been coming in, and have been long before we ever moved in a little over a year ago.
To see before pictures of our kitchen, click here
For the scrapbook page I'm sharing, I wanted to pick one element out of my inspiration page, so I chose the doily. And I guess the flowers too, but I often put flowers on my pages, so that wasn't a stretch. (from Gabrielle at Such a Pretty Mess)
I found the design in the MTC gallery (thanks user 1089!) and cut it out with my Cougar.
Then built the page like this.
Thanks for looking, and wish us luck as we tackle the dropped ceiling in the kitchen. We discovered that it goes right to the attic there, so it's filled with insulation. It will definitely be messy.
**If you want to see the completed kitchen, click here**