Everyone needs a few easy gift ideas up their sleeves for the holidays, or new neighbors, or good friends. These cute kitchen towels are great alone or as a set. Dress them up even more with some baking mixes or tools, and everyone is sure to love them.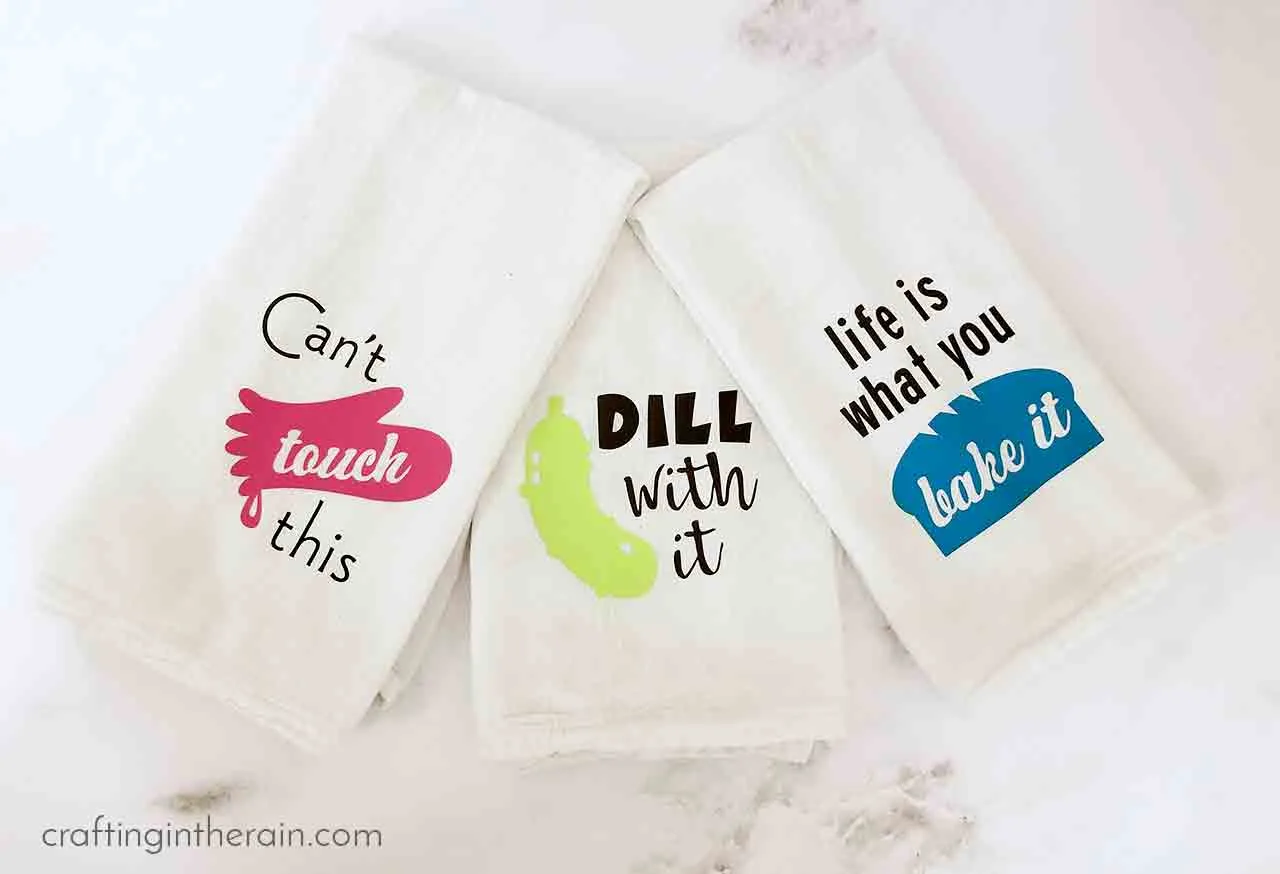 First, let's do a refresher on iron-on vinyl. It's also called heat transfer vinyl or HTV. The adhesive is activated with heat, and it's very durable. So it works great on fabrics and fuzzy materials. Iron-on vinyl has 2 layers – the actual vinyl, and a clear plastic carrier sheet.
When cutting iron-on vinyl, the shiny plastic must go down on the mat, because you'll be cutting just through the vinyl layer on the back side. This is why the design always has to be mirrored before cutting – when you flip it over after cutting, then it will be right!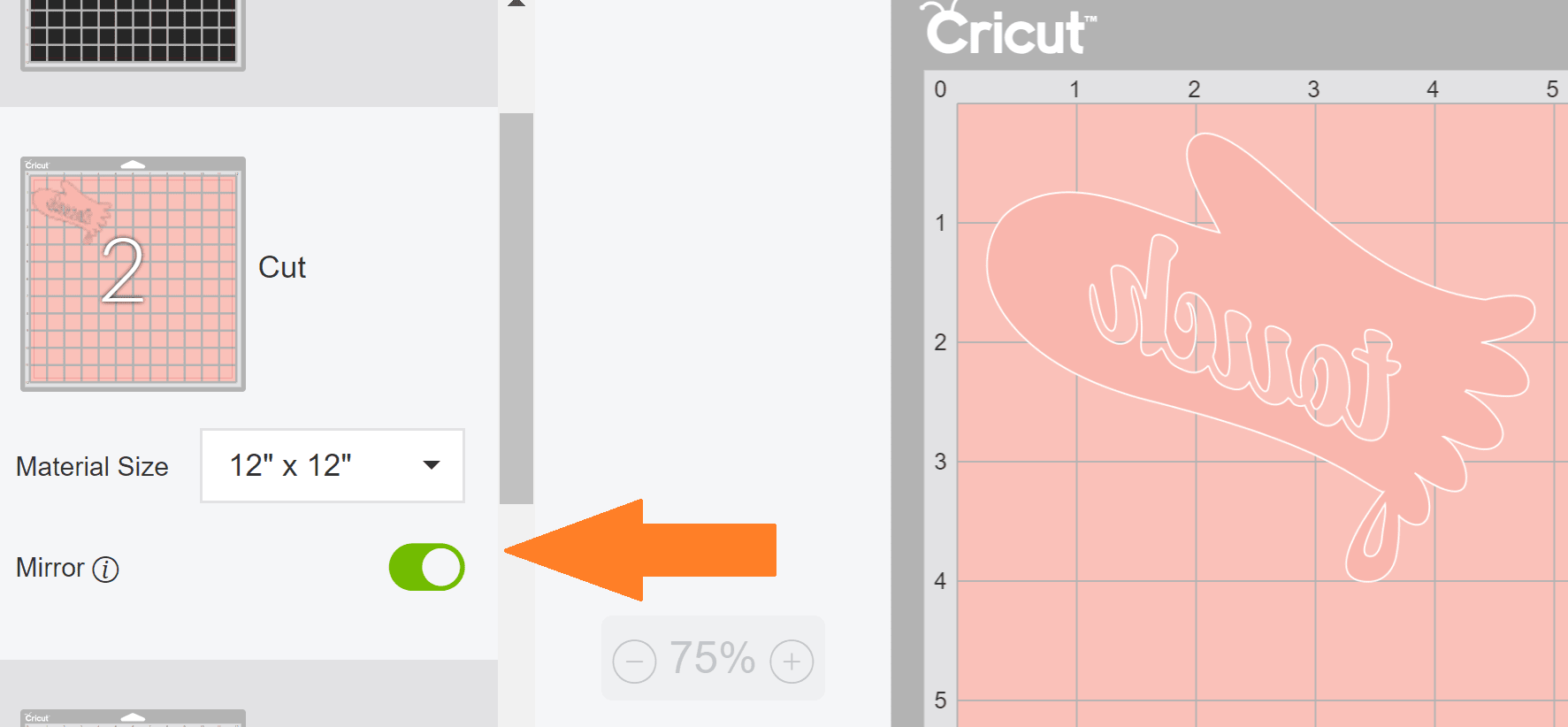 When you weed iron-on vinyl, it's the same concept as will regular adhesive vinyl. Use a weeding tool to pull the unneeded vinyl away from the plastic carrier sheet. What's great is that the vinyl isn't sticky, so it's not going to accidentally stick down to another part of your design and ruin it.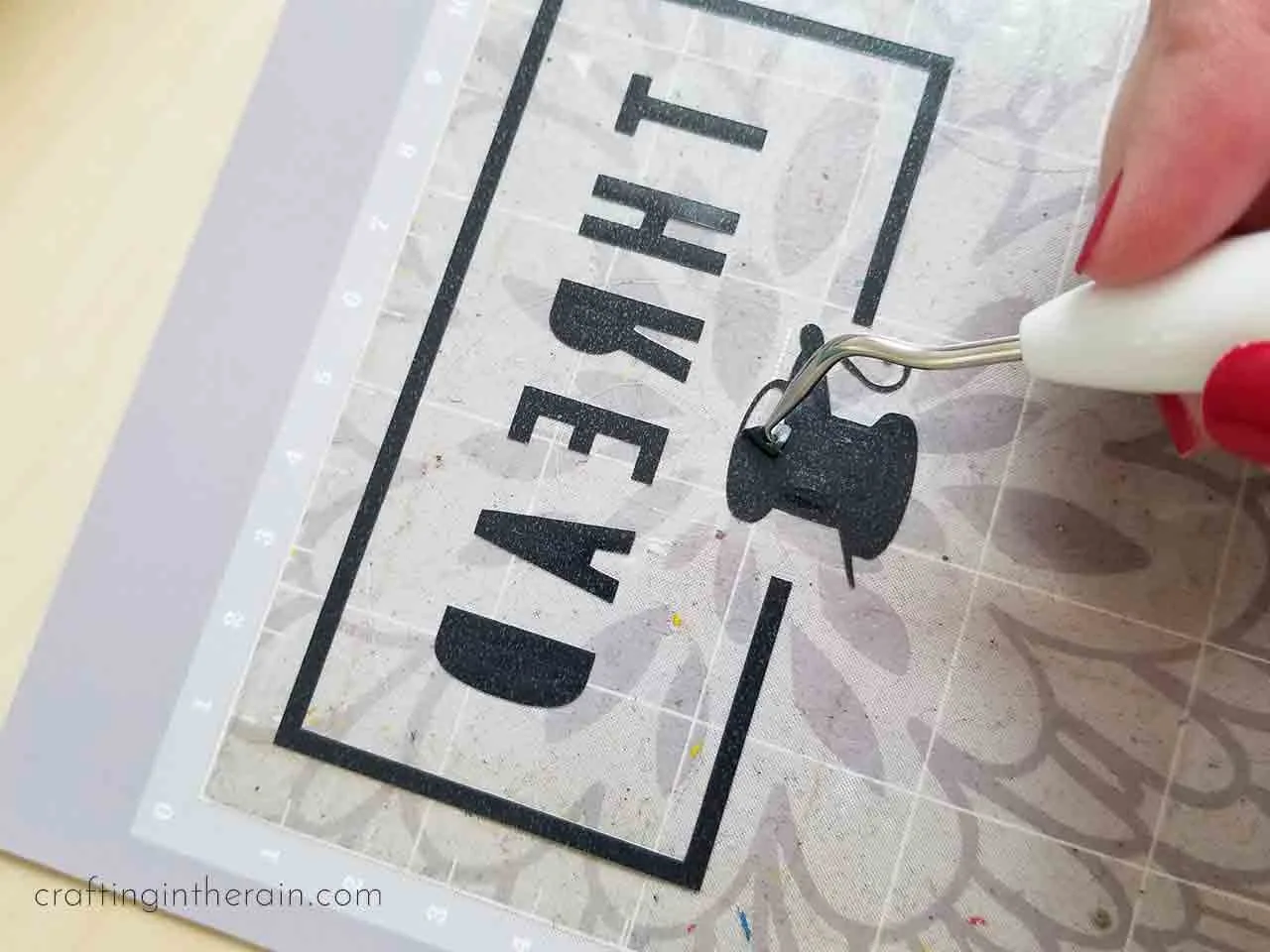 The plastic carrier sheet works as built-in transfer tape. It holds all the pieces of your design in exactly the right place. It also protects the vinyl while it's being pressed.
Putting iron on vinyl on kitchen towels
With all that, let's start on the towels.
Supplies you will need:
As mentioned before, make sure that you click MIRROR for all mats, place the shiny, plastic side down onto the mat, and set the material to "iron-on" (or, if you're using a different type like SportFlex, or Glitter, then search the material settings to select the right one.)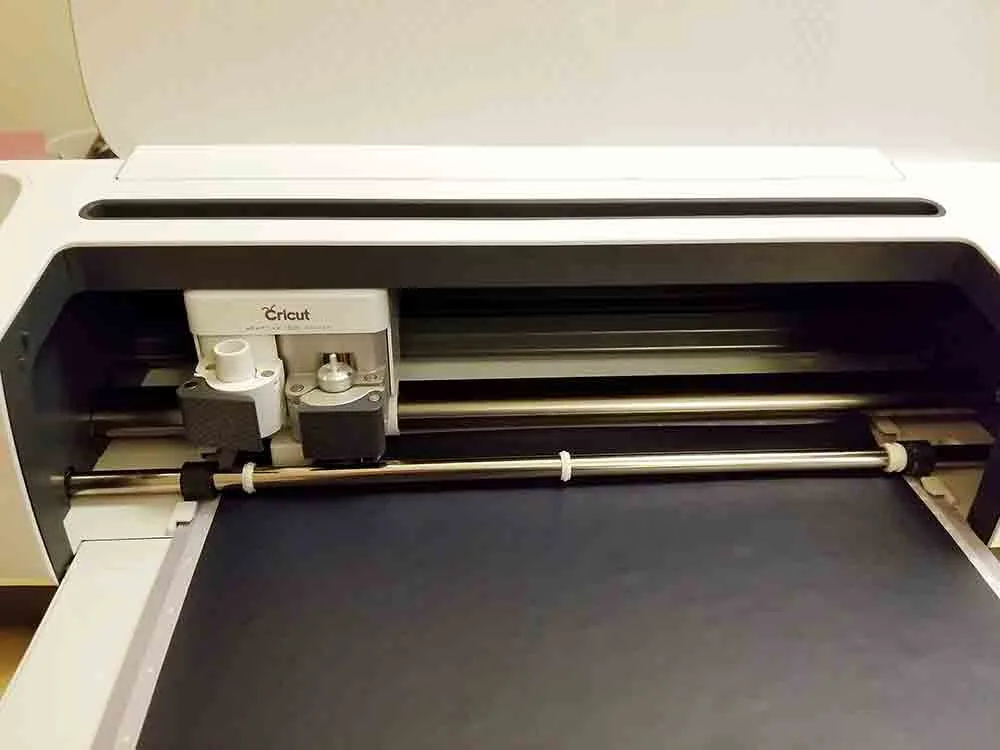 Weed out the extra vinyl. I always start with the outside section first. Then it's easier for me to work my way in and see what should be left, and what should be removed. (For example, usually you remove the insides of letters, right? But see in the "bake it" towel, the insides of those letters stay, and the word gets taken out!)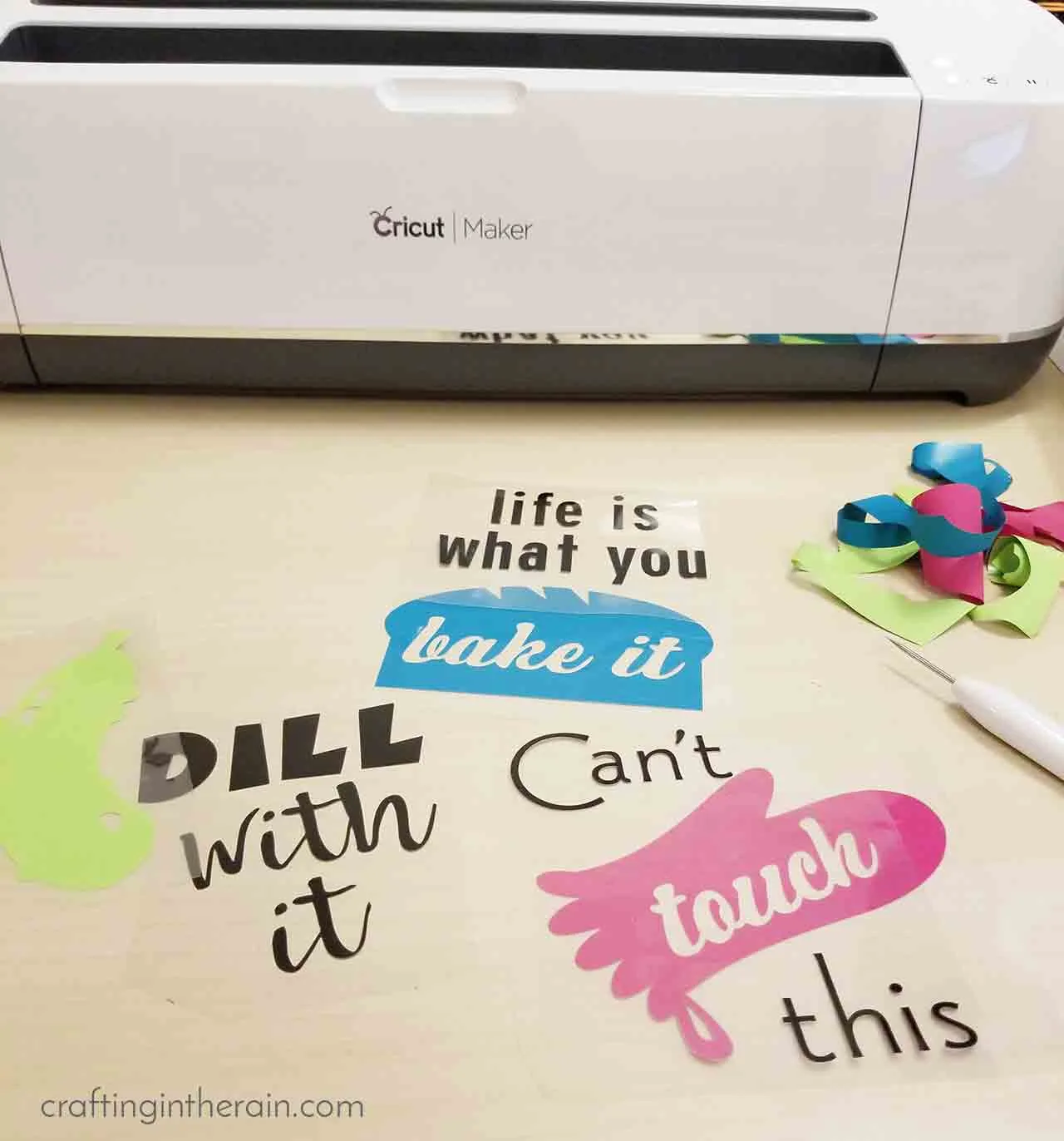 Heat the EasyPress 2 to 315 (or to the correct setting for your specialty iron-on – see this interactive EasyPress guide.) Heat up the towel for 5 seconds. This removes any excess moisture, resulting in better results, as well as smoothing out wrinkles. (Read this EasyPress review for more info.)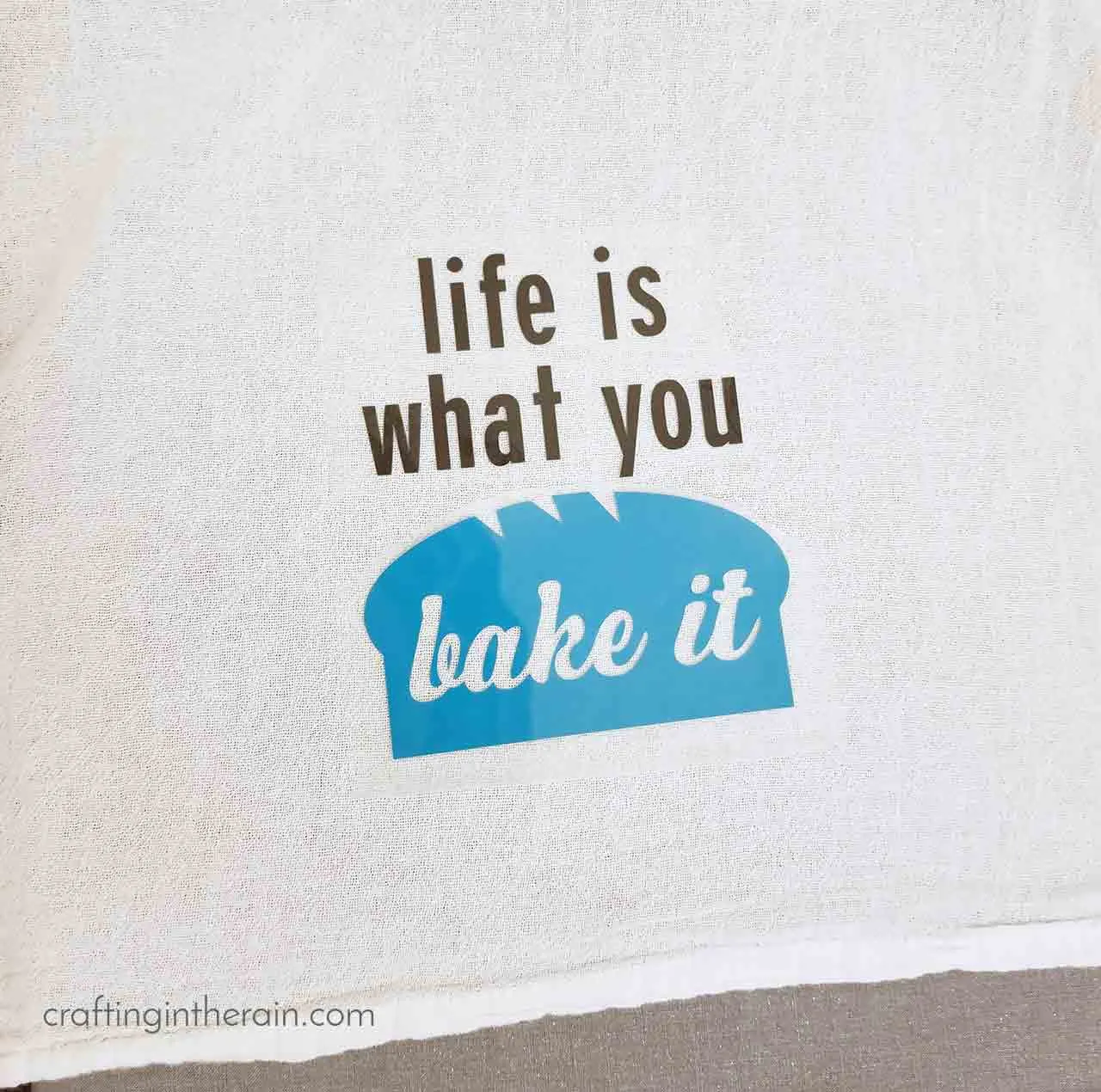 Place the iron-on vinyl design down on the towel. I centered the design and put it 2-3 inches above the bottom of the towel. If the different layers of plastic will interfere with the placement of multiple colors, press them one color at a time.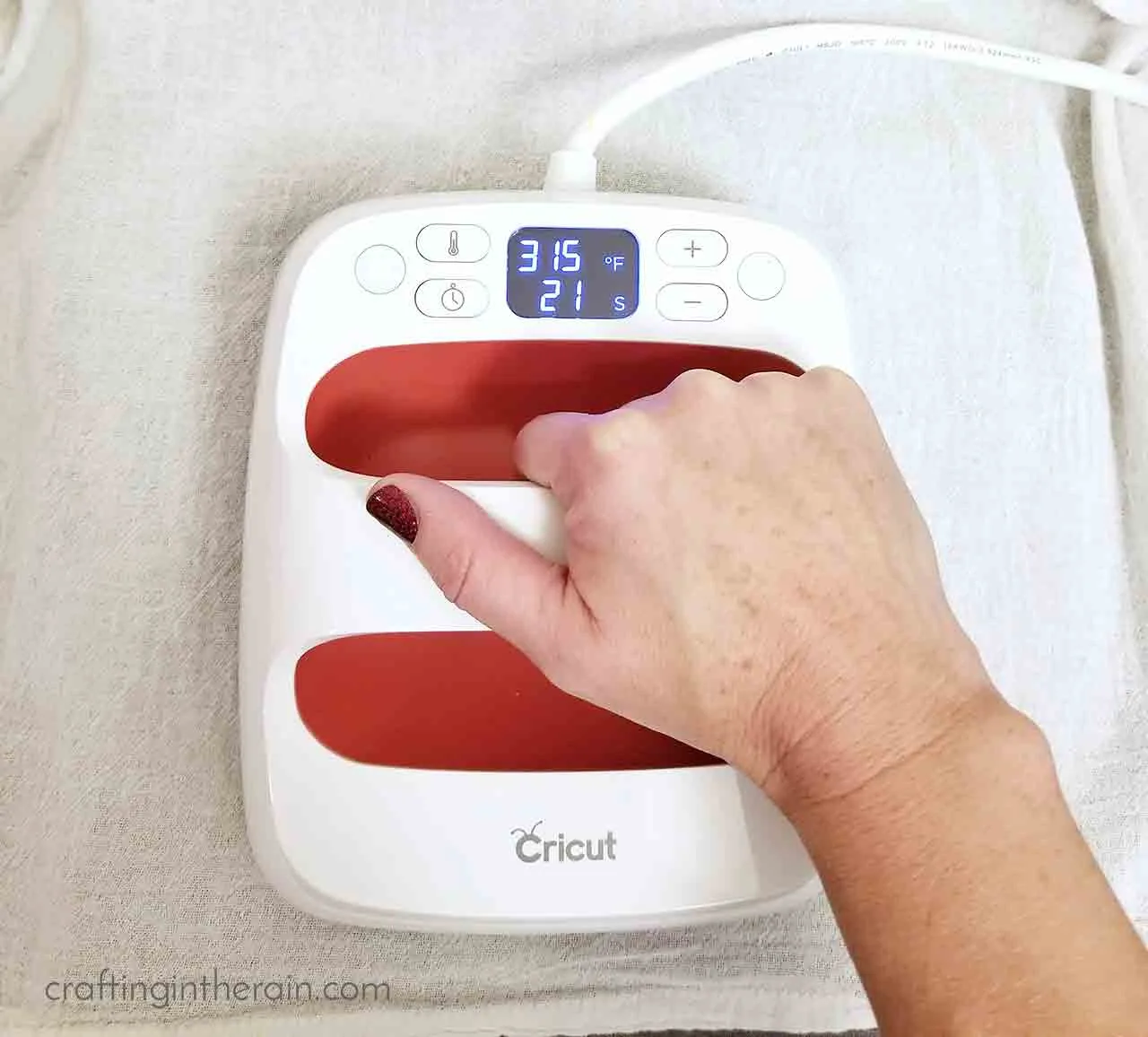 With medium pressure, heat the iron-on with the EasyPress for 30 seconds. Flip the towel over and press for 5 seconds. Then peel off the plastic carrier sheet.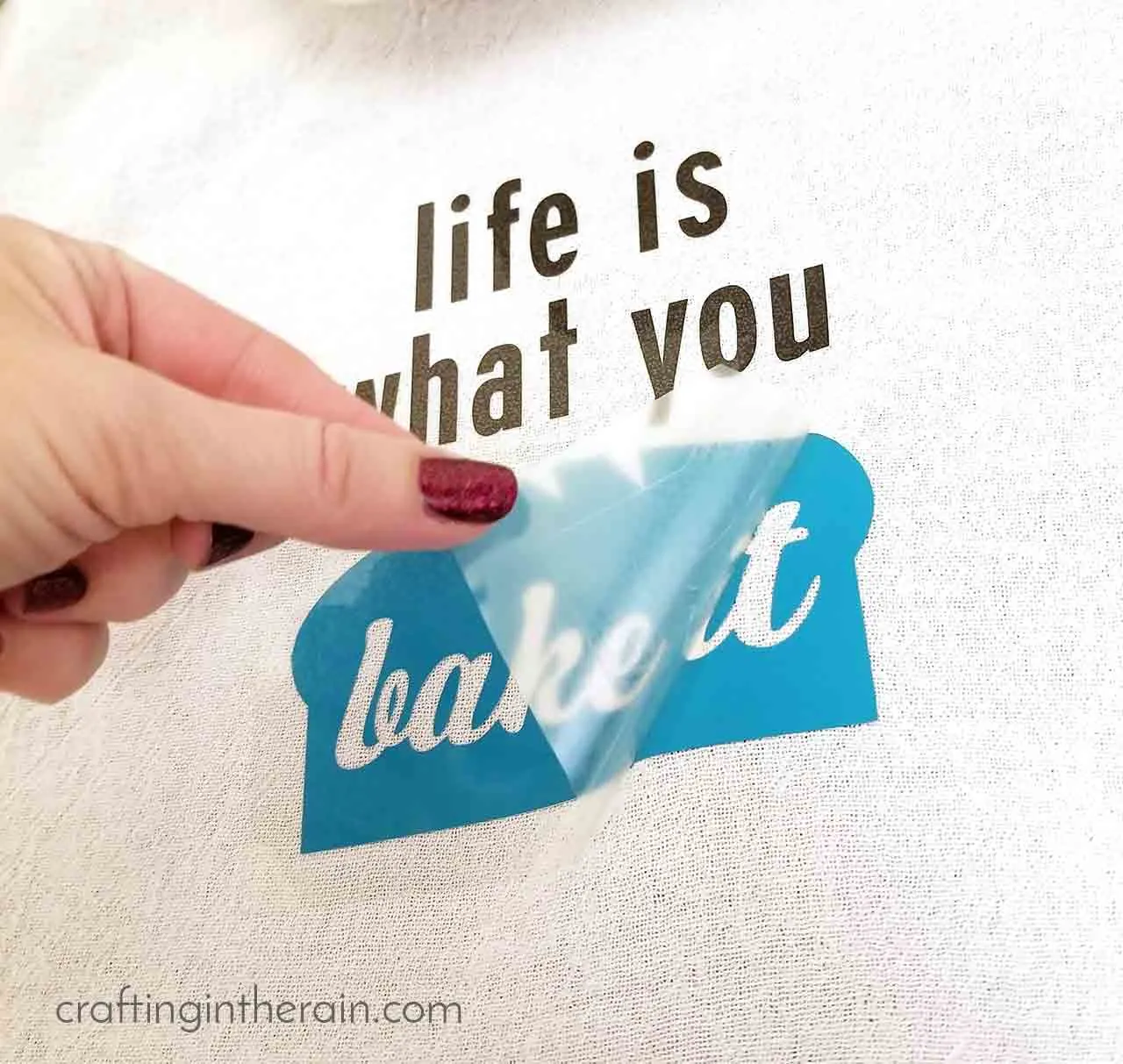 Which cute kitchen towels are your favorite?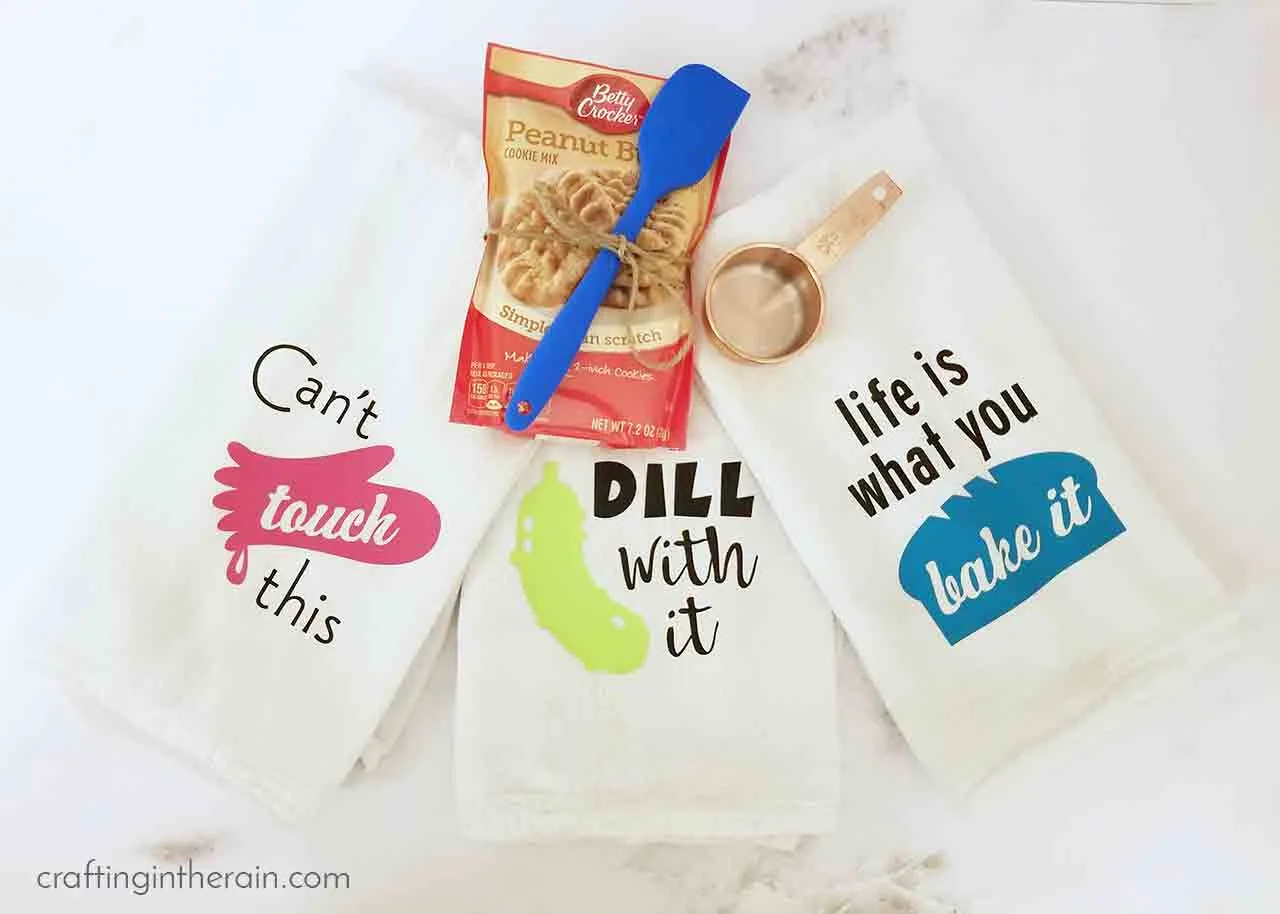 Yield: 3 Kitchen Towels
Iron-on Vinyl on Kitchen Towels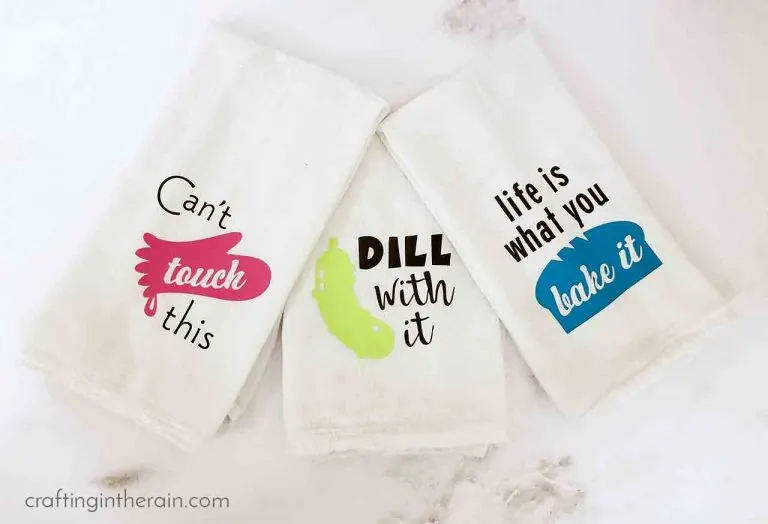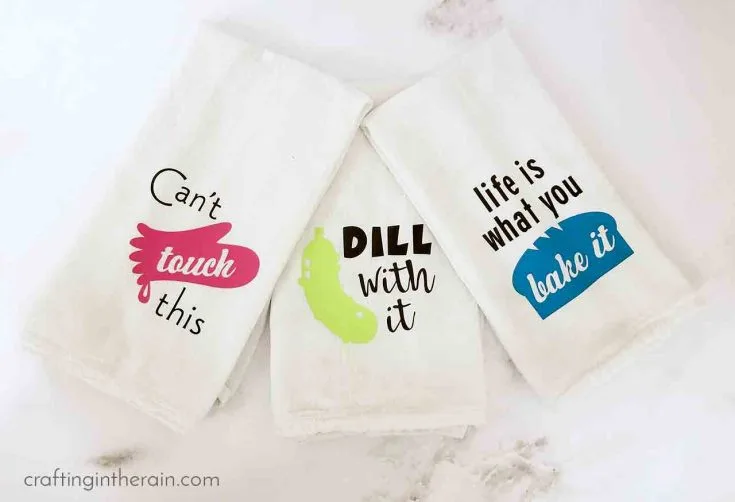 Use these towels as cute gifts, especially with a baking mix and spoon or spatula.
Materials
Flour sack kitchen towels
Iron-on vinyl in assorted colors (black, teal, pink, etc)
Tools
Cricut machine
Weeding tools
EasyPress 2
EasyPress 2 mat
Instructions
Open Design Space file and edit if desired
Cut iron-on vinyl, being sure to mirror design and place vinyl face down on mat
Weed excess vinyl
Heat EasyPress to 315 and preheat towel for 5 seconds
Position design on towel and press for 30 seconds
Flip to back and heat 5 seconds
Remove plastic while warm (warm peel)
Recommended Products
As an Amazon Associate and member of other affiliate programs, I earn from qualifying purchases.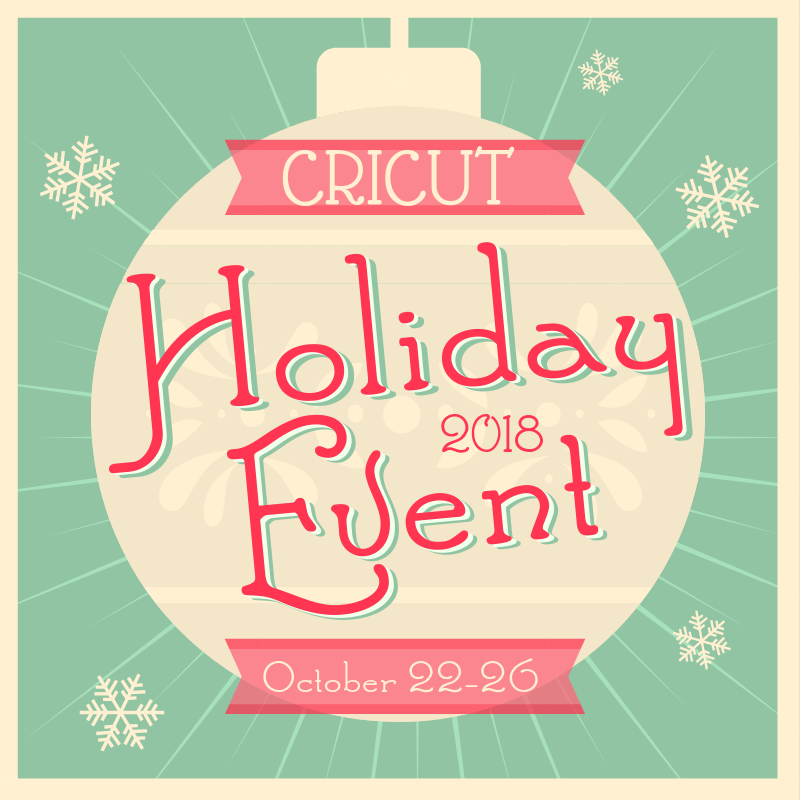 For more holiday Cricut ideas, check out all these posts below!