If you love brownies, you are going to love these brownie pops. If you think cake pops are fun but come out a little mushy, this brownie pops recipe is for you!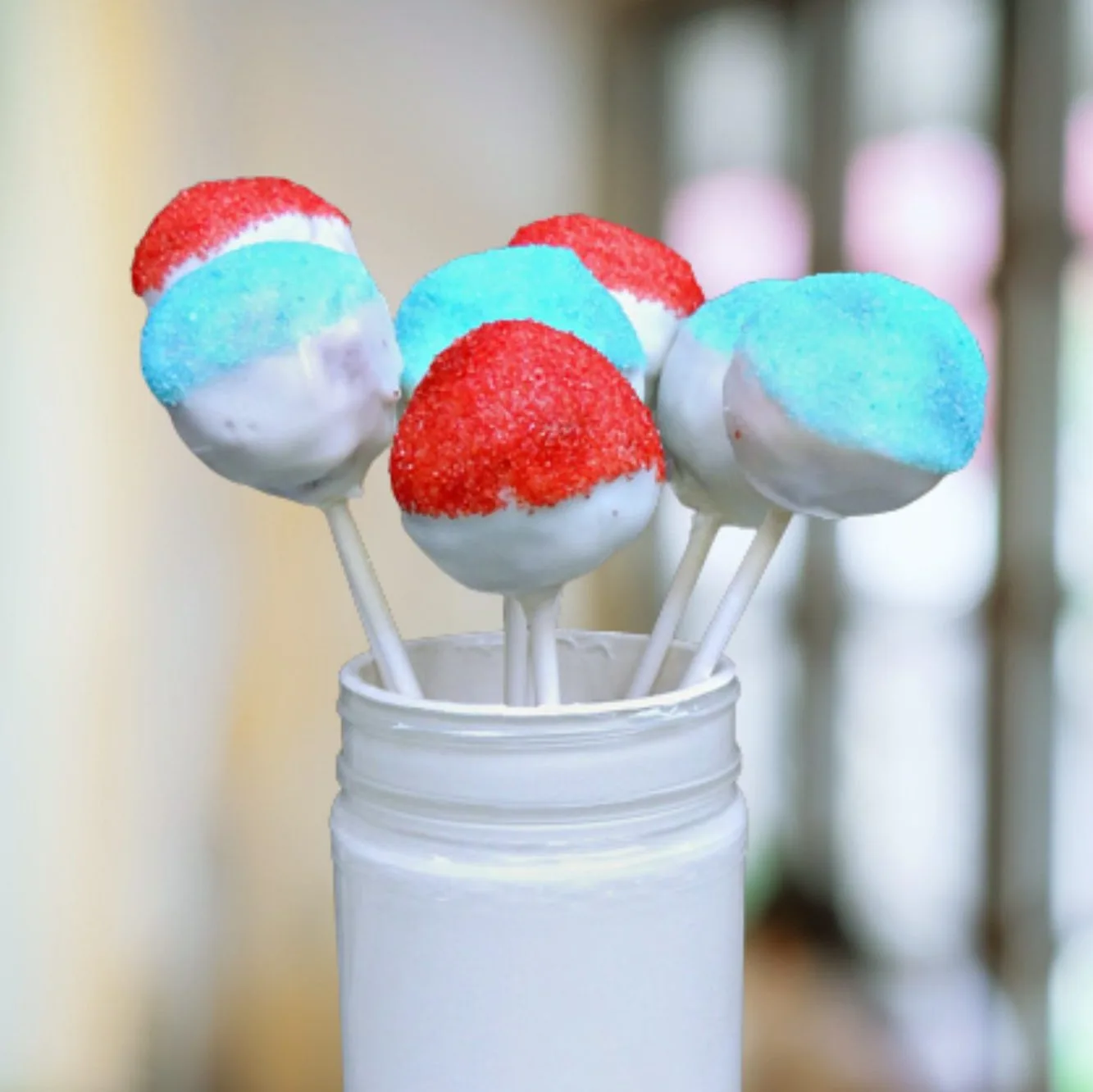 Brownie pops vs cake pops
Brownies pops and cake pops are very similar – they're a dipped bakery item on a stick. I mean, don't get me wrong cake pops are good, but I feel like these are an upgrade.
And heaven help me for the times I made cake pops with canned frosting. I don't like frosting from a can, why do I think pop form would change that?
This version of "brownie on a stick" is a little different than just putting a cut brownie square on a stick and calling it a day. Those brownies have to be made quite thick and dense so they won't just fall off the stick.
Making the brownie treat this way is a little more foolproof.
So I experimented with making cake pops out of baked brownies, and they're so tasty.
Can you make cake pops with brownies?
Yes, cake pops made with brownies are delicious! Chocolatey and fudgy, they're a tasty treat to add to any celebration or event.
Can you make brownie pops without a mold?
No mold is needed for making brownie pops. Use your hands to form the warm (but not hot) baked brownies into balls the size of a golf ball. They may not come out as smooth and uniform as cake pops, but that's ok!
Do you need to add frosting to brownie pops?
No, you don't need to add frosting to your Brownie Pops Recipe. If you use a dairy-free brownie mix or recipe, this is a great way to make a dairy-free treat. The baked brownies are sticky enough that they don't need anything extra added in.
How to decorate brownie pops
Brownie pops can be decorated in the same way as cake pops.
After dipping in candy melts, dipping chocolate, (or even Andes Mints) brownie pops can be decorated with other colors of candy melts, cookie crumbs, sugar sprinkles, toffee bits, and more!
How to display brownie pops
Brownie pops can be displayed the same way as cake pops. There are pre-made stands that can be useful for the dipping phase, and the presentation of brownies on a stick.
If they have all been wrapped in individual bags, they can even be laid out a serving dish, or in a bowl.
Brownie pops make a great addition to a party treat table because the pops and the ribbon can incorporate decoration colors of the party.
How to store cake pop brownies
Once the coating on the brownie pops has set, it is best to eat them right away, or wrap them in individual bags secured with a twist tie or ribbon bow.
If you have a cake pop stand to store them in, they can all be wrapped together under some plastic wrap to keep them from drying out or getting dust on them.
Should brownie pops go in the fridge?
Brownie pops can be stored at room temperature, they don't need to go in the fridge. Just as a regular brownie can be left out, so can the brownie pops. Like a brownie, they should be eaten in 2-3 day from preparation.
Can I freeze brownie pops?
Brownie pops won't go bad if put in the freezer, but there is the possibility of the coating cracking or separating as the pops come back to room temperature. So I don't recommend it.
Ingredients and supplies for Brownie Pops Recipe
Brownies (I'm a fan of this mix – but please don't feel like you need to buy the 12 pack online 🙂
You can also make your favorite homemade brownie recipe. You just want it to be on the fudgy side, and not too cakey, or it might not hold together
White candy melts – the Wilton brand is really good, but you can usually get them cheaper at Michaels, especially if you have coupons
Something to sprinkle on at the end…colored sugar, rainbow sprinkles, crushed candy, etc
I made this particular batch for Craftaholics Anonymous right before the 4th of July, so I used red and blue sugar.
Bake up a pan of brownies and let cool slightly. Trim the edges (and go ahead and eat them–they're good, right!) Cut the rest of the pan into 20 pieces.
The brownies are a little easier to work with while still warm.
Form each piece into a ball…smoosh is a good word to use here. You don't need to even add any frosting or anything. The brownies will hold together quite nicely, even if they're not perfectly round.
Melt candy, put a little on the end of a lollipop stick and press into a brownie ball. Let the candy set and then cover the whole pop in the melted white candy.
Twirl the lollipop for about a minute to prevent drips then dip the top into red or blue sugar. Set in a foam block, cake pop stand or just lay on a piece of wax paper while they finish setting.
For presentation, lay out on a tray or pack into a painted jar that's been dressed up with washi tape.
Past versions I've made are Mint brownie pops (with Andes mints) or Candy Cane brownie pops. Both delicious! Even if the pictures aren't awesome, because my photo skills have at least gotten a bit better since then 🙂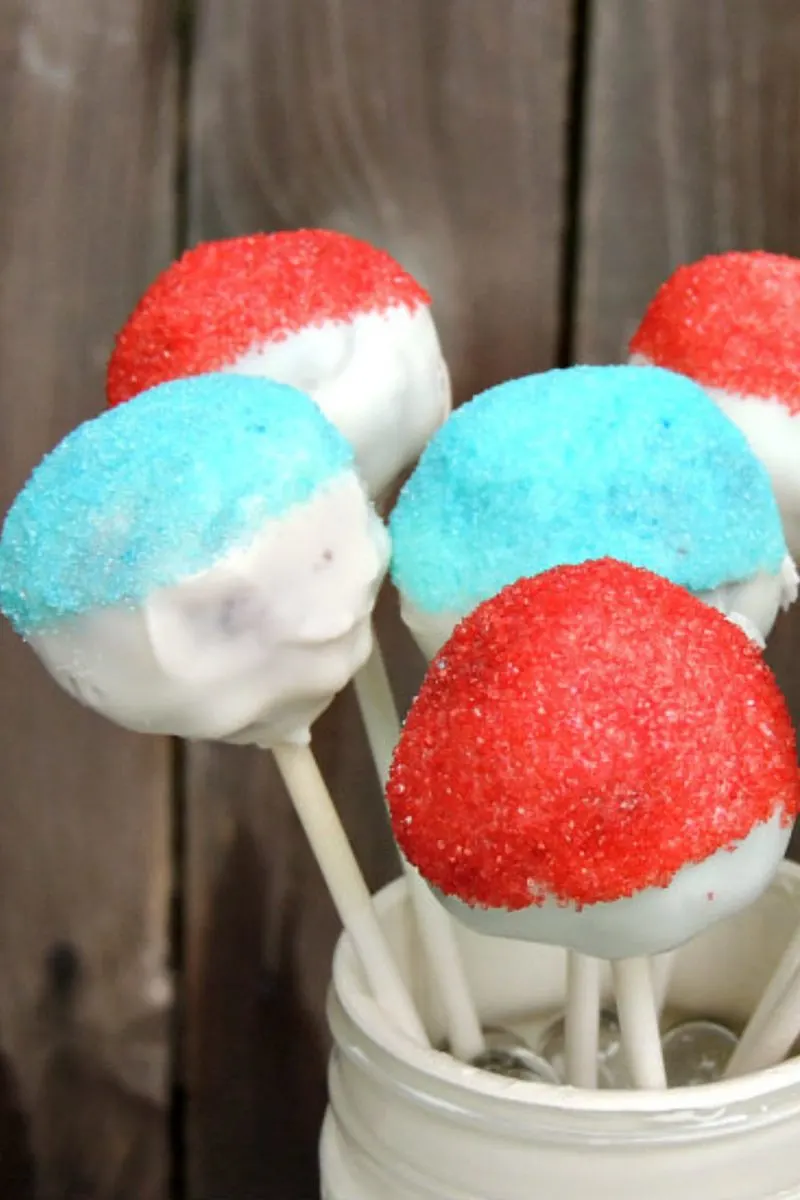 If you try making your own brownie pops, I'd love to hear your review! Did you like them? Better or worse than regular cake pops? And how did you dip or decorate them?