This Christmas cookie recipe has been a staple in our family since I was a little kid. It comes from my Grandma, and the addition of nutmeg makes it the best Christmas sugar cookie.
Some people think that just decorating sugar cookies is fun enough, and that the taste doesn't matter.
But I'm more of the opinion that if you're going to go through the effort, you might as well end up with a good-tasting sugar cookie and frosting to go with it.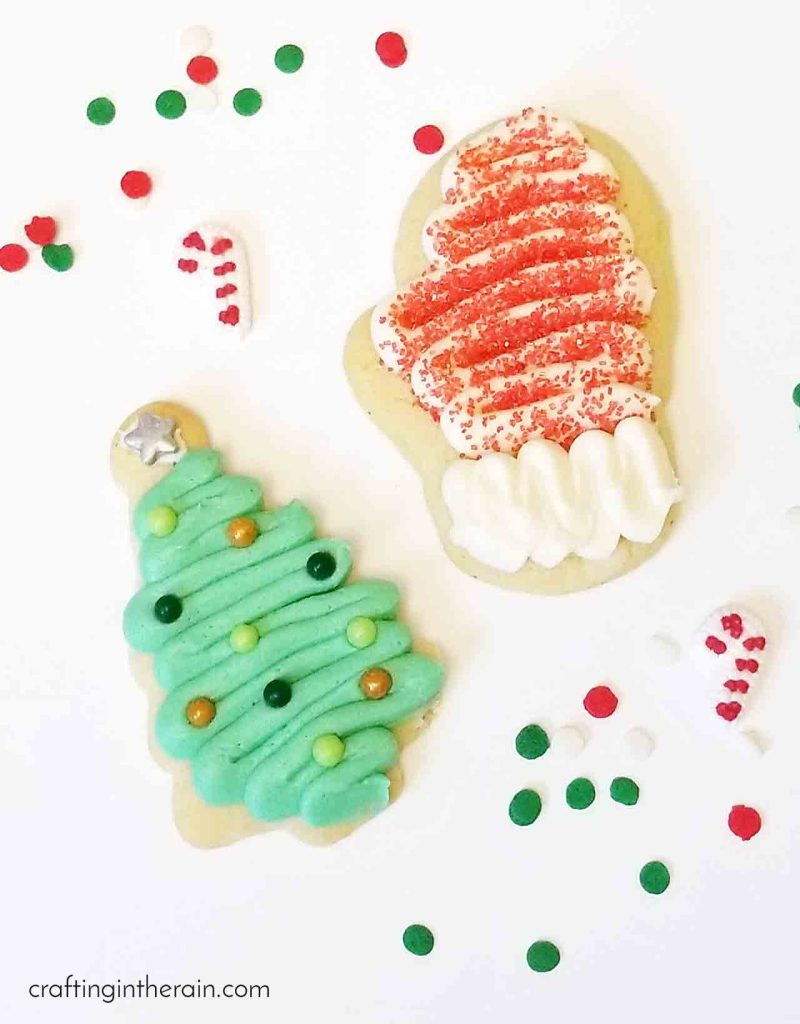 The cookies have a bit of a snap to their texture, but then they soften up after a day of having frosting on them. I feel like they have a slightly different flavor both ways (fresh, and later) but they're both so delicious.
If you like thin and crispy sugar cookies, you should definitely give these a try.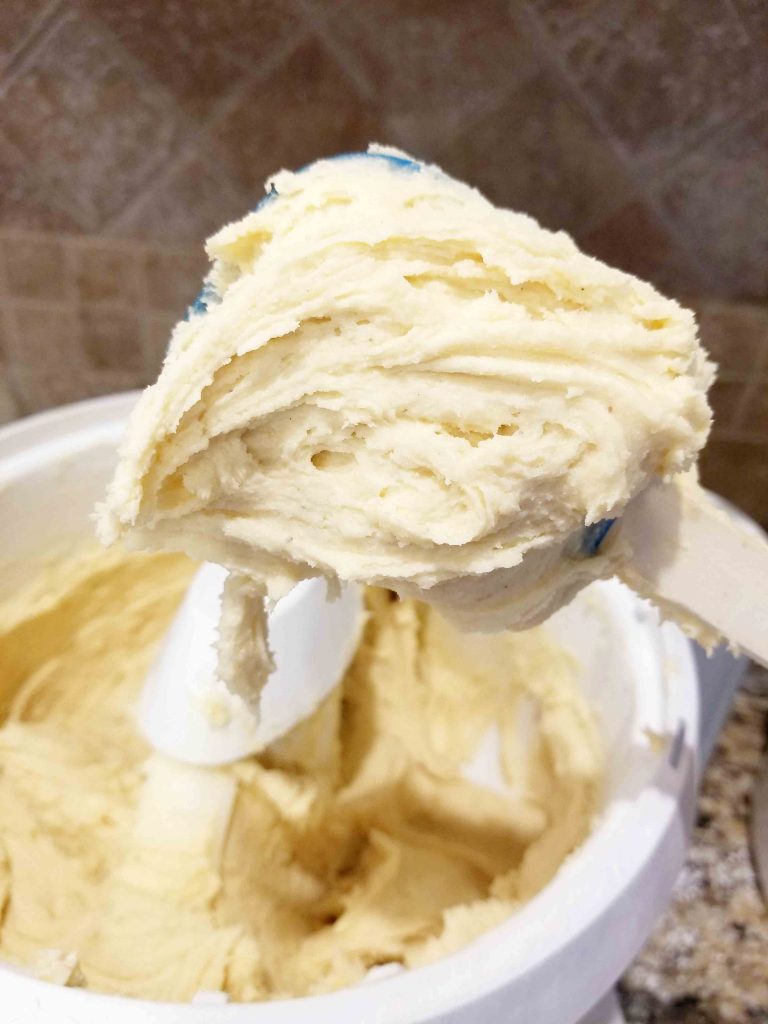 Crispy sugar cookie recipe
Mixing the cookie dough
Start by sifting the following ingredients:
2 1/4 cups flour
1 tsp baking powder
1/4 tsp baking soda
1/2 tsp salt
Cream with a mixer:
1/2 cup butter
1 cup sugar
2 eggs
1 tsp vanilla
1/4 tsp nutmeg (or omit for non-holiday cookies)
Then add 1 Tbs milk.
Add dry ingredients to combine.
Chill dough in the fridge
Divide into 3 sections and press between pieces of wax paper. Wrap in plastic wrap so it doesn't dry out.
I like to press it pretty thin – it chills faster, and you don't have to roll it as much later.
Chill for 2 hours or up to 2 weeks. The dough is quite soft, so chilling is a necessity!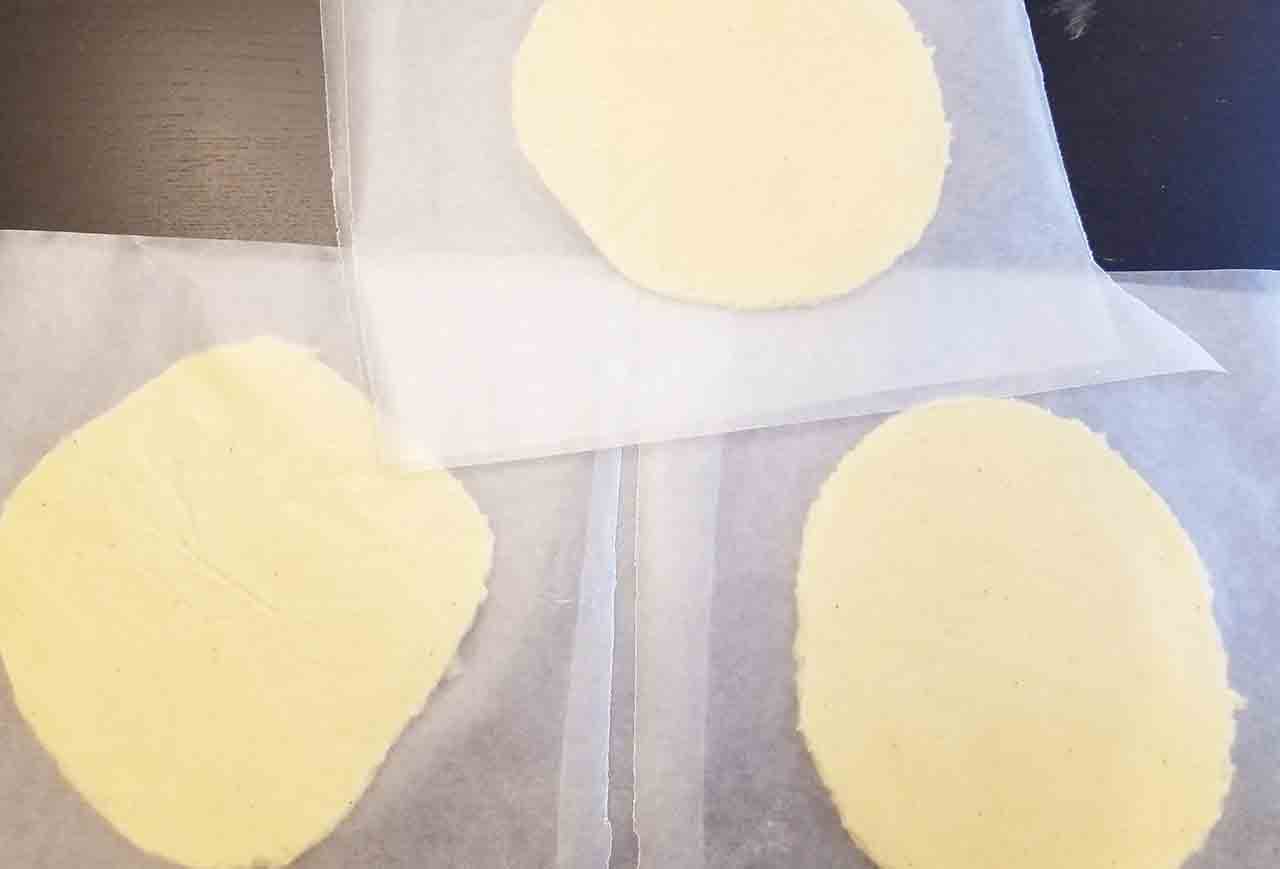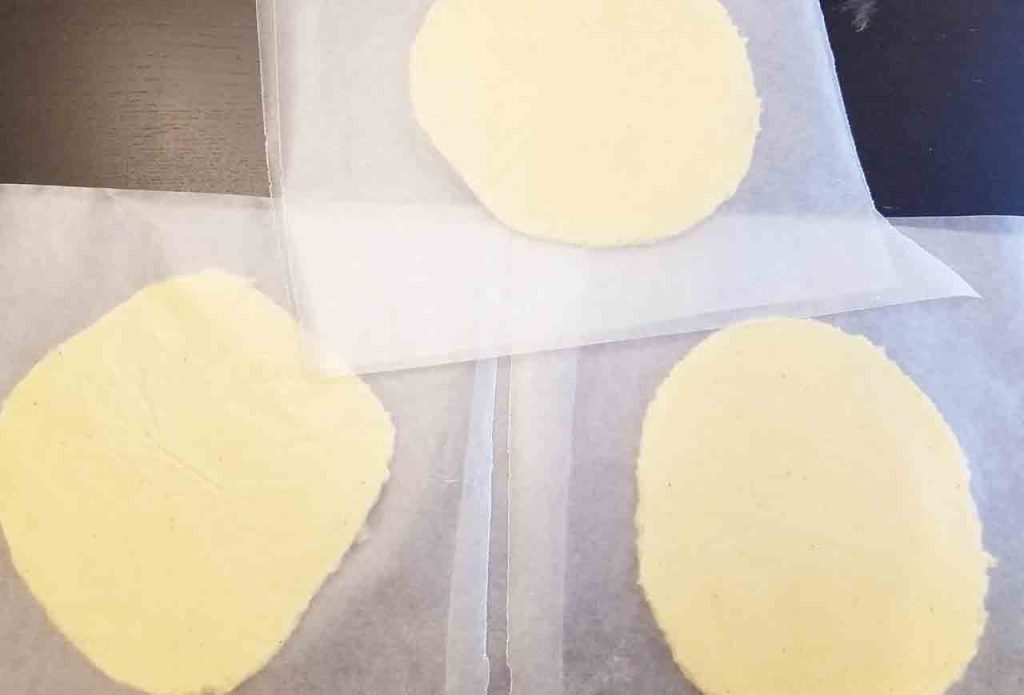 Remove one section from the fridge and let sit about 5 minutes.
Roll on a floured surface so the dough gets fairly thin, about 1/8 inch. I like to roll it out between the wax paper a little more still before peeling it off to place on the flour. Don't forget to flour the rolling pin too.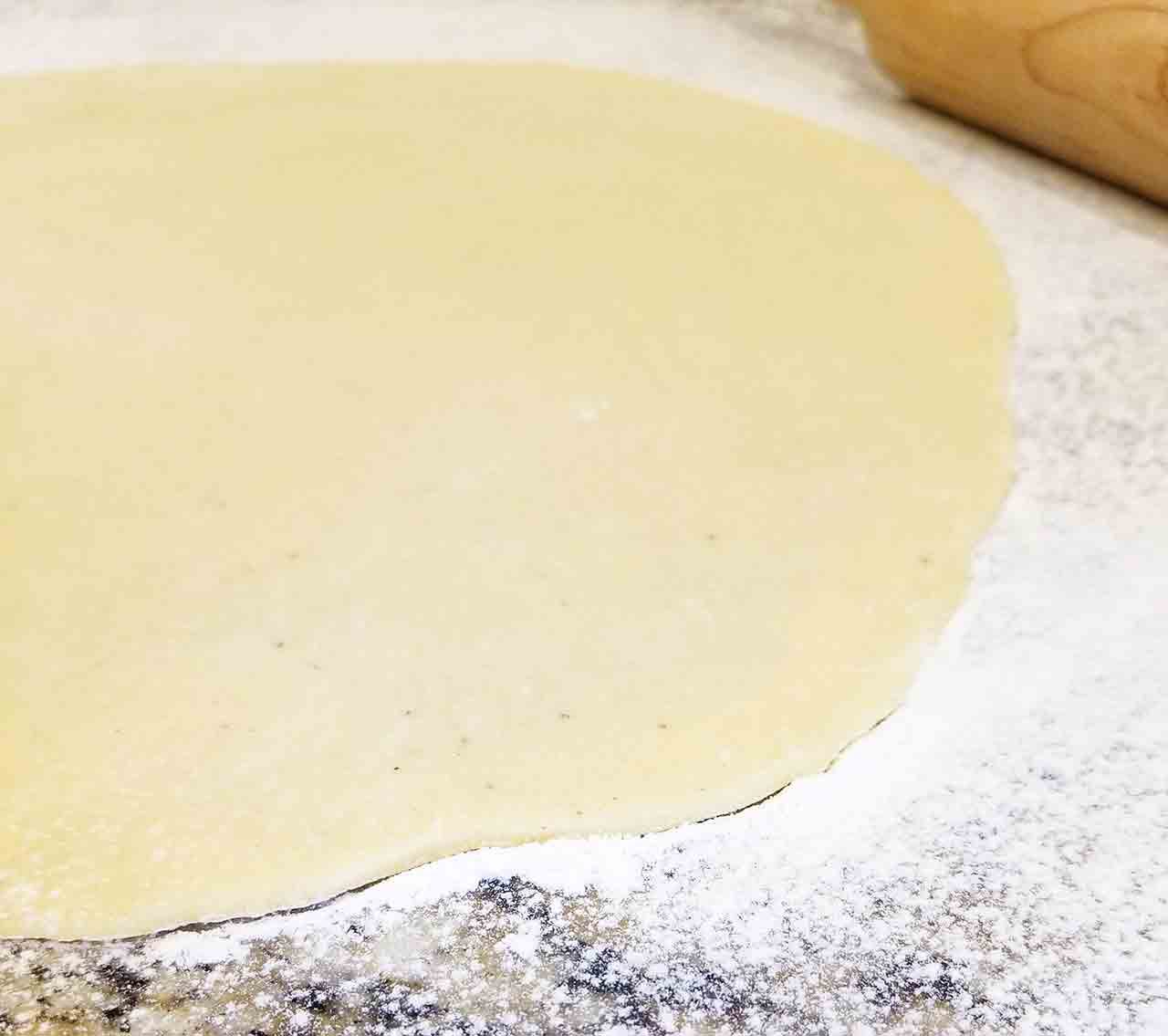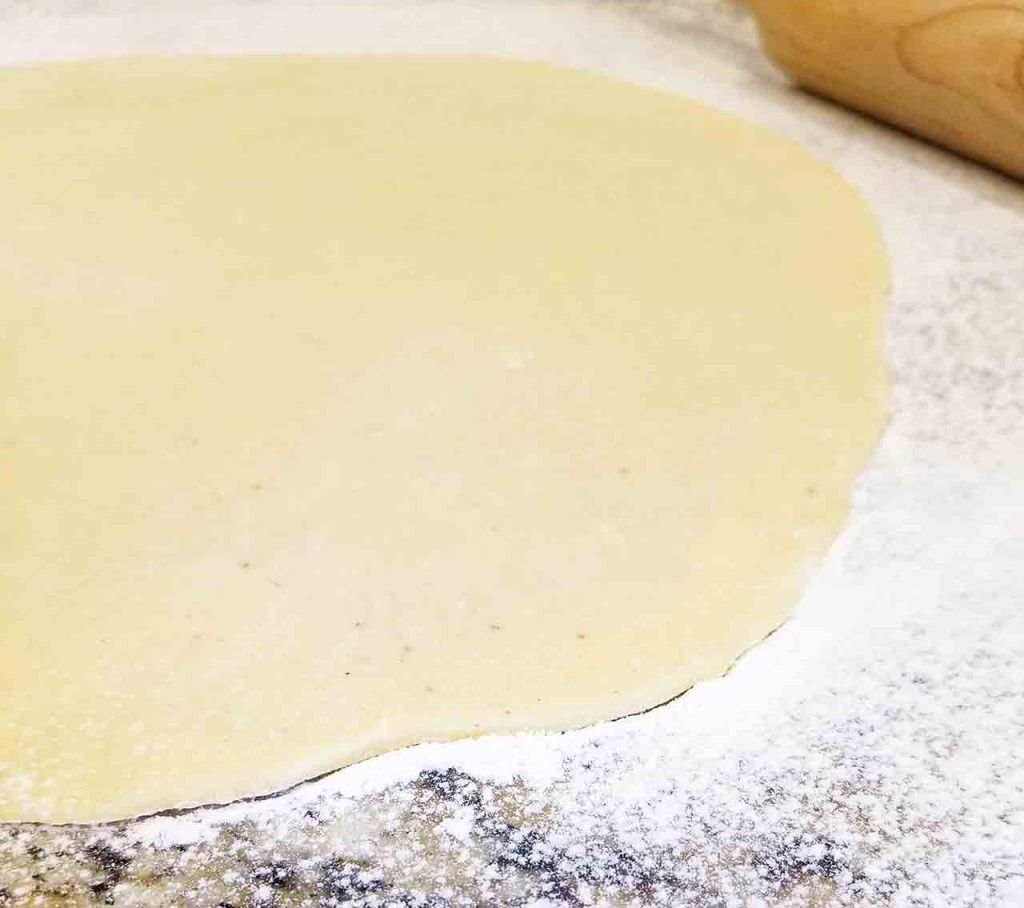 Cut using cookie cutters and move to a parchment paper lined cookie sheet with a metal spatula. Work quickly, as you want the dough to stay as cold as possible to keep its shape.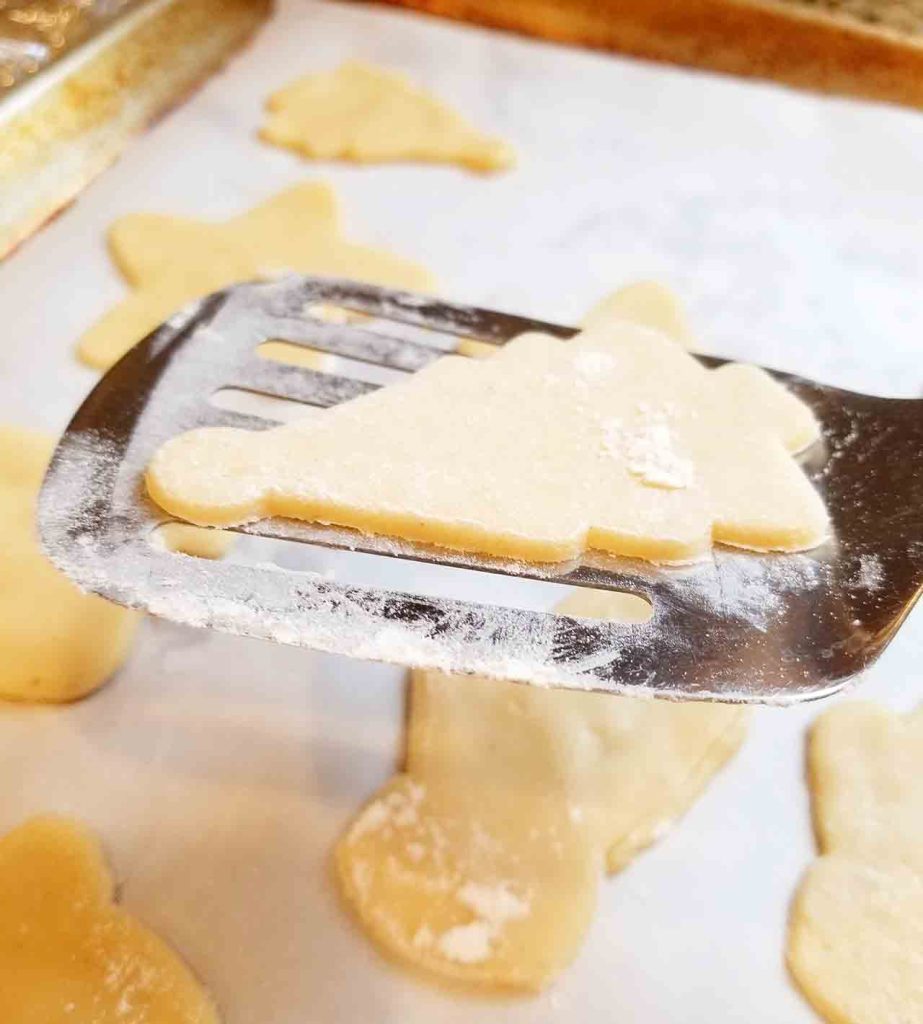 Press remaining dough back into a disc and chill again. Repeat with rest of the dough.
baking thin sugar cookies
Bake at 425 for 5-8 minutes. Watch for the edges to just start to turn golden.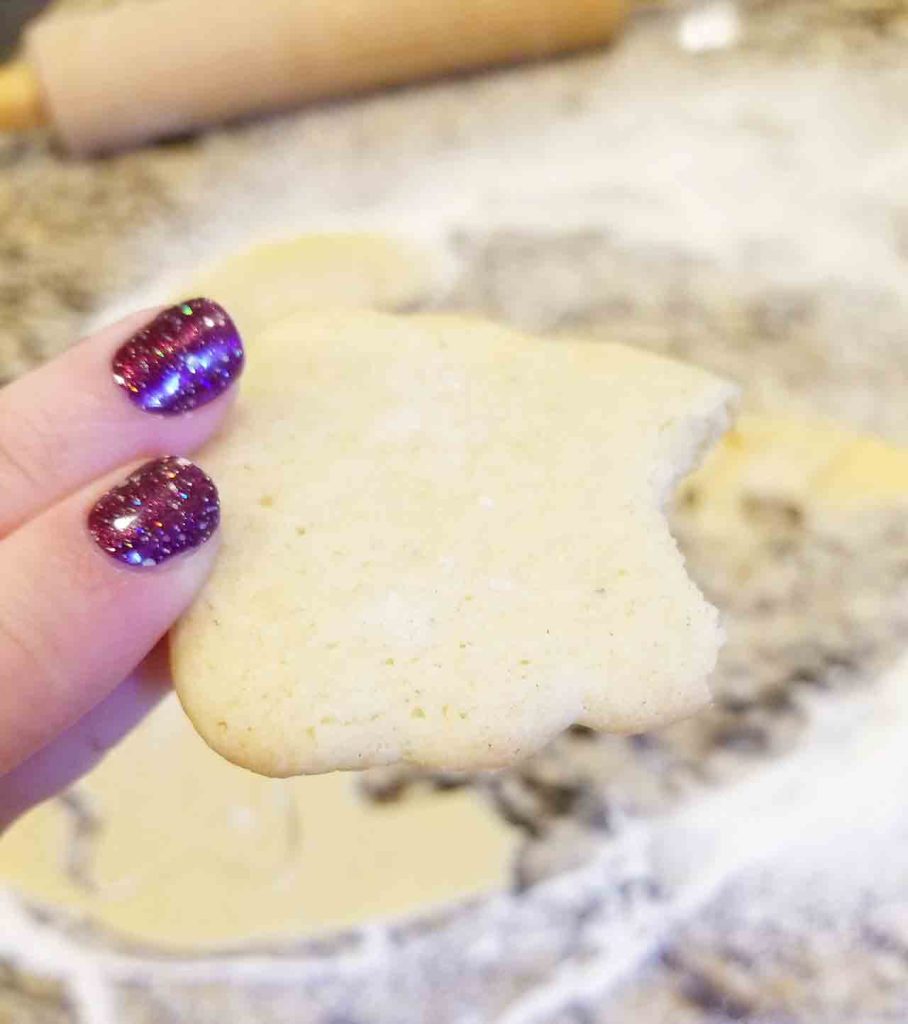 Rest on cookie sheet for 1 minute then transfer to wire cooling rack.
Top with your favorite frosting. This buttercream frosting is a great recipe and it can be colored with drop coloring or gel.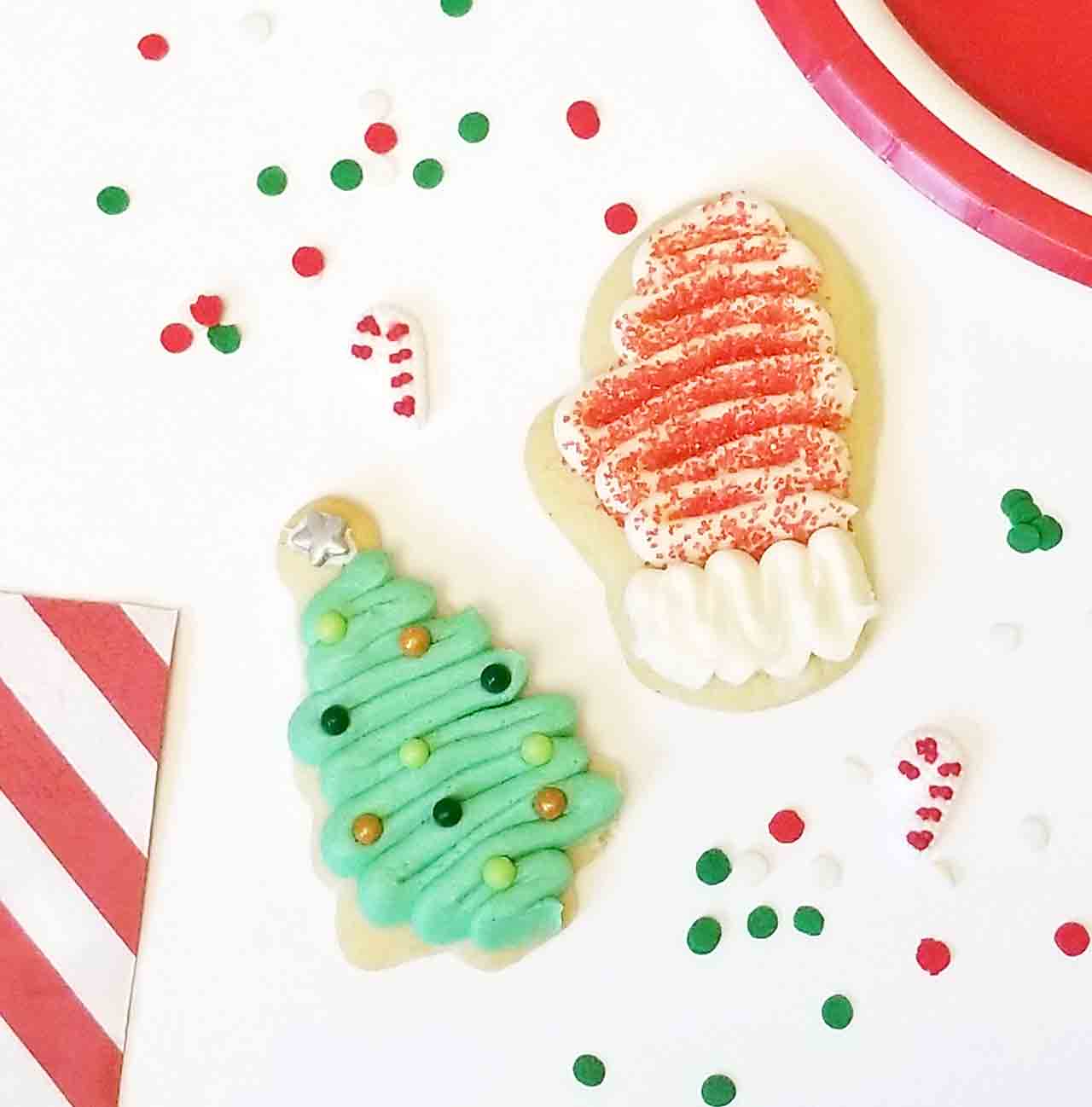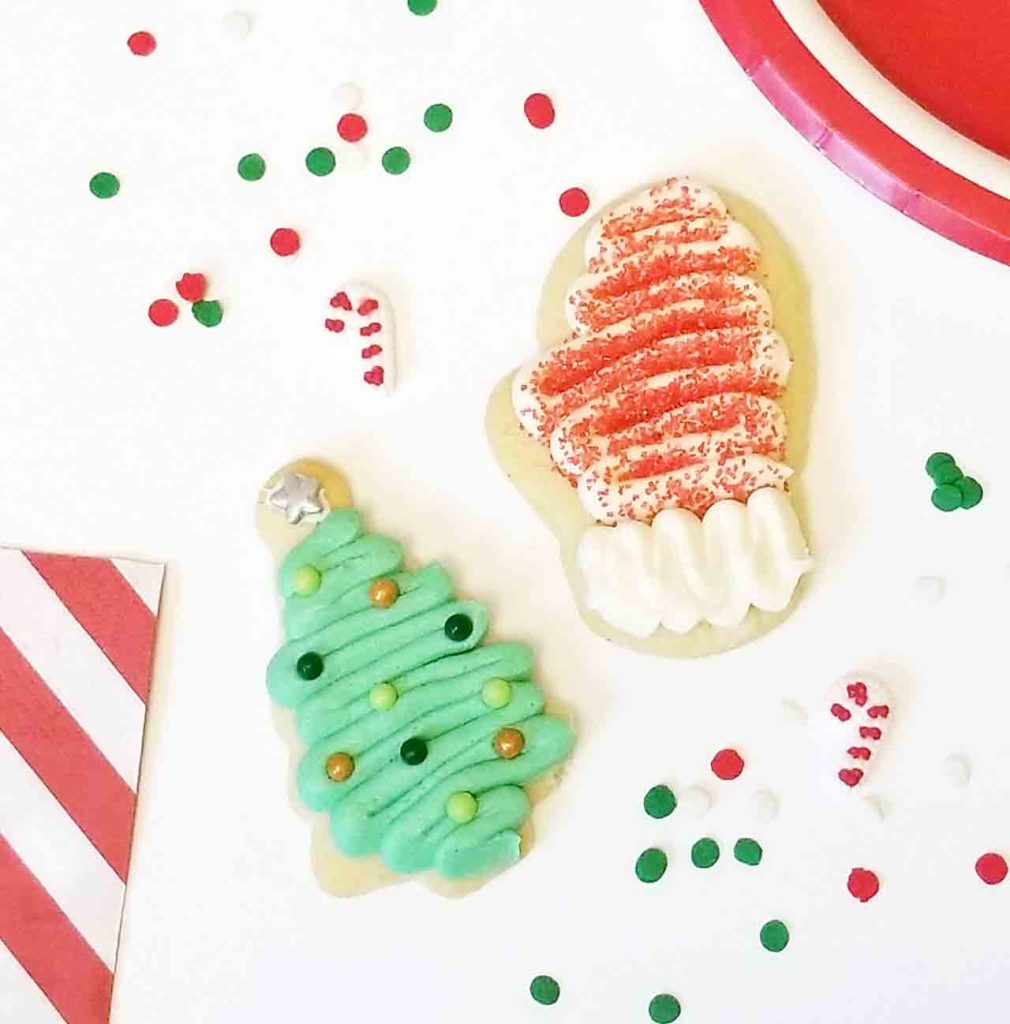 Here are a couple more good cookie recipes to try during the holidays: Chip Snickerdoodles and Almond Bars.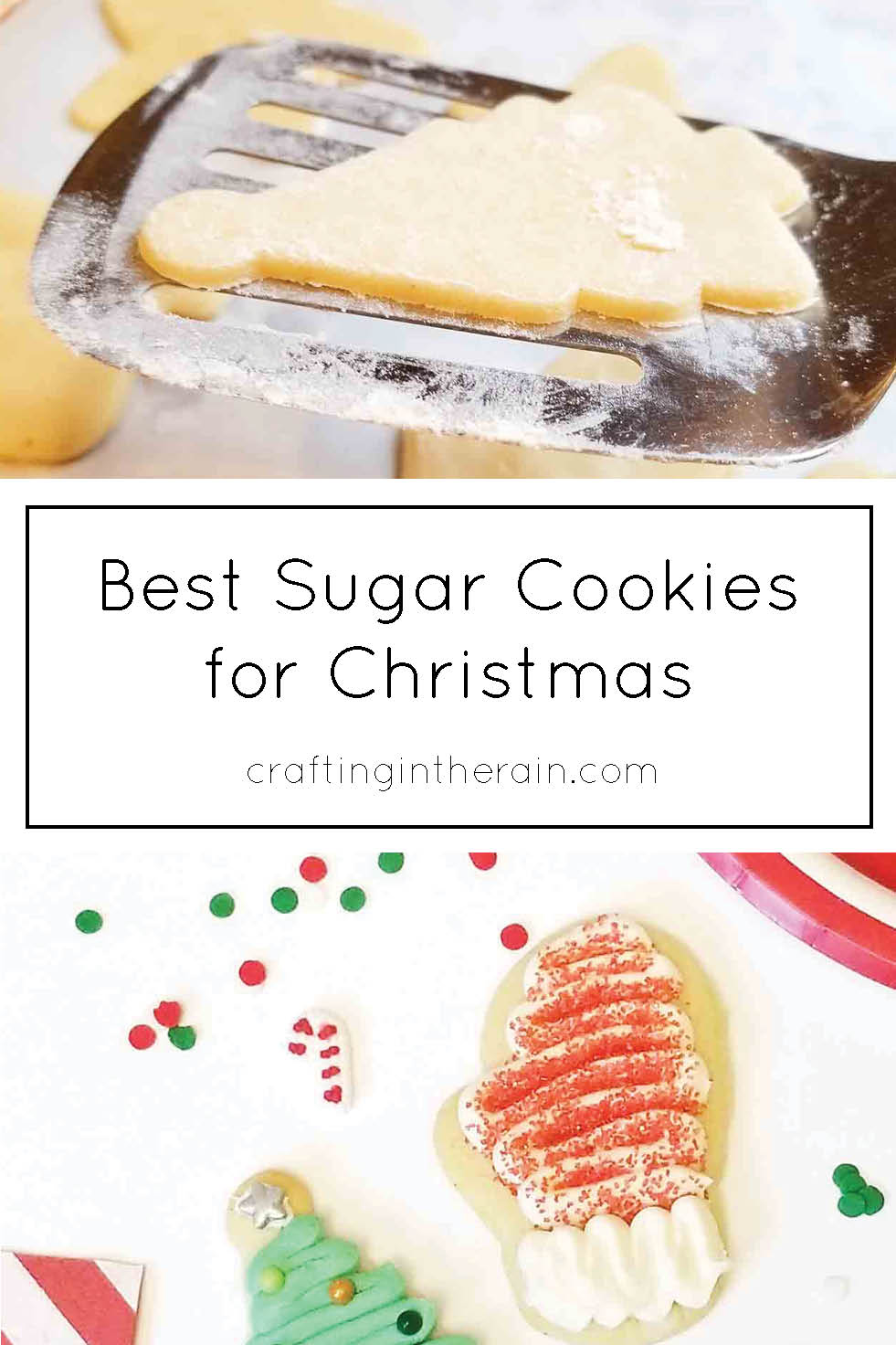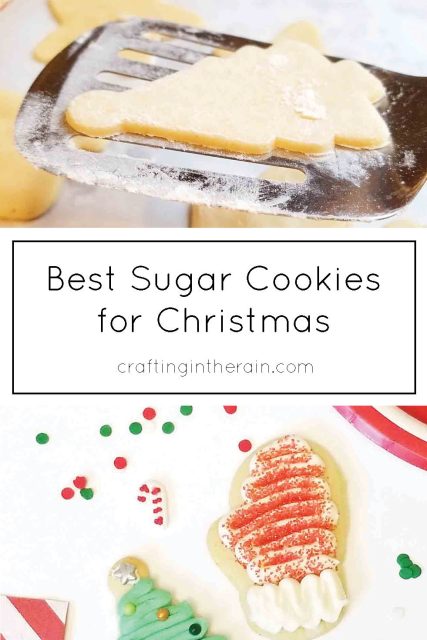 Yield: 2 dozen
Christmas Sugar Cookies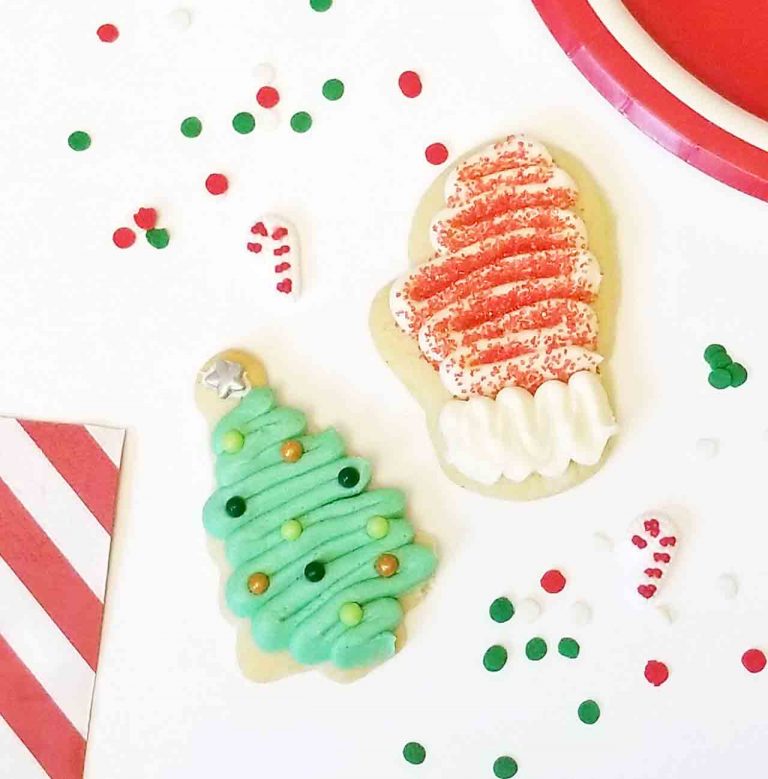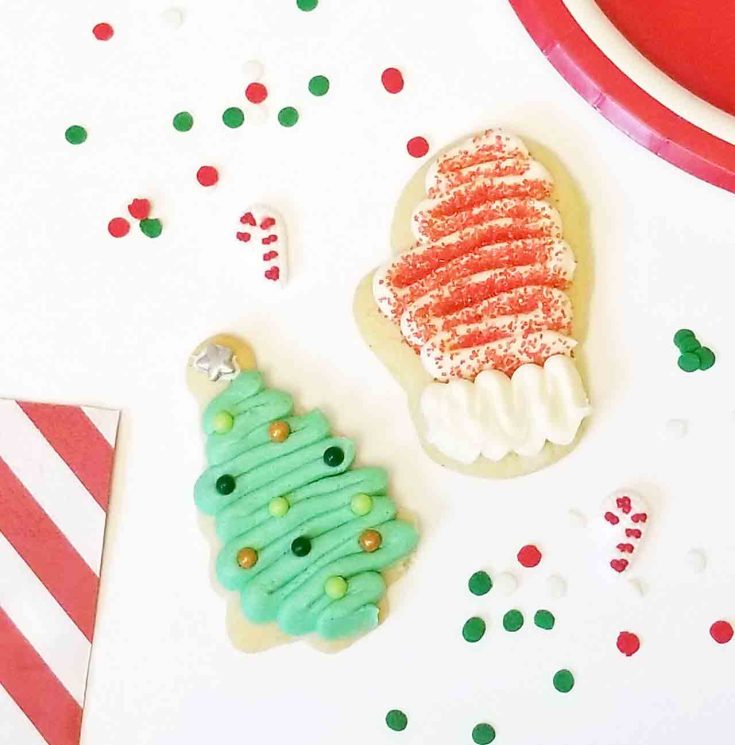 Delicious sugar cookie recipe that holds up to decorating in sturdiness and flavor.
Total Time
4 hours
5 minutes
Ingredients
2  1/4 cups flour
1 tsp baking powder
1/4 tsp baking soda
1/2 tsp salt
1/2 cup butter
1 cup sugar
2 eggs
1 tsp vanilla
1/4 tsp nutmeg (or omit for non-holiday cookies)
1 Tbs milk
Instructions
Preheat oven to 425.
Sift flour, baking powder, baking soda and salt.
Cream butter, sugar, eggs, vanilla and nutmeg.
Add milk.
Add dry ingredients and combine.
Divide into 3 sections and chill.
Roll dough to about 1/8 inch thickness and cut with cookie cutters.
Bake for 5-8 minutes until edges turn golden.
Frost with homemade buttercream frosting.
Recommended Products
As an Amazon Associate and member of other affiliate programs, I earn from qualifying purchases.
Nutrition Information:
Yield:
12
Serving Size:
2 cookies
Amount Per Serving:
Calories:

227