I'm joining in another round of Craft Lightning–it's the Halloween Edition! I love these because who isn't looking for fast craft ideas? And it makes me think of ways to speed up my own projects and make them easier.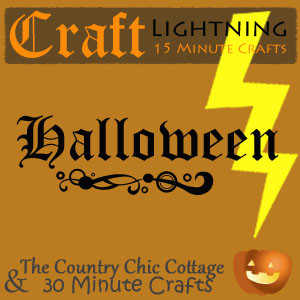 The idea of Craft Lightning is that each post only takes 15 minutes to make (minus paint drying time…and I often get a little impatient and bust out the hair dryer anyway.)

Today we're making a Halloween witch head, or maybe you even see Elphaba from Wicked! So here's what you'll need:

Foam head
Green paint
Green glitter paint
Witch hat from the dollar store
Paint brush

Paint two coats of green paint all over the foam head. Let dry between coats of course, but you can see here that the second coat really is necessary.


While the paint is drying, you may want to try to iron or steam out some of the wrinkles in the hat.

When the paint is dry, add a layer of green Glamour Dust and let dry again.
Pop the witch hat on her head and she's all done, ready to greet guests on your Halloween entry table. And that's how you make a fast witch head for Halloween!

For more Halloween Craft Lightning posts, visit The Country Chic Cottage or 30 Minute Crafts.

And, if that wasn't fun enough, Britni from Play.Party.Pin has a birthday and blog anniversary that we're celebrating!
Giveaway Details and Fine Print:
Giveaway begins 9/25 and ends 10/2 at 11:59 p.m EST. Giveaway is open to anyone with a verified PayPal email address. Winners will be chosen by Rafflecopter and winning entries will be verified before winner is notified. If winning entry is not complete, prize will be voided and another winner will be chosen. Winners will be notified via email and have 48 hours to respond and claim their prize before a new winner is chosen. Winner will have to provide a valid PayPal email address, which will be kept confidential in order to claim their prize. Facebook, Pinterest, Twitter, and Instagram are not in ANY way involved with this giveaway and are hereby released of any responsibility or liability.
Thanks to all these participating blogs!