I'm so excited to be on the Oriental Trading Skeleton Squad this year and show off our Pirate Skeleton Halloween porch. I have partnered with Oriental Trading Company on this post and all thoughts and opinions are my own.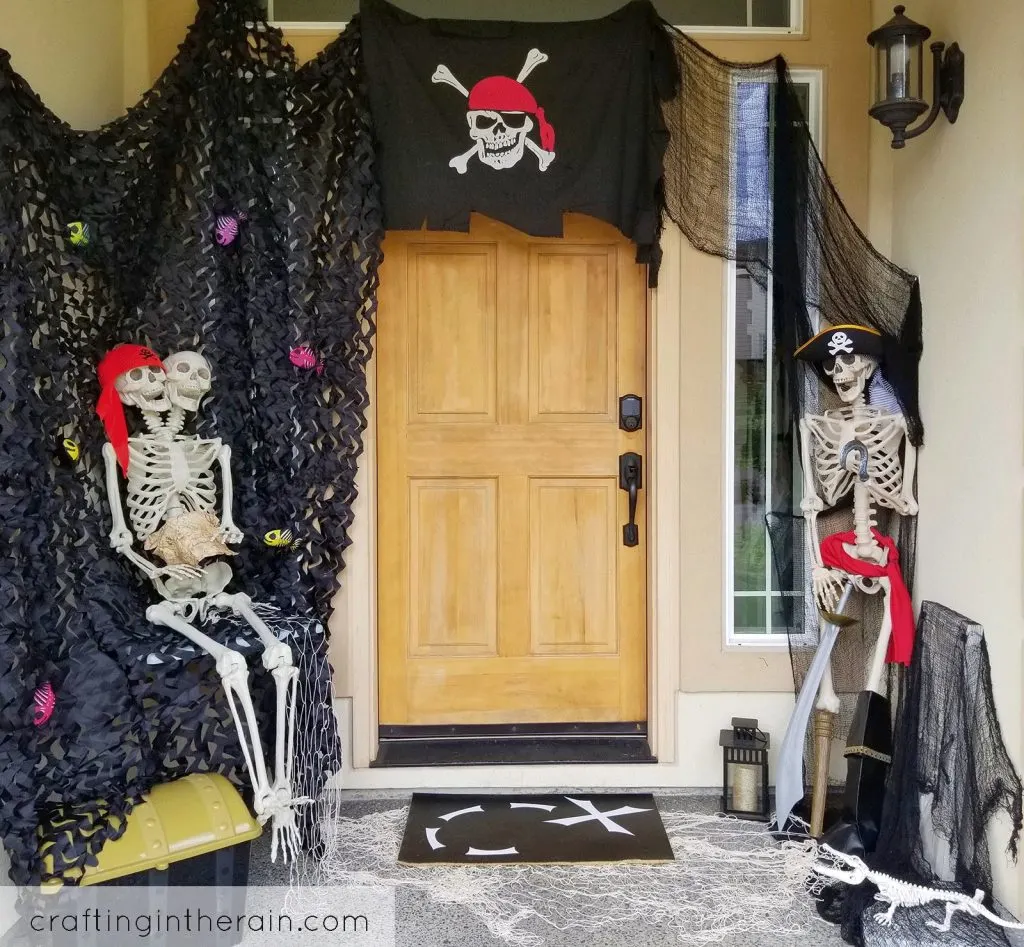 These poseable skeletons are the perfect addition to your indoor or outdoor decorations – and they're so versatile. Bring them to your table, take them to trunk-or-treat, or hide them in halls and closets to scare your family.
Select skeletons are on sale up to half off! Plus use the code SQUAD19 to get Free Shipping on any size order from Oriental Trading. You can dress them up, add wigs, paint them – let your imagination run wild.
HOW TO DECORATE A SKELETON PORCH
I knew I wanted to use my skeletons on our front porch. It will look perfect for our Halloween guests and trick-or-treaters.
(And in case you are curious – yes, I styled this all in September – and then took it down. It looks like it has a lot of pieces, but it's not complicated and I can easily recreate this whole scene again in October.)
I started with just the blank canvas of my porch, and with just a few simple steps, you can transform your poseable skeletons too.
CREATE THE BACKGROUND LAYER
Begin decorating with the background layer. I chose different black hanging backdrops to cover up the regular look of my porch.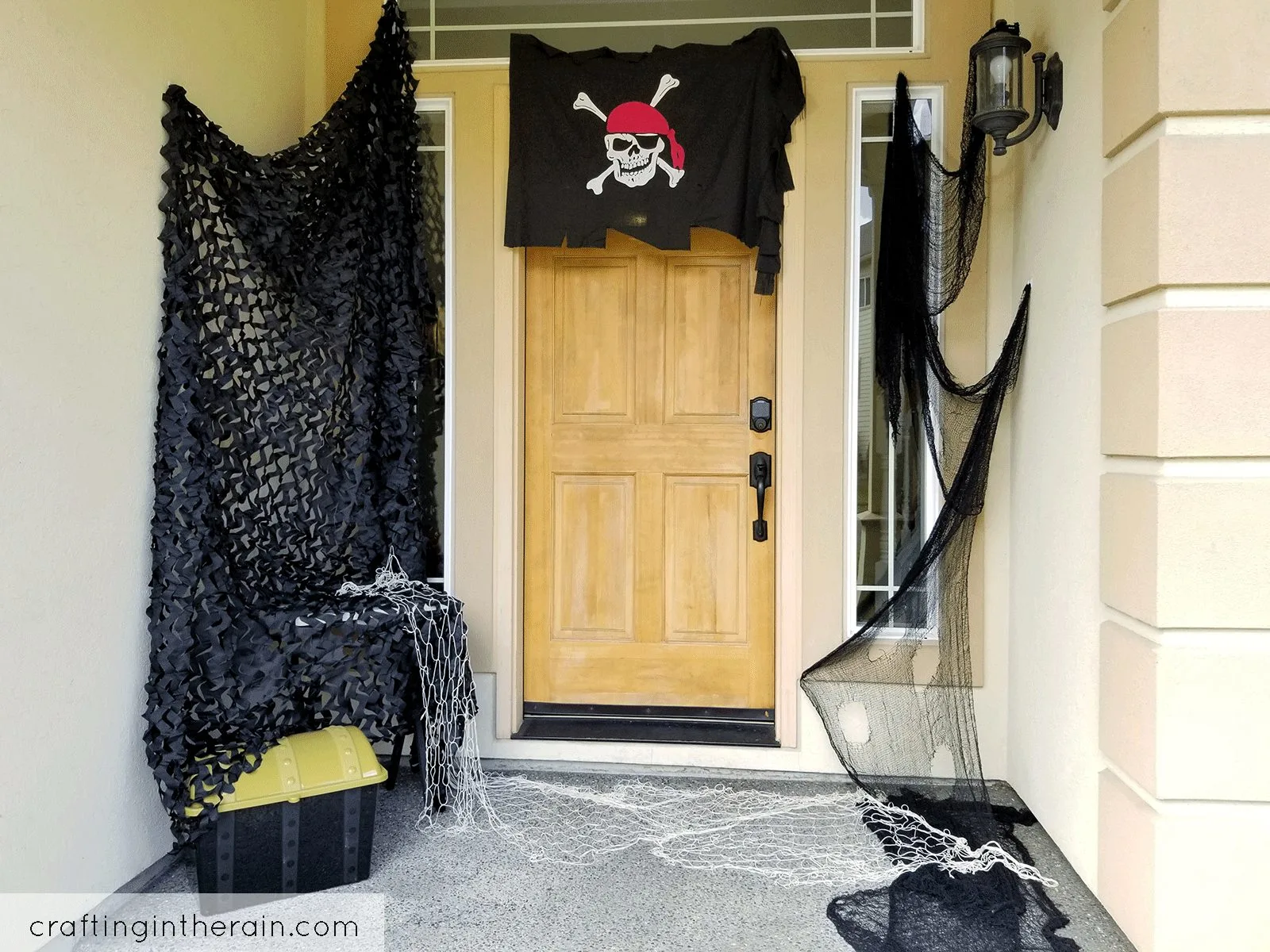 There's the black creepy cloth and the black netting. I placed a few sticky back hooks on my window and walls of the porch. They will be easily removable later, and work great at holding up these nettings because they aren't too heavy.
The pirate flag hangs over the door – again using two hooks on the back. I actually glued two loops of ribbon to the back of the flag to make hanging even easier.
ADD SKELETONS
Now it's time to bring in the stars of the show. I have set up the peg-leg pirate skeleton in one corner, and the two-headed skeleton in the other.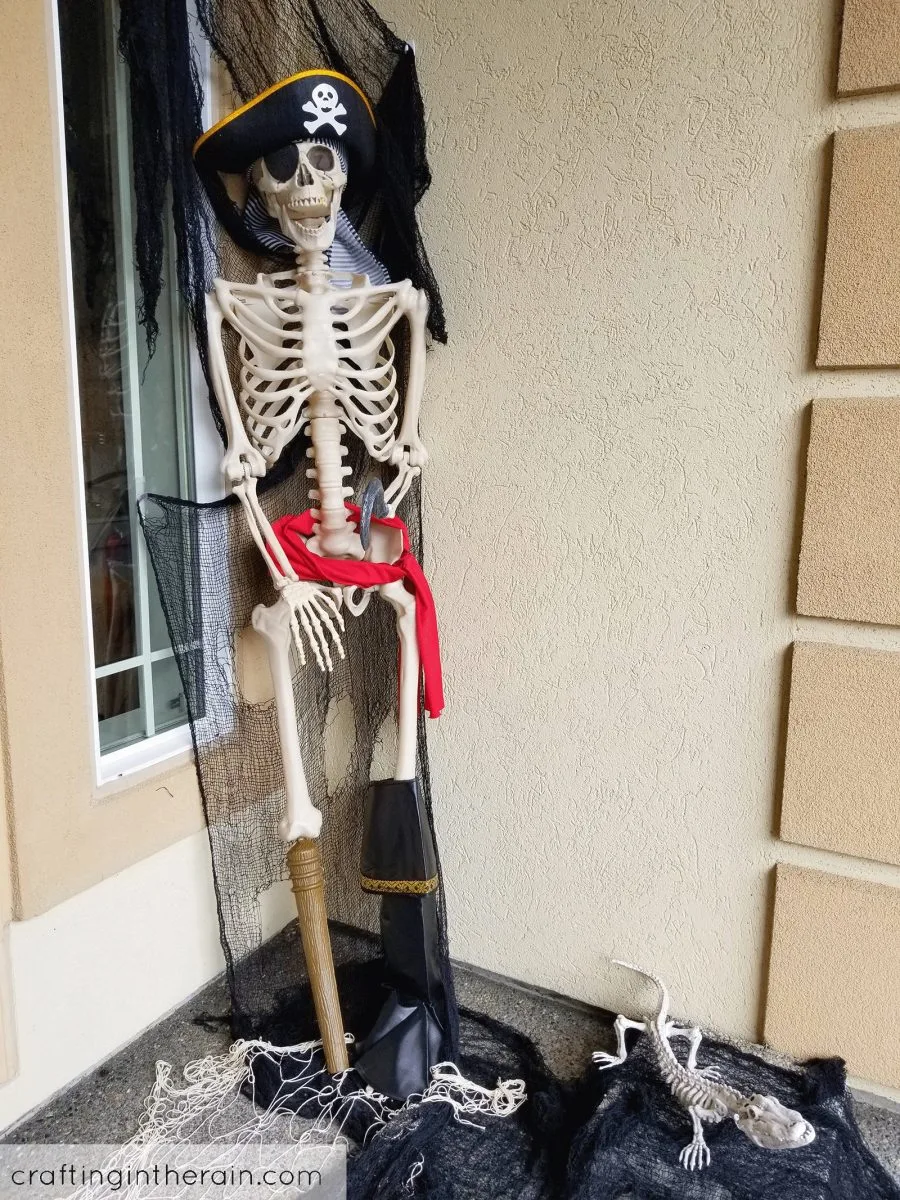 The pirate skeleton comes with the peg-leg and hook already attached. It also has the red sash around the waist and the fabric headband. The skull hat comes separately. He is propped up on his legs and leaning against the wall.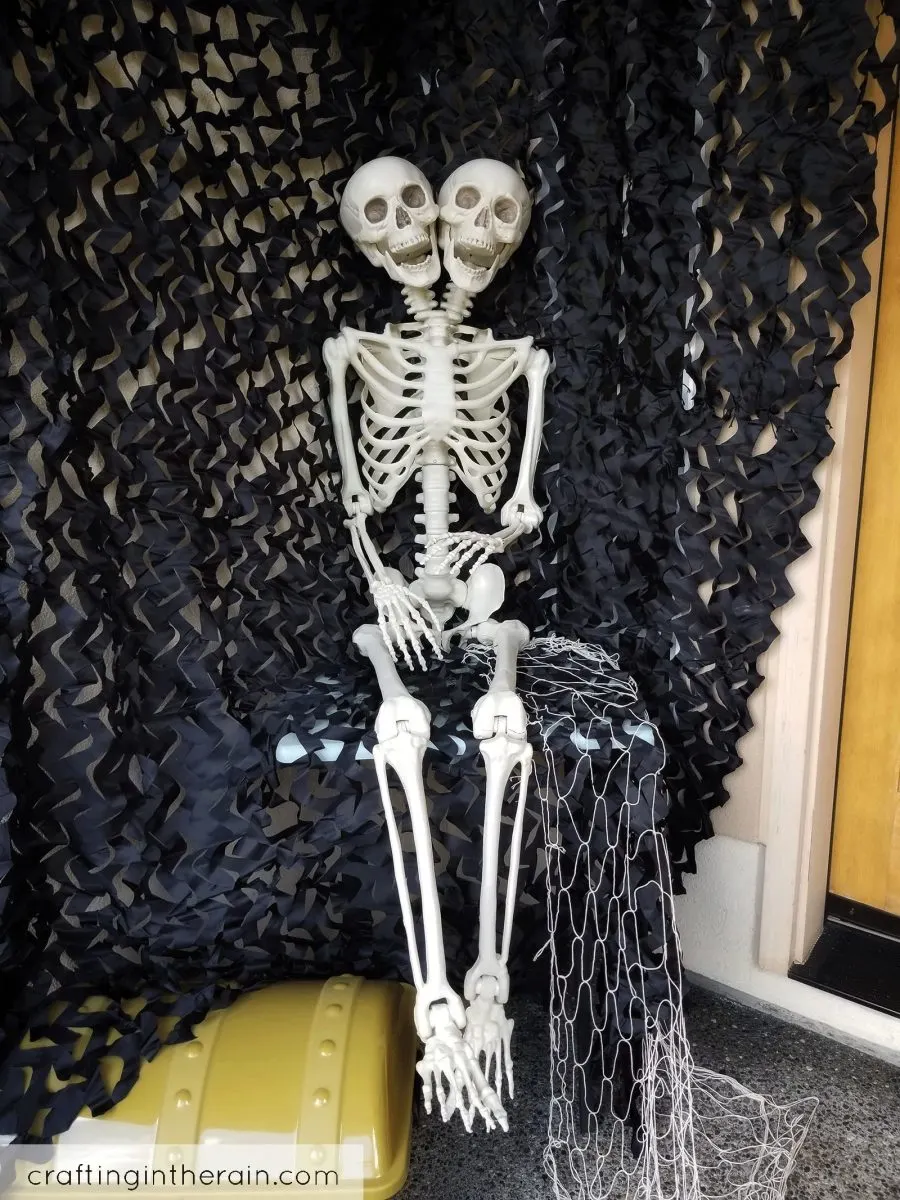 The two-headed skeleton is sitting on a small TV-tray style table. I bent the legs and waist so they could sit up nicely, and they're leaning into the corner a bit too.
I also have a small crocodile skeleton on the ground – another Captain Hook reference.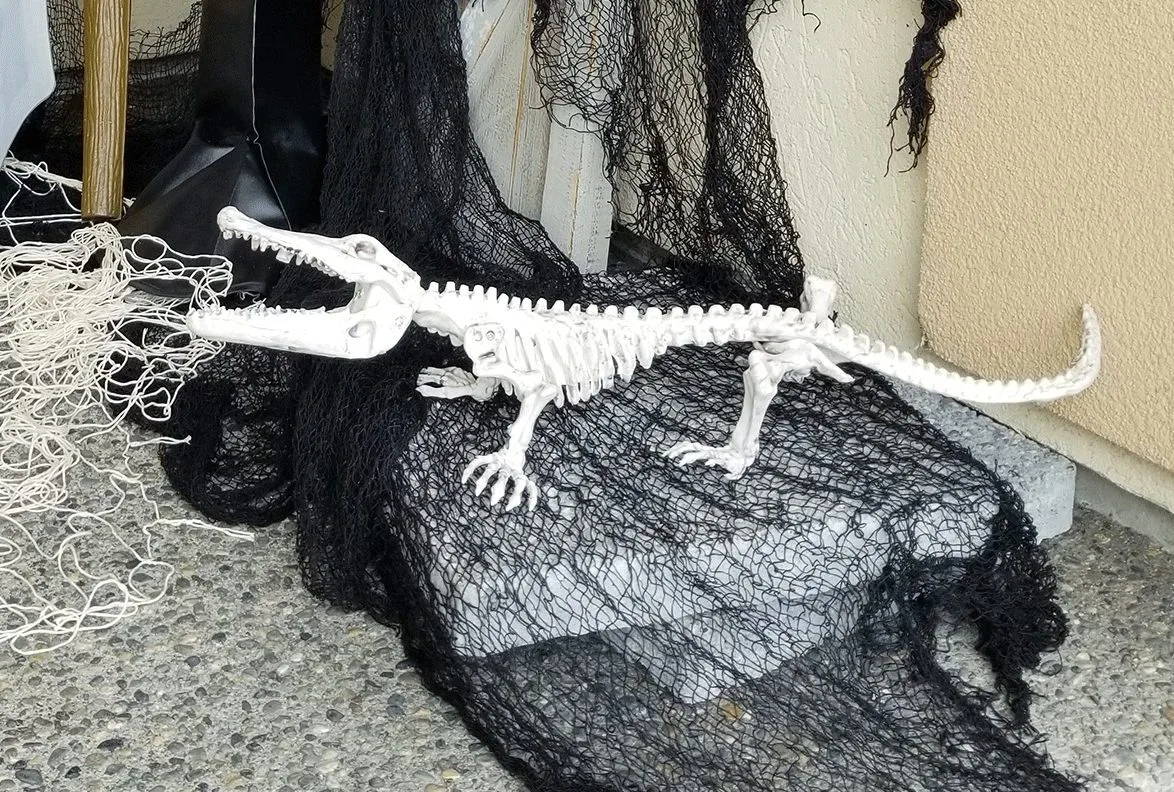 FINISH WITH PROPS
It's looking good, but time to make it pop with the finishing details. The pirate skeleton now also gets a pirate sword and boot cover on his remaining leg.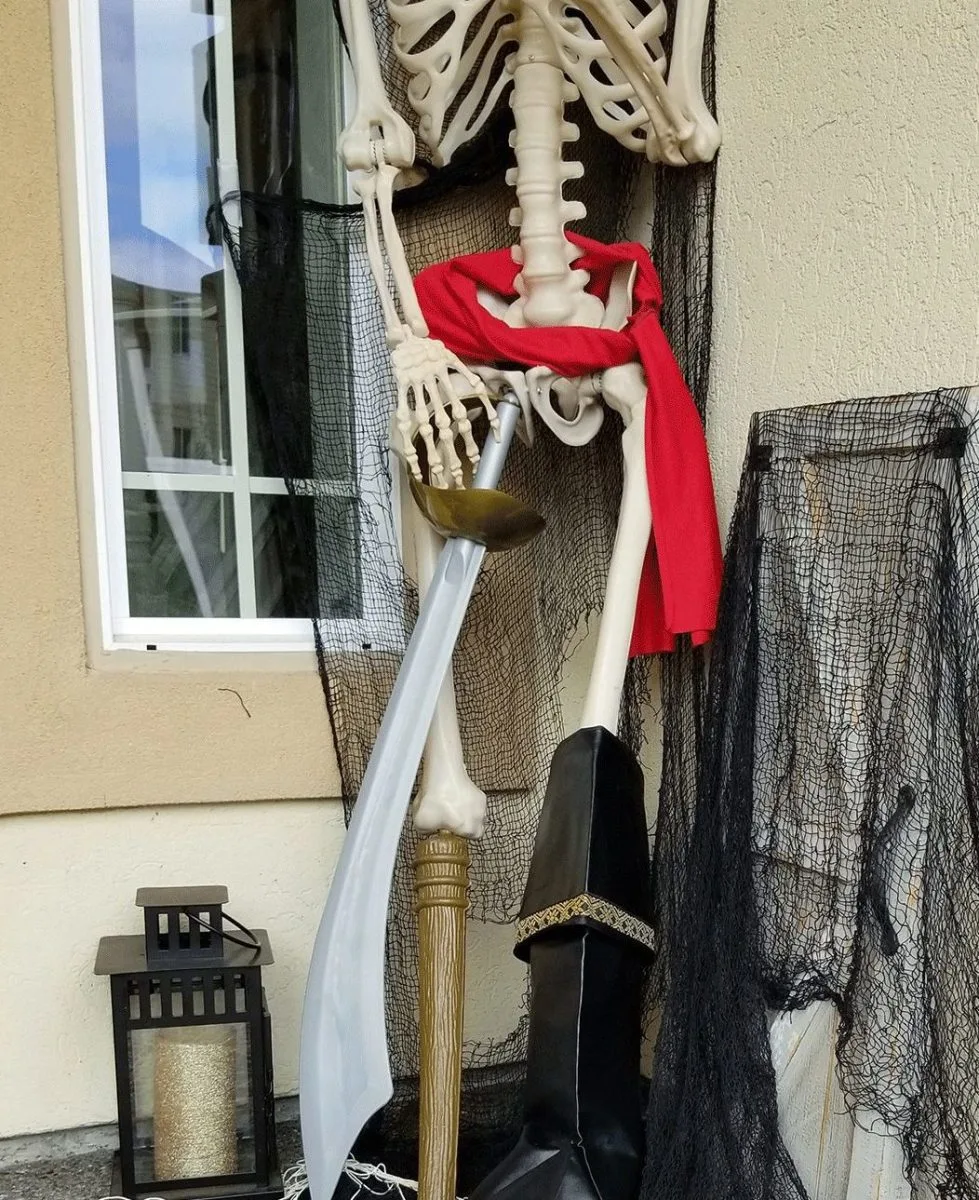 The skeleton duo is holding a treasure map. I wondered if only one of the pair loved the life of piracy and the other was just along for the ride? So one head has a red pirate cap.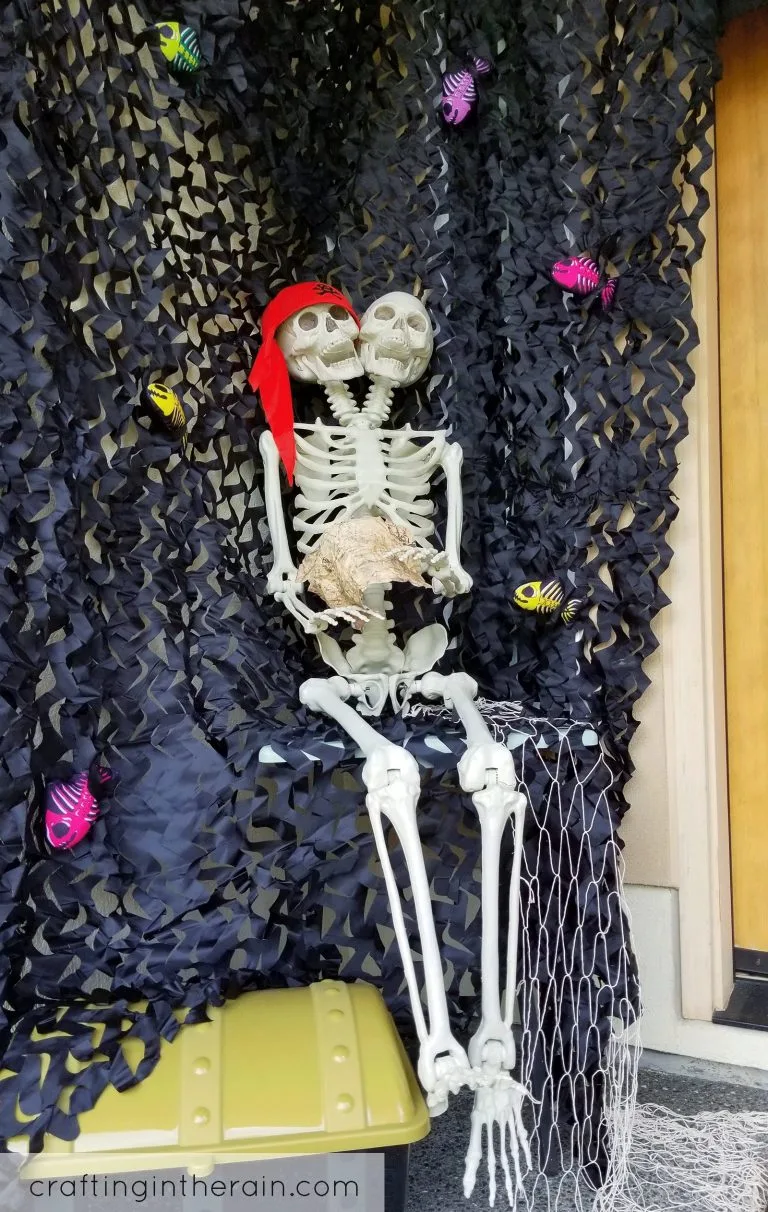 To make the map, I simply found an image of an old-looking map of the Caribbean. Once printed, I trimmed away the white border and wrinkled the paper repeatedly. To age the map even more, I rubbed some brown ink around the edges.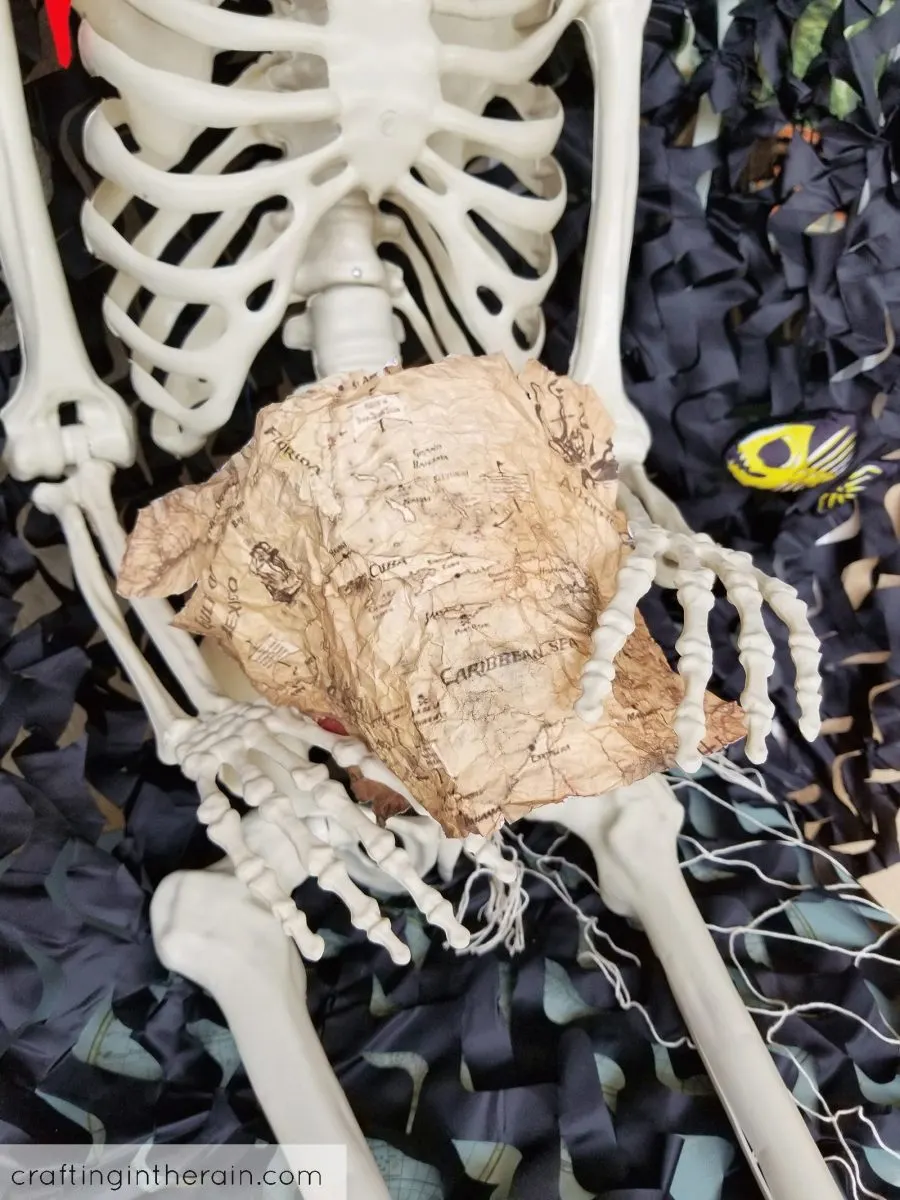 I tucked the tails of these stuffed rainbow fish skeletons into the black netting – I love how it adds a bit of color but still keeps with the high seas skeleton theme.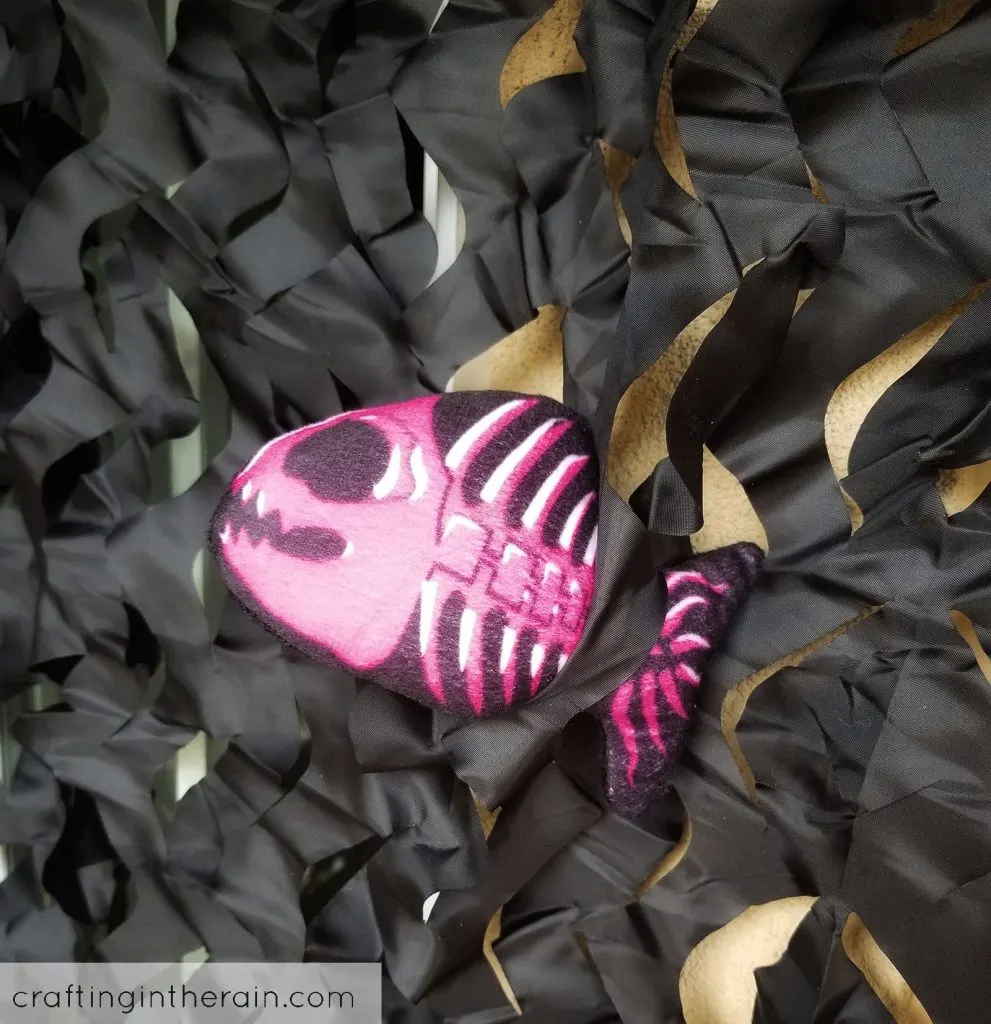 I know I definitely had fun building my pirate skeleton Halloween porch and hanging out with my new friends. What is your favorite part of the porch? Will you be shopping for skeletons today?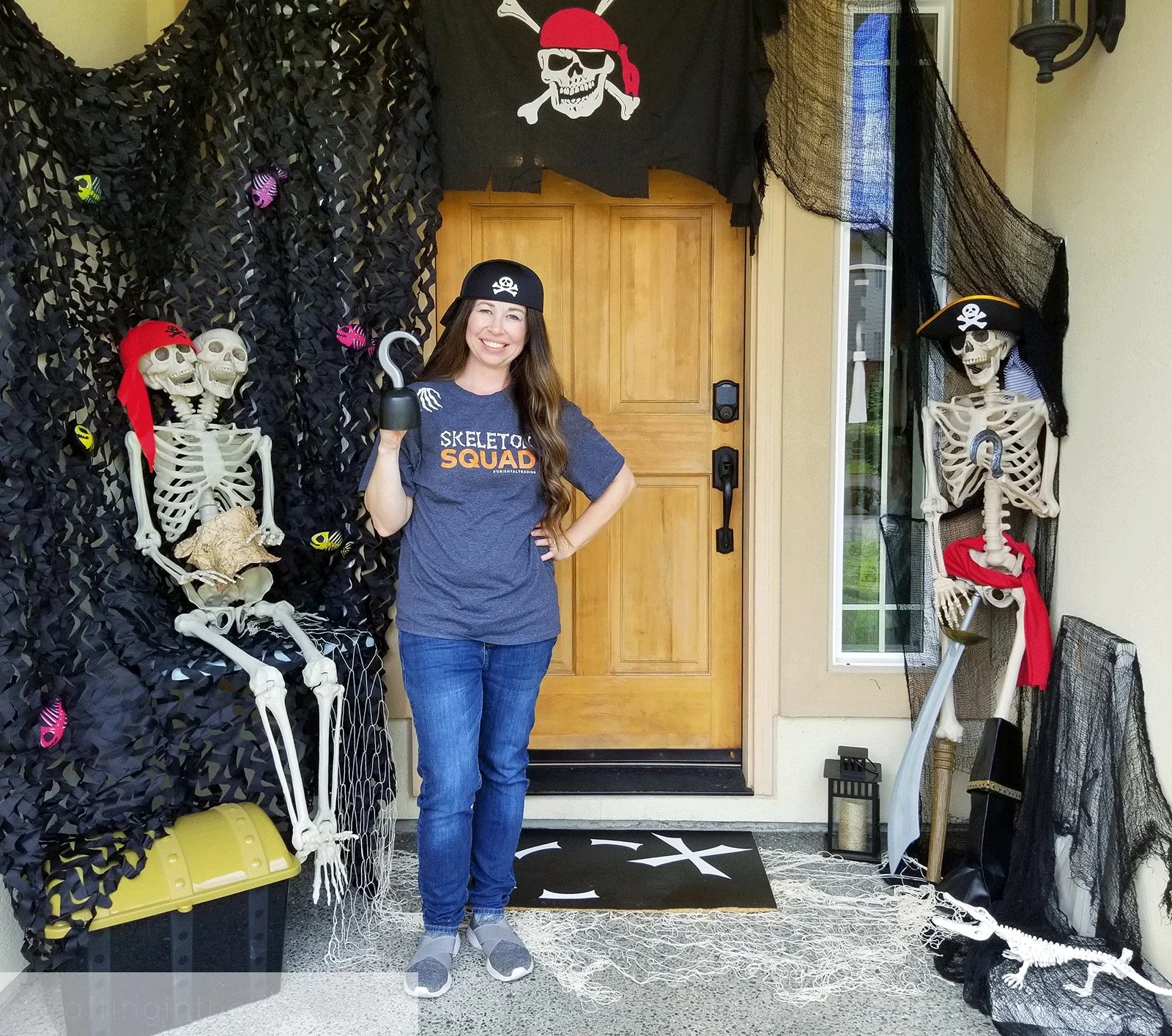 Be sure to check out the #OTCSkeletonSquad hashtag on Instagram to see all the other incredibly creative ways to use all the skeletons that Oriental Trading has to offer. Happy Skeleton Day!
Shop this post
Black cloth
Black netting
Pirate flag
Treasure chest
Sword
Pirate hat
Pirate boots
Stuffed skeleton fish
All Skeletons
And don't forget to use the code SQUAD19 to get free shipping on any order TODAY only – Sept 13th.