Custom stickers have never been so popular, or so easy to make, when you have your Cricut machine to help you out. Want to make custom Cricut stickers for your planner? an upcoming party? your business? Watch how easy it is to upload images to Cricut – then turn them into stickers!
Supplies for making stickers
Calibrate Cricut Print then Cut
If this is your first time doing a print then cut project with your Cricut, you'll want to calibrate the blade with the sensors reading the registration marks.
It's really easy to do this, and Cricut has a tutorial you can follow here. You'll print a test page and load it into your machine and follow the on-screen prompts. You'll answer questions about which cuts are most accurate and the machine makes adjustments accordingly.
Upload image to Design Space
In Design Space click "upload image" and browse to find the image you're using.

Click around the background of the image to remove it. (It gets replaced with the checker pattern)

Select "save for print then cut" option and insert into project.

Resize the image if needed.
I repeated those steps multiple times to get a lot of the different unicorn images.

Printing stickers with a Cricut
Follow prompts to print the design. Toggle on the option for Bleed. This adds a bit of color around the outside of your image so that you don't end up with a sliver of white around it after it's cut. It will look a little fuzzy when it prints, but the cut looks correct.
Make sure you put the Sticker Paper into your printer the right way. Mine has to go right side down! (PS Cricut brand Sticker Paper always jams my printer, so that's why I recommend these label sheets instead.)

Position the paper on the mat and continue to follow directions by loading mat into machine and pressing cut. For the labels I recommend above, I set the material to printable vinyl.
The Cricut Explore finds the registration marks and then cuts around all the sticker designs. Unload the mat, and all your stickers are ready to use!

This is how the final stickers came out! My sticker set printed out on two sheets of sticker paper, but I combined them to one. How happy would this set make a little girl (or you!) in your life?

See how easy it is to upload images? So many possibilities for your Cricut open up when you can do that huh. What do you want to make stickers for?
Cricut Sticker with Uploaded Image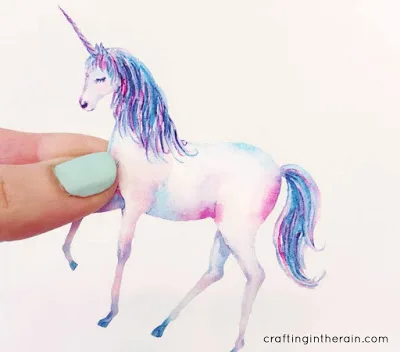 Custom stickers have never been so popular, or so easy to make, when you have your Cricut machine to help you out.
Instructions
1. Find the image or images you want to turn into stickers (check Etsy, sites like Design Bundles) It should be a jpg or png
2. Upload the image into Design Space
3. If the image has a white background, click around it to remove. If the image was a png, the background will probably already be gone (Design Space will put a checkered pattern around it)
4. Save for "print then cut" and insert the image into your project
5. Repeat to add more stickers and resize as necessary. The printable area limits are 6.75 inches x 9.25 inches
6. Load sticker paper into printer
7. Click Make It in Design Space, then Send to Printer
8. Use the system dialog to print at the best quality
9. Set material to printable vinyl and load mat
10. Cricut will scan for the black printer outlines, then cut around each sticker
Recommended Products
As an Amazon Associate and member of other affiliate programs, I earn from qualifying purchases.
If you want to watch a video tutorial of the same process, but with a different image, check out this post about uploading images to Design Space.
This walkthrough video shows different images, but the process is the same.