Have you ever tried any methods to clean baking sheets and make them shiny again? Do you have cookie sheets that look a little worse for wear?
Mine were awful, and I'd tried a couple of different Pinterest-proved ways to get them shiny again, but they didn't work.
I had to make up my own. Let's learn how to clean baking sheets. So easy–shiny baking sheets will be yours again!

You just need mustard (for the acid) maple syrup (for the sugar) and salt ('cause it's grainy)
How to Clean Cookie Sheets
1–Pour some of each ingredient onto the sheet and rub. Not coming clean yet? Keep rubbing!
2–Rub in a circular motion, never vertical
3–Rub 15 circles, then stop and count to 10, then rub 15 more circles

4–If it's still not coming clean, hop on one foot while rubbing in circles.
5–If you've got some extra stubborn spots, start singing "Dancing Queen" by ABBA and they should come right off.
6–Rinse
7–Place in the trash can
8–APRIL FOOL'S
9–Skip all previous steps and just purchase new cookie sheets!

And that my friends, is the only real way you're ever going to get sheets that look like new!
Here are the sheets I like – the half sheet 2 pack is the best deal:

Get Baking Sheets Clean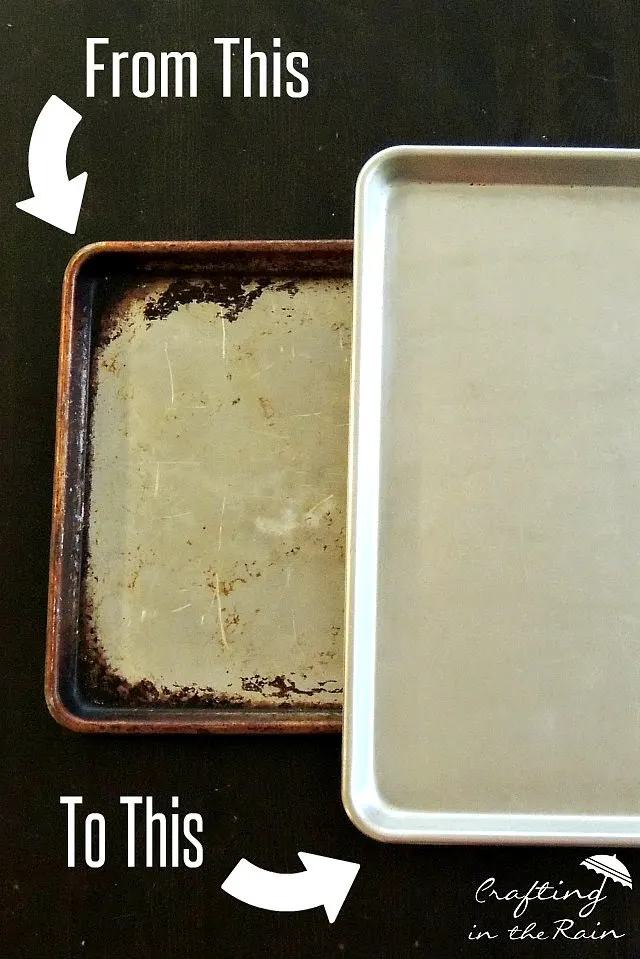 Get cookie sheets that look like new
Instructions
Throw old sheets away
Buy new baking sheets
Notes
Some people have shared that oven cleaner does a pretty good job at cleaning the sheet. I went for the "buy new" option.

One friend said to never trust someone with clean cookie sheets, which would mean you're off the hook!
Recommended Products
As an Amazon Associate and member of other affiliate programs, I earn from qualifying purchases.

NOW…I hope you're not hating me right now 🙂 Some people have offered tips in the comments, and I have a whole category of cleaning posts too.
How to clean a JETTED TUB

STEAM CLEAN these things when you buy a house!
Just interested in a couple new recipes to make with those cookie sheets? Try these!

Grapefruit Cookies