We love Harry Potter at our house. So it's no surprise that my daughter has requested Harry Potter quote sign for her bedroom. I promised it a while ago, and finally got around to making it for the Back to Hogwarts Harry Potter series hosted by Marissa at Rae Gun Ramblings. I'll show you how I made it, including how to add iron-on vinyl to painted wood. (some links are affiliate)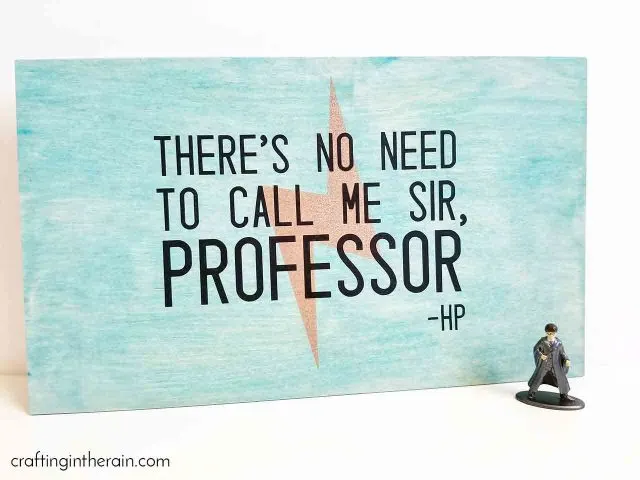 My daughter loves the part in The Order of the Phoenix when Harry tells Snape: "There's no need to call me sir, Professor." So we created a design with that quote and a lightning bolt behind it. You can design your own layout, or you can use this Design Space file for your Cricut.
Step 1
Paint the wood piece. I painted this wood with DecoArt Deep Turquoise that I watered down a bit so it acted more like a stain. Let this dry for 24 hours.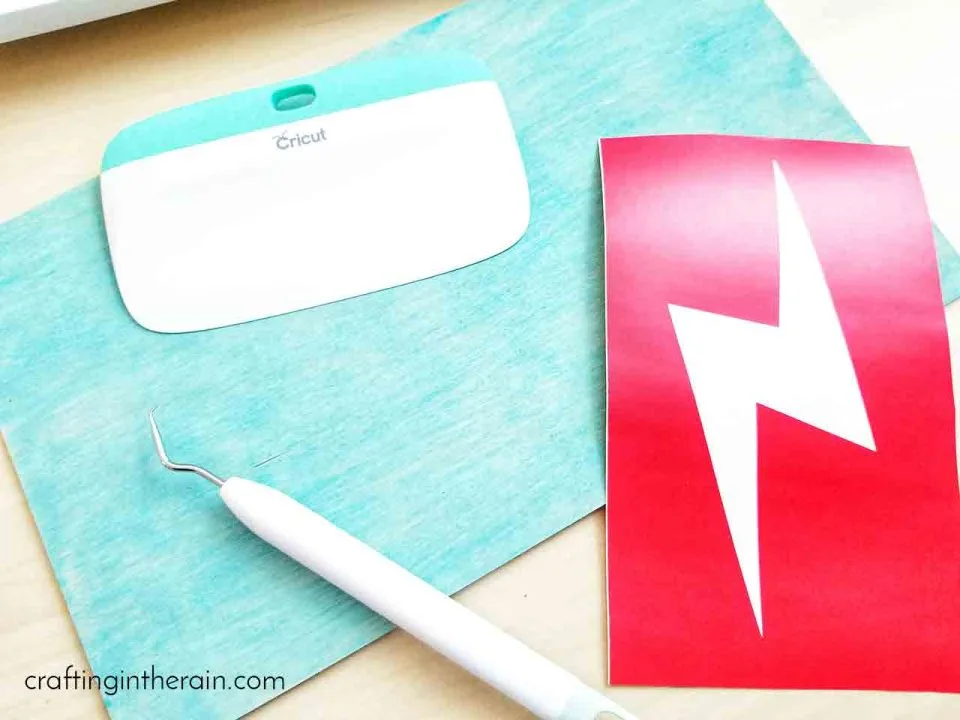 Step 2
Cut the lighting bolt from adhesive vinyl. Apply it to the wood with transfer tape, and be aware that sometimes vinyl really doesn't like to stick to textured wood. I had the best luck by rolling back the transfer tape and holding down the vinyl to the wood with my scraper tool.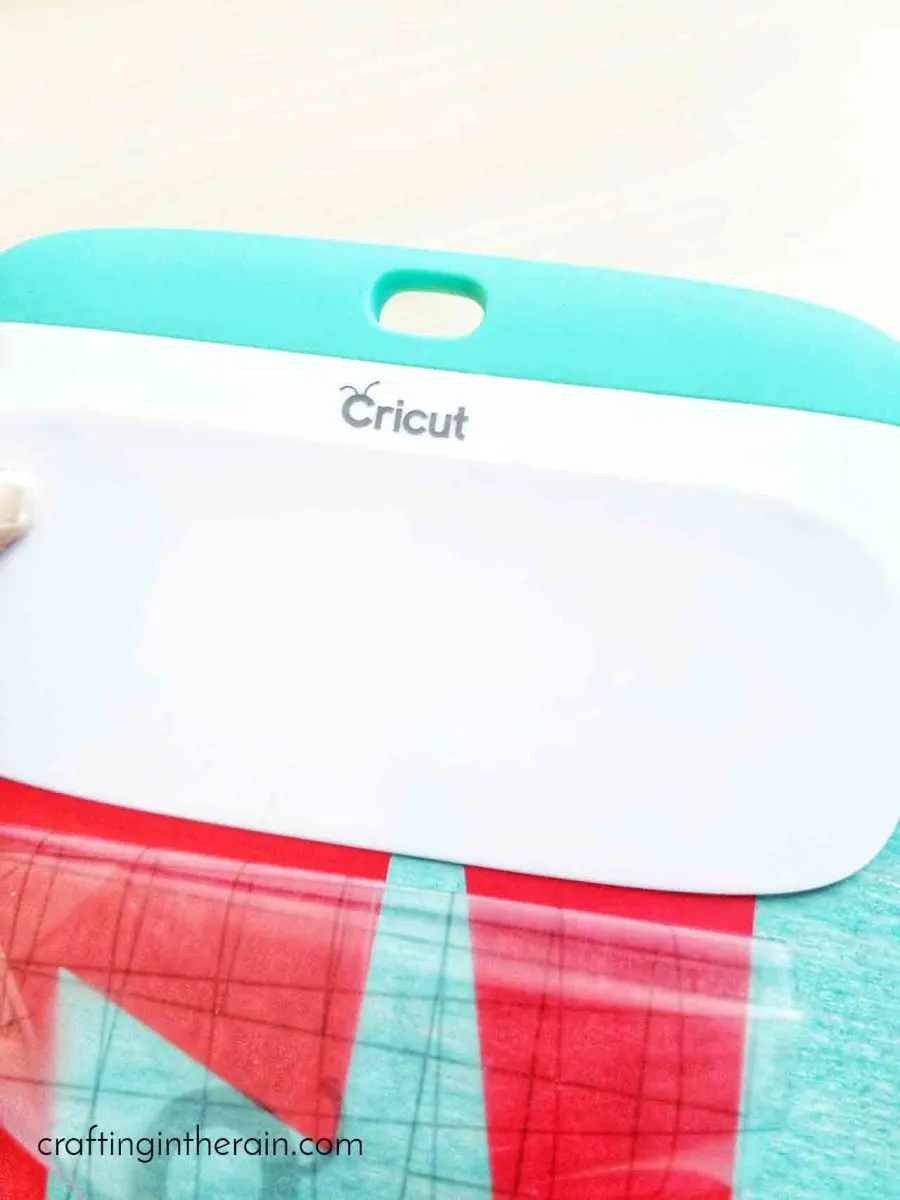 Step 3
Cover the rest of the wood with plastic or paper or something else. Spray paint the lightning bolt with gold spray paint, then remove the stencil. Let the spray paint dry for a few hours.
Step 4
Cut quote from black iron-on vinyl. Be sure to MIRROR before cutting! Weed out the extra vinyl and position in the center of the sign. The slightly sticky carrier sheet wasn't going to hold it in place, so I added a bit of washi tape to secure it. I didn't want the quote to move at all when I put the EasyPress over it.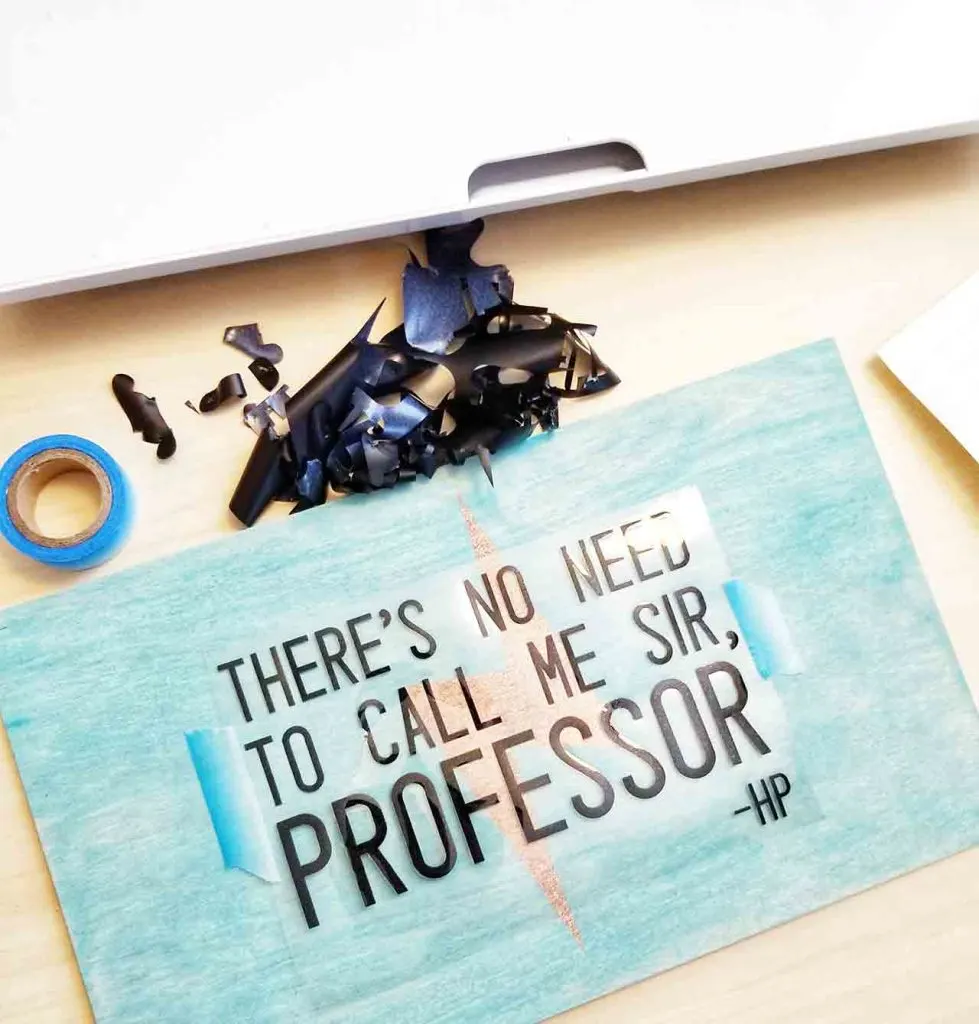 Step 5
Heat the EasyPress 2 to 305. (I used the new small size, as it was perfect to just cover the quote. Learn more about the EasyPress 2 features here.) Lay a teflon sheet or thin cloth over the sign and then place the EasyPress over the iron-on.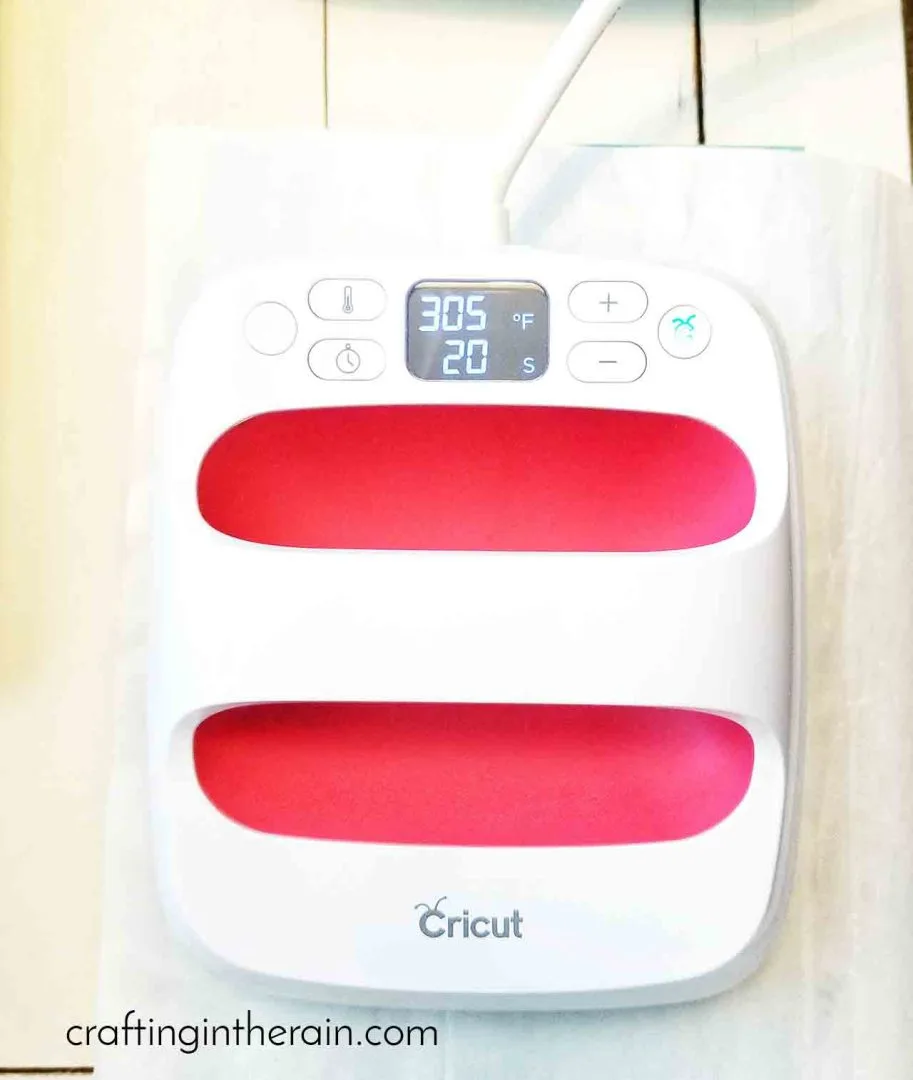 Step 6
Heat the design for 30 seconds. Don't use too much pressure – I've learned this can make the adhesive seep out from under the letters, leaving a shiny outline by them. Carefully peel away the carrier sheet while it's still warm. If any corners come up, press again for a few seconds.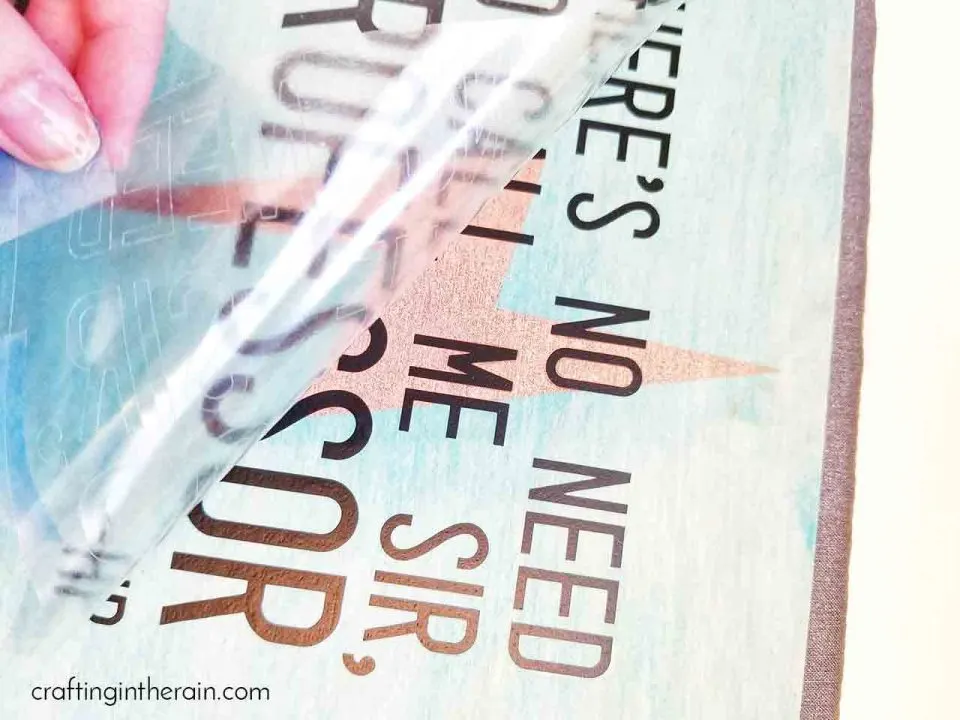 And there you go! Sassy Harry Potter quote sign ready to display, or gift to the Harry Potter fan in your life.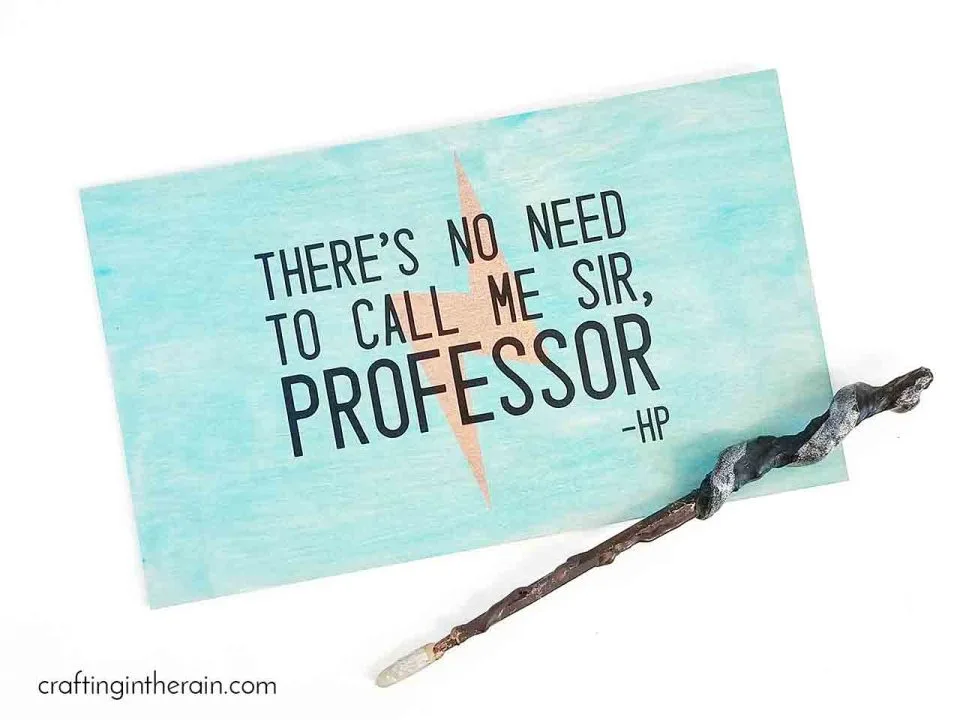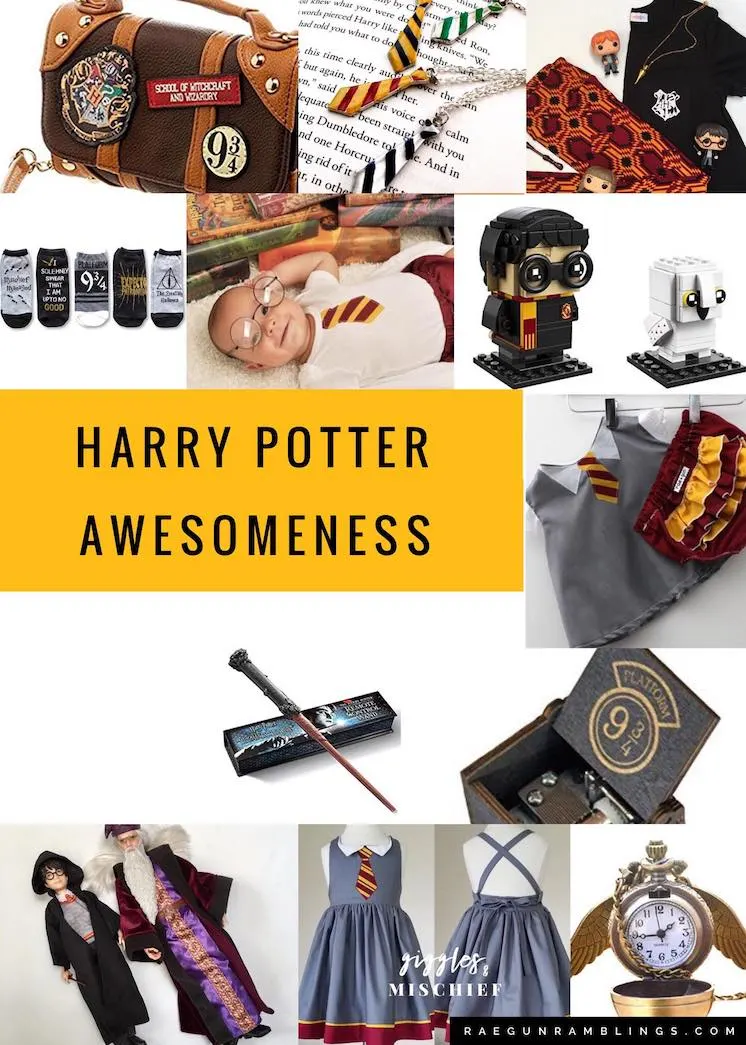 And be sure to check out all the Harry Potter projects from past years and find all the new Happy Harry Potter creations from this year here, the post is updated daily!
$50 Amazon gift card perfect for picking out your own awesome Harry Potter swag or stocking up on craft supplies to make your own inspired by the great tutorials from the series!
$50 Shop credit to spend on LuLaRoe with RaeGunRoe who will be having a special Harry Potter inspired event during the series!
One Harry Potter Baby Costume or House Tie Necklace from RaeGun perfect for Halloween, or sporting to a vacation to the Wizarding world, or just for any old Tuesday!
One Nerdifore from Giggles and Mischief (up to a $40) she makes the cutest Harry Potter inspired dresses for big girls as well as My Little Pony, Super Hero and other awesomely geeky options.
Dumbledore and Harry Potter action figures!
Other surprise Harry Potter swag!