Harry Potter Obsession Shirt DIY with Cricut vinyl
We have about 10 days til school starts up again, so we've been doing school clothes shopping. Whenever we came across cute blank shirts, I'd subtly remind the girls that we could add vinyl to any of them if they wanted to. We finally got around to that part of the project today, so they each brought me a couple of shirts that they wanted to put vinyl on. We decided to show you one of our favorite – and give you the SVG so you can make your own too if you want!

I don't have any pictures of the process in this post. If you have done a lot of iron-on vinyl projects, this will be just the same – Just remember to mirror the file before cutting and you'll be fine. If you would like additional tips, or a whole walk-through of how to cut and use iron-on vinyl, read the following posts:
Tips for Iron-On Vinyl
How to Layer Glitter Iron-On
Download the SVG at the bottom of the post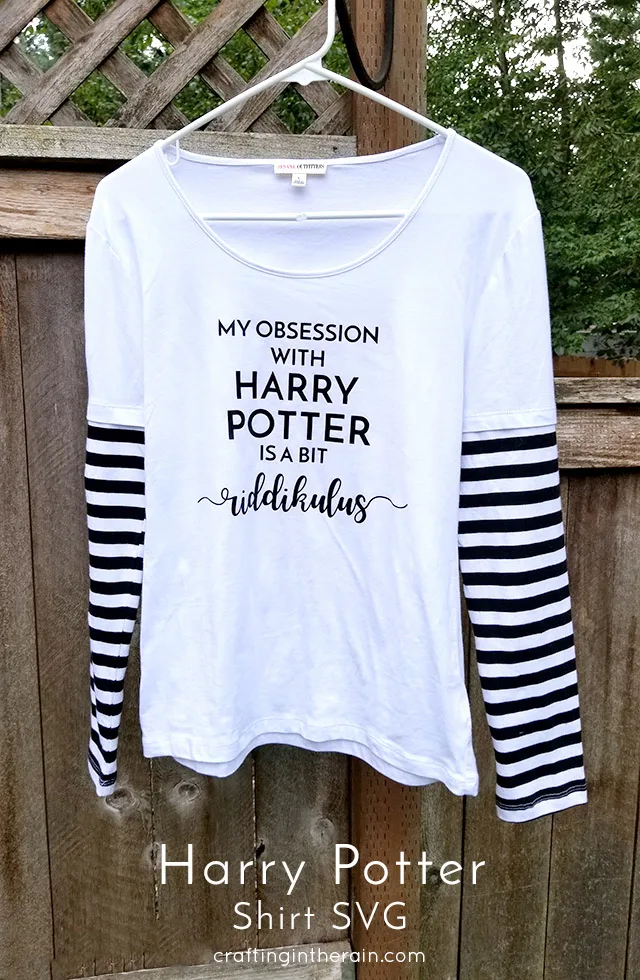 Then upload it to Cricut Design space, size it how you want, then cut (and like I said, remember to mirror)
Weed it out, iron it on, and you're done!
(Or, if you don't have Cricut yet, ask me about buying just the vinyl and you can iron it on at home!)
READ THIS POST about tips for using iron-on vinyl.
This seems to be the exact shirt that we purchased at a little shop in the mall, in white — buy shirt
Shopping Guide (affiliate links)
NEW Cricut Maker machine (does everything the Explore machines can do, and so much more!)
Cricut Explore
Iron-On Vinyl
Weeding tool kit
Cricut BrightPad
Cricut EasyPress
If you're ever looking for more SVGs to use with your Cricut, check out my Etsy shop here