I created a ViewMaster SVG to cut and add your own pictures – great for scrapbook pages
You guys! It's the last week of our A-Z of Craft Month and I've got a fabulous round of ideas to finish us up.
T is for Table runner || The Happy Scraps
U is for Upcycled skirt || The Potter's Place
V is for View finder || Crafting in the Rain
W is for Wagon shelf || One Krieger Chick
X is for Xacto knife stamps || Chicken Scratch NY
Y is for Yo-yo headband || Britches n Boots
Z is for Zig Zag tray || Up to Date Interiors
You can see that I had the letter V. I really struggled with this one. But I finally came up with something it was perfect. A ViewMaster reel!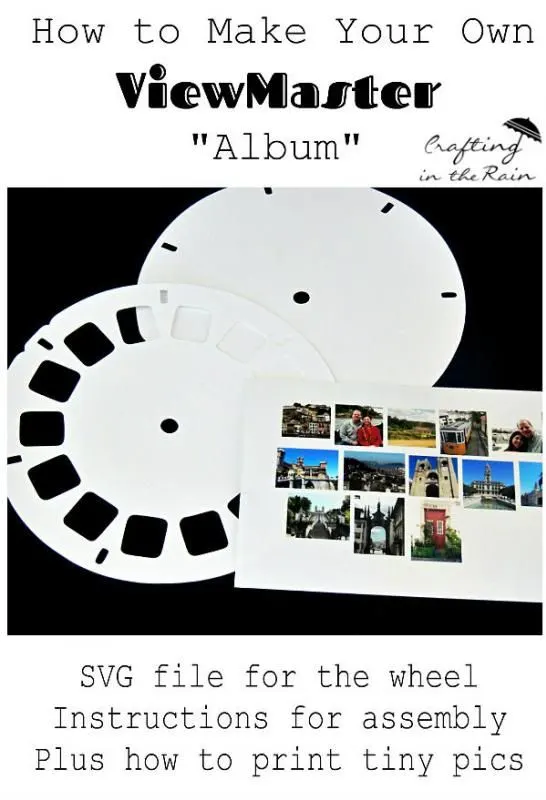 Did you know the View Master was actually invented in Portland? It was a perfect fit 🙂
So I made this svg to cut out a top and base of a reel and then printed up tiny pictures of our trip to Portugal last May and then assembled it all.
Use this form to access the ViewMaster SVG.
If you want more file types – like PNG and DXF, purchase this listing in my shop.
Cut the base and top layer from cardstock (I chose white, but other colors would be cool too)
To make the small pictures, I used Gimp. Copy and resize the pictures you want to put into the view finder, making them about .8 x .7 inches, and put them all in a 4×6 to print. You'll need 14 to fill this reel.
Line up the notches and trace the windows of the top layer onto the base layer. You can see the faint pencil in the picture above.
Be sure to trace onto the backside of the print so you know where to cut the little pictures out from the 4×6.

Glue down the pictures onto the base and then add the top layer. Then you can stick it in a frame or add it to a scrapbook page with a brad in the center. I also stamped a title and date on it.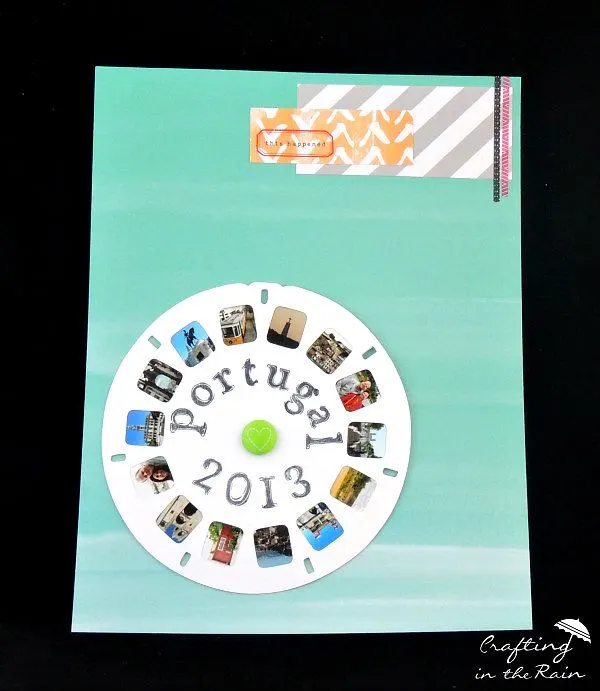 And that wraps up our Craft Month. I hope you've been inspired, and found some new creative souls to follow 🙂
Here are the links to the first 3 weeks:
A-G
H-M
N-S